A brief thread on the Facebook ad and page problem (h/t to
@TheLiberal_x
and
@TransparentRef
) 1/ The day before Facebook introduced the new view ads feature in Ireland, this domain was registered:

who is behind undecided8 ? Whois is private. Hosted on DigitalOcean in New Jersey. Don't know who registered it.

Website SSL cert registered the same day. Website has no details about who is behind the website, no about section, no transparency.

Turning to the Facebook page. "See menu"

500+ fans. First known post was the next day after website registration: April 25, 17.55.


If the "view ads" option is unavailable in the menu, add "ad" to the URL as here. This lets you view the ads the page has been running.

Most recent ad on the list. Links to the website above. View ads won't let me see ad interactions such as comments/like count etc.

There are eight ad campaigns are variations of these. We don't know audience targeted (yet - FB have promised this). But I need to interrogate more than just "view ad". I need to see the ad interactions.



So summary so far:

New website
New Facebook page
Facebook ad spend is happening

We don't know who runs the Facebook page
We don't know who registered the website
We don't know who is paying for the ads
Turning to the website itself: "Here are 8 unbiased facts"

This is pretty clearly a website setting itself as unbiased, but clearly not in favour of repeal.




If you think this is all ok and above board then we would strongly disagree. Facebook is facilitating this behaviour - whether they like it or not. The website won't get any traction without a Facebook page to promote it.
Can we mandate by law that Facebook puts restrictions on this stuff, specifically within the context of a referendum. Yes we can. Facebook *won't like it* though - it creates barriers around anyone taking out ads *easily*. It regulates ads (at a minimum)
Myself and
@TheLiberal_x
are digging a little deeper here. Let's explore how Facebook *could* make it easy for you to link directly to the ads, but apparently choose not to...
Let's go to their most recent ad and, in Chrome, right click, inspect element. You see the number, 2433006.....

Copying that number and amending the page's url (as I highlight) you get the Facebook ad itself, including that 3 people liked it, and 5 people shared it. Facebook *could* have shown this, but decided to "grey out" links to the ad.

This ad appears to have received the most interactions. 23 likes / 24 shares. Now if I go back to the first posted ad, see interactions and see first shares, I may be able to *infer* ownership to some degree. But only Facebook really knows.

Scanning through the ad interactions most accounts look Irish and legitimate (and pro retain the amendment). Comments are a mix of repeal/retain.

But think about this: This page could easily have 5,000, or 10,000 or 100,000 fans. And we'd be none the wiser.
I'm not sure people are getting the enormity of the consequences of stuff like this. It changes the entire information environment. As I have said for years now: only trust Facebook on what they do, not what they say. And what they're doing falls well short of what's needed.
A brief addendum: I'm not sure people realise this but "view ads" doesn't appear to have just been launched in Ireland. I can see ads for all pages that I've checked. "Ads" is not in the UI, but amending the URL gives you the ads running for *any* page.

Of course if you were nosey: You'd built a list of pages, crawl the ads urls for the post IDs, and scrape the interaction counts to see how each ad is performing for any page. But that would be very nosey of you.
I'd add another observation: this is one *brief* look into just *one* Facebook page buying ads related to
#repealthe8th
. There are many others: and it's difficult to quantify the amount. There are many interconnected problems.
Our legislature needs to start taking this issue much, much more seriously than they have to date. Facebook has responsibilities too, but legislation is still needed. Unless you trust Zuckerberg with your democracy - then everything is just fine.
Also: This is not limited to Facebook. This video ad just displayed on YouTube as pre-roll. We still don't know who is behind the ads.



The YouTube account has 3 videos, with a combined 100k views in *one day*. No idea who is behind it. This channel:
youtube.com/channel/UCZTDo…

This one has 50k views in one day, which likely means lots of YouTube ads since yesterday
Ireland only has a couple of million voters folks. These ads are pre-roll, and we have no idea who is buying them. And - in reality - no meaningful law to oblige transparency or to regulate. They will be competing with
@RefCom_ie
for ad space (and could be confused for them)
If politicians are not concerned about this, and if the Yes side are not concerned, they should be. These videos will potentially reach 1m views within days, at the current rate - targeted to Irish audiences.
Eh there's a massive push going on right now: The view counts went up by 1,500-2,000 while I was writing these tweets.
See this screengrab comparison


So I'll put this another way: IT'S ON. 🚨🚨🚨🚨🔥🔥🔥

Everyone needs to *wake the fuck up*.
Back when I was writing and warning about this last year: this is what I meant. We have no idea who's doing what, with what money, with what motivations, from where. And now buttons are being pushed somewhere - and we have to deal with the consequences of political inaction.
IMO: If you're on the Repeal side of
#repealthe8th
campaign you should right now be in a WAR ROOM deciding *what the hell you're going to do* in response. This is the precise nature of free for all, unregulated, opaque, online campaigning.
And to be clear: this FB page and YouTube page could be by *literally anyone*.
1.
Existing members of the No campaign in Ireland
2.
Right wing groups in the US
3.
UKIP or English Defence League
4.
Fascists or neo-Fascists
5.
Alt-right or far right, in Europe
¯\_(ツ)_/¯
I guess we're all happy enough letting *whoever* push ads into Ireland during a referendum campaign like this one. Including our politicians.

If you feel like I've been droning on about this issue with some alarm now for years, it's because I have.
A small update. I've noticed a small difference in ads that were shown earlier and ads being shown now on YouTube. In one of the earlier pre-roll ads, the link went to undecided8, in a later ad, the link went to protectthe8th.


What does this mean?

The anonymous "undecided8" website and FB page appear to be controlled by the Protect the 8th campaign.
If Protect the 8th created the undecided8 page, why
1.
Did they not declare undecided8 was part of the Protect the 8th campaign?
2.
Do the FB ads claim to offer "unbiased facts" (see below), if they page was controlled by Protect the 8th?
3.
Why a new FB page?

4.
Who in Protect the 8th decided to create an anonymous website claiming to offer unbiased views of the campaign?
5.
Were "undecided8" ads paid for by Protect the 8th?
6.
Why was the page setup as FB "view ads" feature was launched?
People this is serious stuff. Are official campaigns spinning out anonymous "unbiased" campaigns? What's the intention here? Is there also a tactic to undermine
@RefCom_ie
ad campaigns to offer supposedly "unbiased" views?
Another BIG update and then I'm going to get myself a pint of Murphy's.

This makes a *direct* connection between the "undecided8" website and page and a Catholic group based in the US. I've already indicated there seems to be a connection between Protect the 8th and undecided8
I helpful DM prompted me to go back and check something in this screengrab from the undecided8 website source. "CMG-parent" is curious...

Now let's google that URL. And let's click the first form entry.

form entry page: fake details....

Show me that BROCHURE. Oh. Hello Franciscan Friars of the Atonement. In Garrison, New York.

Where else has this very specific URL been used? 🧐 Very interesting, Mr Bond. I assume Catholic Mutual Group? (CMG)

Anyways, that FB page: 2.6m fans.

Who runs that page and what's their connection to an anonymous website about the 8th referendum and Protect the 8th (a third party body registered with SIPO in Ireland)? (Family & Life are the group behind Protect the 8th)

These are questions for us as a country: how do regulate election and referendum campaigns in 2018? Have we had a debate about how this works? Are we legislating? Are we not? Do we know how all this works today?
Guess who was in Dublin on April 23, just a few days before the undecided8 website appeared? Fuzati....

Who are Fuzati? A Texas-based group, specialising in web design, who flew to Dublin last week (at whose expense?) to do a War Room with Protect the 8th. I wonder was the CMG / undecided8 website a result of that?


So stay with me here. CMG / Fuzati / Protect the 8th / Undecided8 all appear to be connected either directly or indirectly. Another CMG website is the Community of St John.


Ads are now appearing inside FB messenger from undecided8:


Further questions to be asked: how much data is being collected about people who click through to the undecided8 website? Are cookies being used for re-targeting later? Lookalike audiences? How much are people even aware of these methods?
Well: what trackers are on the undecided8 website? Google and Facebook trackers: which would allow for ad re-targeting on both platforms later to *you* on both platforms. Note there are no social plugins visible on the site: these trackers were added with only this intent.

Sorry: this wasn't a brief thread.
Oh and if you're wondering what people are discussing now: how to query the website for what type of trackers/pixels/connected services are on the website. Here's how you inspect.
BTW: Ordinarily I would not tweet this methodology, I'd just do it and then write a story up and sell it to a newspaper. Investigating in real time is fun though. Seems to get a big audience too.
Update: The Protect the 8th videos (a SIPO registered third party - Family & Life) has 3 ads now approaching 200k views in 24 hours. The view counts will be subject to later audits but clear a big paid campaign is running.

I'm still waiting for the campaign to respond. 🧐

So to the question "should we regulate Facebook and Youtube and other platforms for this stuff?"

You're goddamn right we have to regulate them. Unless you think self-regulation is gonna work... in which case we can just keep doing nothing.
UPDATE: The Undecided8 Facebook page *has been deleted*. Next step will be: a new page will appear and we will go through this whole process again.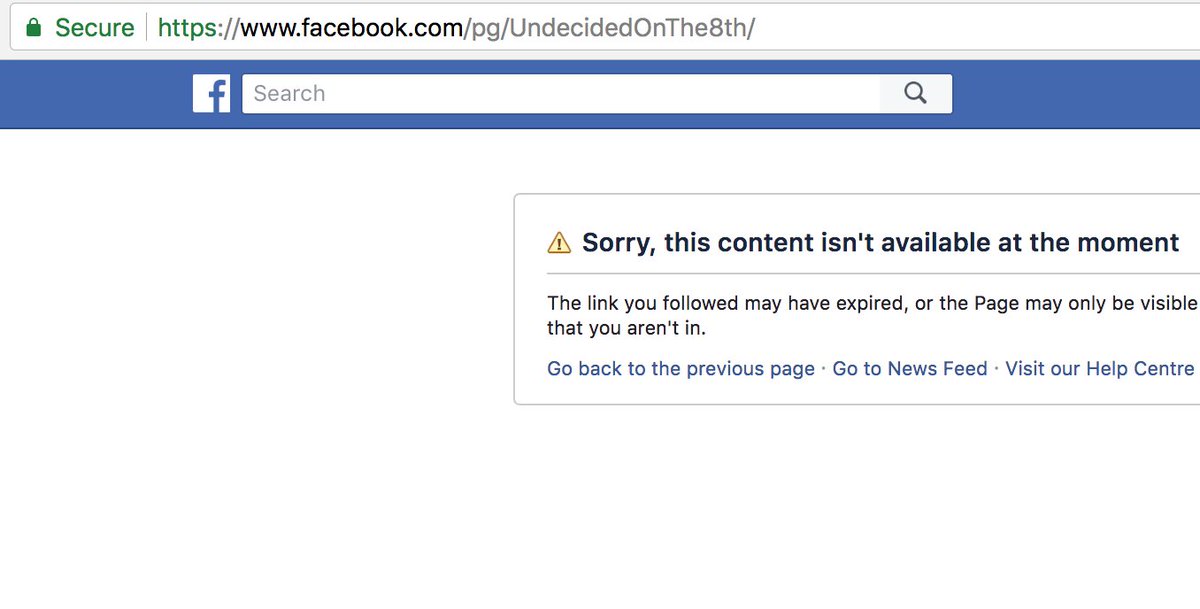 Herein is the problem with online: it's whack-a-mole. Even with greater ad transparency provided by Facebook, we will still need far greater scrutiny and protections. And, y'know, laws.
Instagram ads too via
@broadsheet_ie
. We now know more or less who is behind this website and this ad campaign. The intent: target undecided voters now for re-targeting later.