1/
A thread about on chain vs. off chain governance of cryptonetworks.
2/
I think the significant portion of the push for on chain governance is an intuition carried over from environments where exit costs are high.
3/
It's important that countries are democratic and have feedback mechanisms allowing citizens to formally express their opinions because the costs of switching your citizenship (AKA exit costs) are very high.
4/
In his 1835 book, Democracy in America, Tocqueville explained elections to his European aristocrat peers that had never seen a democracy much less an election as mini-revolutions.


5/
The norm in Europe at that point was to have larger, more bloody revolutions every hundred years or so.
6/
By contrast, an election served as a mini-revolution that acted as a pressure release valve.
7/
By letting the volatility of the system escape periodically, the long-term stability was much higher.
8/
The tradeoff for this is that democracies tend to be very inefficient. Everyone complains about this when their party is in power, but it's also what keeps everyone from rebelling when their party is out of power.
9/
The Democrats were angry at how hard it was to get Healthcare legislation passed under Obama, but are quite happy about hard it is to get a wall built under Trump (and vice versa).
10/
Private companies are more akin oligarchies. A relatively small management team and large shareholders control the institution.
11/
This allows them to be more efficient but also makes the more prone to "rebellion."
12/
This is less of an issue becasue, compared to changing your citizenship, it's not that hard to change your job or sell your stock. The exit cost is much lower.
13/
If you don't like how the Apple oligarchy is behaving, you can just leave.
14/
At the far end of this spectrum is open source software. The governance of open source software is captured in the phrase "rough consensus and running code"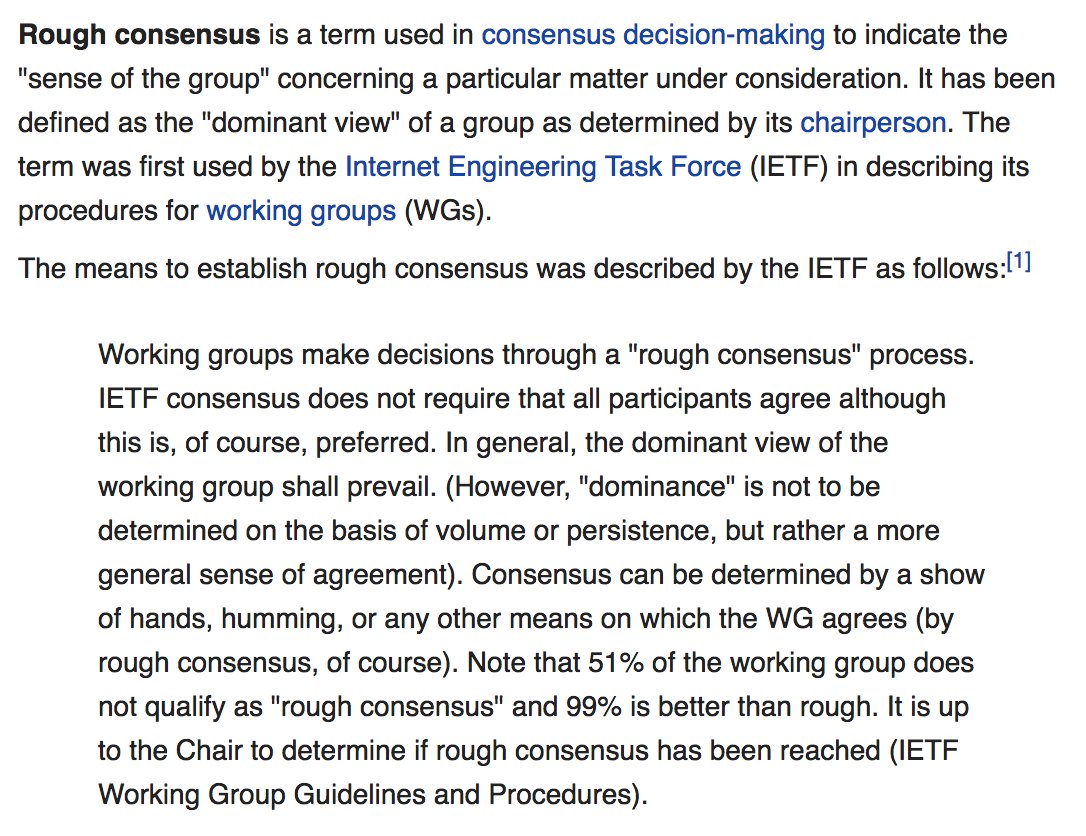 15/
"Rough consensus and running code" is far less structured, tending towards technocracy, than an election and so is prone to "revolutions" in the form of forks.
16/
Because exit costs are very low, if the technocratic rulers go in a direction you don't like, you "revolt" by forking the network.
17/
There is a tendency to conflate the uncertainty in this system with inefficiency.
18/
Quite to the contrary, uncertainty is a necessary pre-condition, a fertilizer, for opportunity.
19/
Open source source software (and software more broadly) is so the source of innovation because it so uncertain and illegible.
20/
In software design, worse is better. Quality does not necessarily increase with functionality (and often degrades).
21/
This forms an ecosystem of highly technocratic projects where the inflexibility is moderated by a relatively trivial ability to fork/revolt.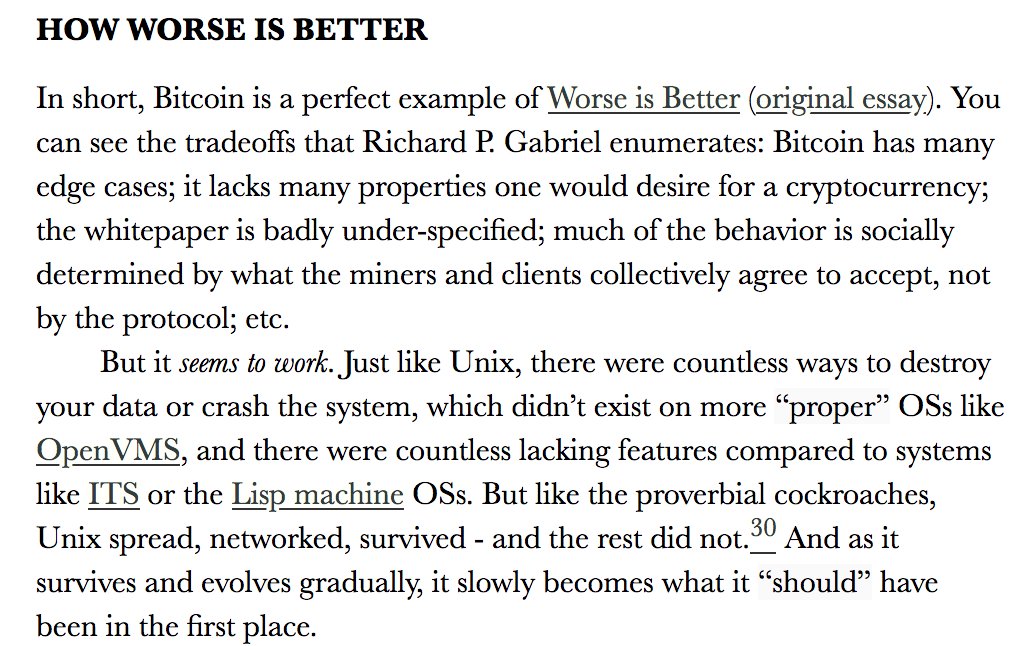 22/
For this reason, I think that in the long run, on chain governance will prove inferior to off chain. Off chain governance's illegiblility and unpredictability will prove more fertile ground for innovation.
23/
As always, this is just me thinking out loud. Thoughts, feedback and criticism welcome.
24/
Thoughts inspired by a few sources:
30/
Edit - I agree that there are still exit costs and so some amount of on chain governance may make sense (and the experiment is worth trying), but I suspect it's much less than most people think is needed.