1/
In less than 90 minutes one afternoon, Chicago police officers slapped three $200 tickets on a South Side woman's car because she didn't have a city vehicle sticker. This is duplicate ticketing—which many officials say is not allowed.
propublica.org/article/chicag…
2/
With
@WBEZ
, we analyzed data on all tickets issued since January 2007 and found nearly *20,000 incidents* in which the same vehicle received at least two city sticker tickets on the same day. Why so many duplicate tickets? Well …
3/
Police officers, city parking enforcement aides and contract employees can all ticket vehicles. But these agencies don't collectively track if a vehicle's already been ticketed that day. So tickets can pile up (again: this isn't supposed to happen).
4/
These tickets are $200 each, making them among the most expensive commonly issued tickets in the city. And, with late penalties, that amount grows to $488. If you get two of them in one day, you're talking up to $976.
5/
City sticker tickets are tied to city revenue, not public safety. At least not directly. In the past decade, the city has collected $291 million from all city sticker violations, $3.6 million of it from duplicate tickets.
6/
We mapped where the duplicate ticketing happens. And it's Chicago's South and West sides—majority black, low-income communities—that see the highest rates.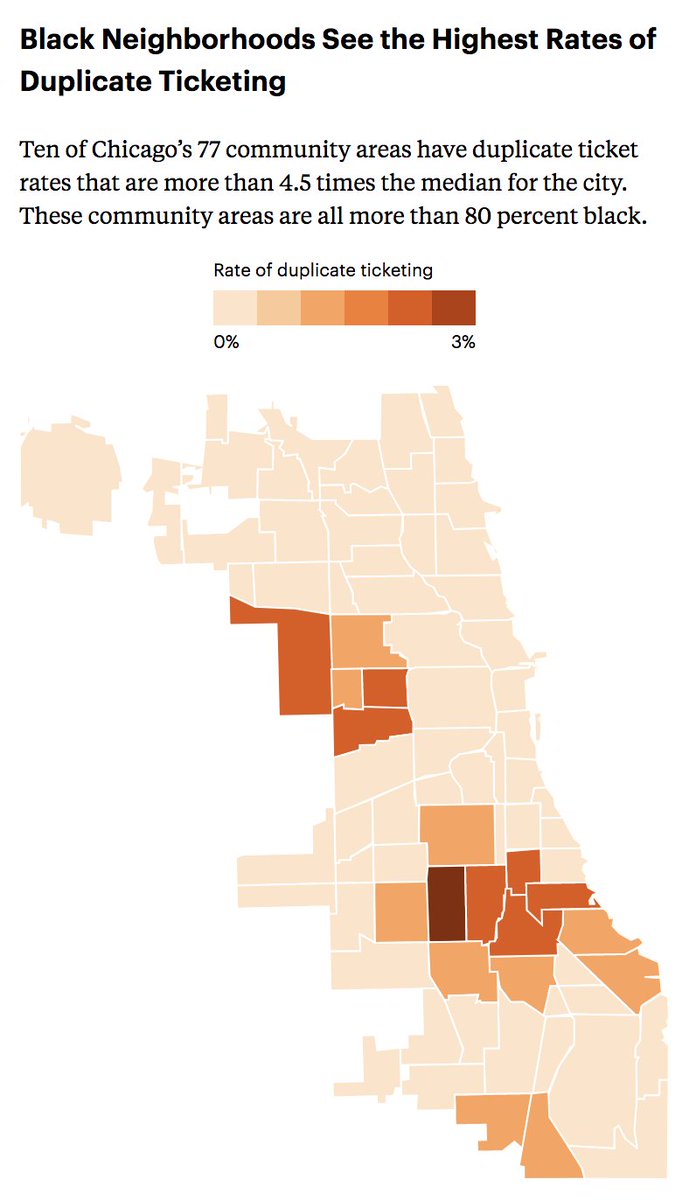 7/
We asked the city about that. Officials did not dispute our analysis. Their explanation: South and West side neighborhoods have fewer parking meters or streets with parking restrictions, so residents there are more likely to get sticker tickets.
8/
Police officials say they don't target any neighborhood, but ticket wherever they see violations.
9/
These tickets can be a financial burden. Few drivers contest duplicate city sticker tickets because it takes time to do so. Yet in 87 percent of the cases in which a motorist does contest them, at least one duplicate was thrown out.
10/
Nearly half of the duplicate tickets remain unpaid. For some people, that debt threatens their driver's licenses and vehicles. After we shared our findings with the city, officials said they're looking into next steps, including possible refunds and canceling unpaid tickets.
11/
If you have a story to share, please email melissa.sanchez@propublica.org. And subscribe to our newsletter:
propub.li/2h7c15f