Bill 5, the so-called "Better Local Government Act, 2018"
bit.ly/2vimodC
, introduced in the Ontario legislature today, is an outrageous attack on democracy at the municipal level.
By disrupting democratic institutions and electoral boundaries with no consultation in the middle of the 2018 election process for Toronto City Council, Bill 5 shows contempt for democracy as a fundamental principle of the Canadian constitution.
Unfortunately the Canadian constitution does not yet protect municipal governments. They are creatures of provincial legislation passed pursuant to s.92(8) of the Constitution Act, 1867. Provincial laws create municipal institutions; they can also transform them.
Another unfortunate gap in our constitution is that citizens' right to vote and run for elected office, set out in s.3 of the Charter of Rights and Freedoms, applies only to elections for the House of Commons and provincial legislatures. Municipal elections are not mentioned.
But do these gaps in the 1867 and 1982 constitutions mean that provincial legislatures are free to transform municipal institutions as they see fit, without any constitutional constraints? Does local democracy exist in a complete constitutional vacuum?
The answer is no, because governments and legislatures are bound to comply not just with limits on their powers written in the text of the constitution, but also with unwritten constitutional principles, like the principle of democracy.
When the Mike Harris government introduced legislation forcing amalgamation on the city in 1997, the courts rejected the argument that unwritten constitutional principles placed limits on the provincial legislature's power to pass laws reshaping municipal government.
Justice Abella wrote back then in East York v Ontario
canlii.ca/t/6hhm
that no constitutional norm or convention restricts provincial legislatures' ability to restructure municipal institutions: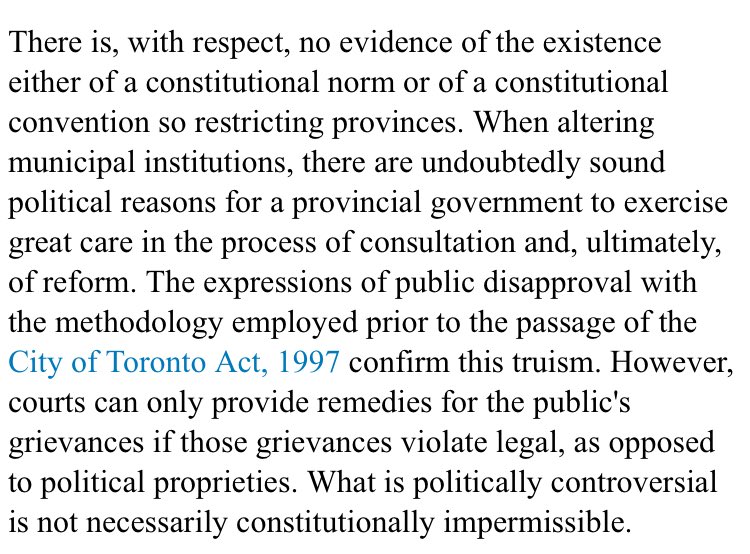 That was in 1997. A year later, in 1998, the Supreme Court of Canada in the Secession Reference stated that democracy is a fundamental unwritten principle of the Canadian constitution, that binds all governments and legislatures.
The democratic principle includes respect for democratic processes and for democratic institutions that enhance the participation and representation of the people. See paras 61-69 of the Secession Reference:
bit.ly/1fXKlG1
The democracy principle does not prevent a provincial legislature from altering municipal electoral processes or the structure of municipal institutions.
But I believe it would require respect for municipal electoral processes already under way and might also require consultative processes commensurate with the magnitude of the changes proposed.
A strong argument thus exists that Bill 5 by proposing to fundamentally transform Toronto's City Council with no consultation, in the middle of an electoral process, shows a serious disregard for the constitutional principle of democracy, one that the courts will not countenance.