our new
@TheLancetPsych
paper was the biggest ever study of exercise and mental health. it caused quite a stir! here's my guided tour of the paper, highlighting some of our excitements and apprehensions along the way [thread] 1/n
thelancet.com/journals/lanps…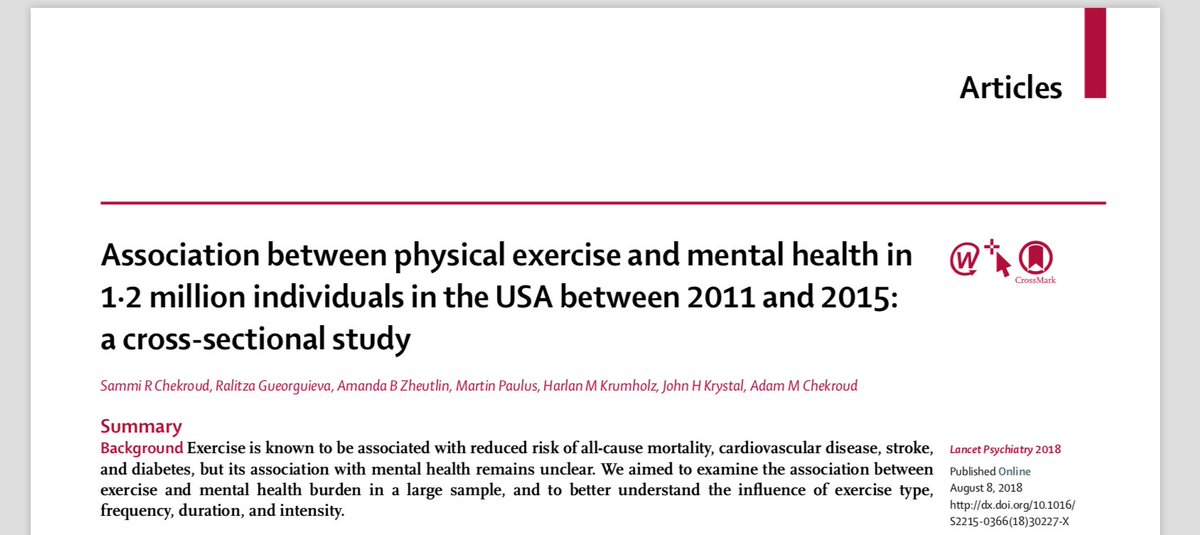 those 1.2M people did a lot of different kinds of exercises though! this gave us a unique opportunity to really zoom in on this relationship — does the kind of exercise matter? how long were people exercising for? answering these kinds of questions needs a lot of people!
for sure — these findings are exciting, and it has been overwhelming to see the whole world talking openly and optimistically about mental health, and how we can help people feel better. It isn't all plain sailing though...
(1b- this might not be the end of the world. In general, most people have a reasonable understanding of their feelings, and in depressed or anxious patients self-report evaluations are highly correlated with clinician-rated evaluations. But we could be more precise in the future)
But there have also been lots of studies showing that exercise does causally improve mental health, especially depression. Madhukar Trivedi's group
@UTSWNews
showed that people who exercise and take antidepressants do better than people who just took the meds


Where do we go from here? Over
@spring_health
- our mental health startup in New York City - we're using these findings to develop personalized exercise plans. We want to help every individual feel better—faster, and understand exactly what each patient needs the most.


Just like we did with our antidepressant treatment algorithms, we want to develop quick online assessments to figure out an exercise plan that is best suited to help your mental health
springhealth.com




Thats all for now! Thanks for tuning in 💕. There's so much more we need to do to reduce the global burden of mental illness, & we're so grateful for the support we've received from all over the world.
altmetric.com/details/462883…