🚨BREAKING: A criminal complaint and judicial ethics complaint are being filed against Kavanaugh for perjury in Congressional testimony — and LOOK WHO'S REVIEWING IT!
Happy Saturday, everyone!
#MerrickGarland
#CancelKavanaugh
#StopKavanaugh
#BlockBrett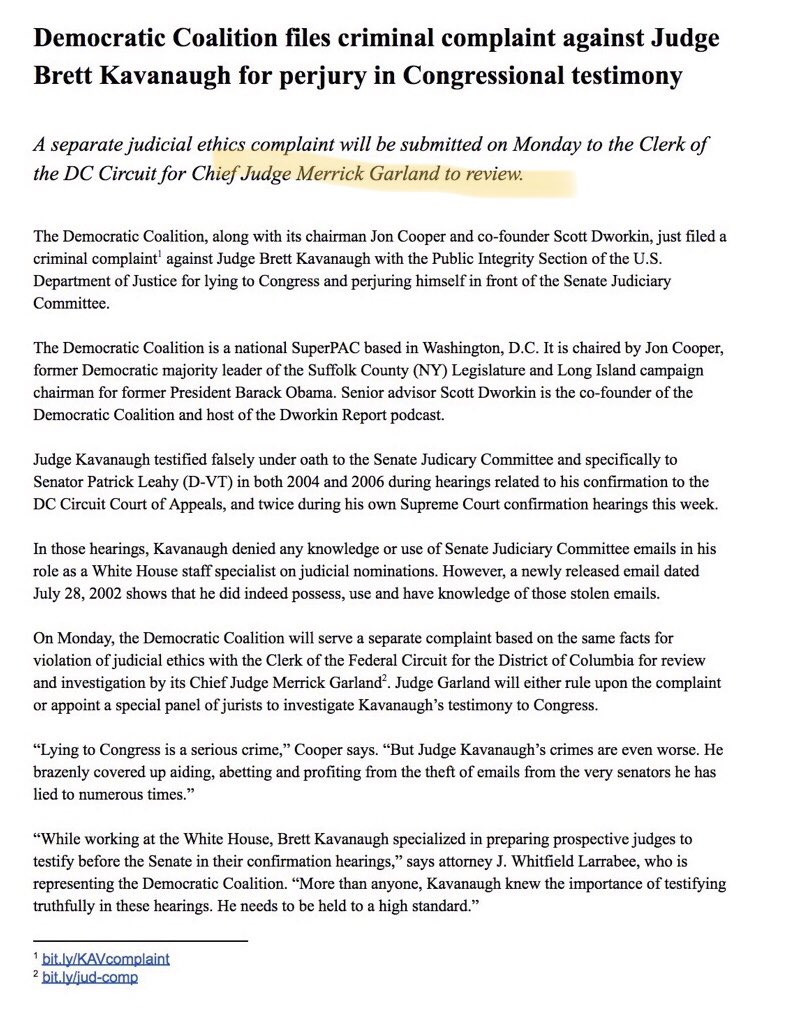 ☎️CALL THESE SENATORS DAILY

Collins
ME: 207-784-6969
DC: 202-224-2523

Murkowski
AK: 907-271-3735
DC: 202-224-6665

Donnelly
IN: 317-226-5555
DC: 202-224-4814

Manchin
WV: 304-342-5855
DC: 202-224-3954

Heitkamp
ND: 701-258-4648
DC: 202-224-2043

📣 "VOTE NO ON KAVANAUGH!"
So far, thousands of citizens have pledged OVER $700k to
@SenatorCollins
's 2020 opponent if Collins votes Yes on Kavanaugh.
Together, we can BEAT Collins's cash on hand!
🔥Help crank up the pressure by pledging $20.20 right now!
bit.ly/collinsbeahero
🚨When you call these Senators, add in your own wording ("I have a daughter and..." "I've been a constituent for X yrs...")

And after they take your message, ASK THEM TO READ IT BACK TO YOU!

There are reports of at least Sen. Collins's interns NOT recording calls 😡😡😡
If your Senator's already a NO:
-Call to thank them & tell them to fight as hard as CoryBooker & KamalaHarris. 202-224-3121
-Pledge to Collins's 2020 opponent:
bit.ly/collinsbeahero
-Help fund the organizing allowing so many protestors to be present:
crowdrise.com/o/en/campaign/…