Under Paris, countries agreed to a fairly detailed set of promises to keep global temperature rises under 2C by 2100.

It was the first time all nations - both developed and developing economies - signed up to the same set of climate rules. But they weren't binding
Parties gave themselves in effect 3 years to come up with a text agreed by everyone, ratified, and translated into national law on a state-by-state basis. The idea is the accord isn't legally binding, but the rulebook it provides could be on a national level
It is a mindbogglingly complicated process, involving scientists, climate experts, policymakers, civil society, private sector, diplomats and UN agencies.

No one ever predicted the solution to the world's biggest threat would be straightforward. But it needed actors to be bold
Bangkok was only added as an emergency session - 3 months before the deadline for a deal - after years of insufficient progress towards a rulebook.
The point was to end yesterday with a draft text to serve as a starting point for negotiations at the
@COP24
in December
But they didn't get one. They didn't even come close. I was told by several negotiators that even though Bangkok was the last chance for delegates to agree on core Paris principles, *no progress whatsoever* was made on:

- Finance
- Accountability
- Climate fund planning
So just weeks before the end of a 3-year process, there are entire volumes of unresolved areas that haven't even been discussed yet

Climate change is rapidly outstripping our efforts to contain it, but parties in many cases haven't even taken the Paris text out of its wrapping
This after 18 months of extreme weather events fed by climate change - wildfires, drought, flooding, hurricanes - killed tens of thousands of people and destroyed millions of square kilometres of natural habitats
Earth is pissed. We are already seeing the chaos
#climatechange
will bring - its species-defining disasters will kill millions and displace *billions*. And the people with the power to prevent this haven't even began studying for the exam yet
Entire *nations* didn't send anyone to the Bangkok talks.

I was told by several sources no one saw a member of the Russia delegation the entire week.

How can headway be made when the world's 3rd biggest oil producer isn't even in the same room?
This brings me on to the real problem I can see: In all these (vital) technical discussions about NDCs and CBRP and APAs and SPSTAs etc, one thing hit me hard:

No developed nation party to the Paris agreement mentions fossil fuels
Not a one. Paris mentions "greenhouse gas emissions" several times but it doesn't once mention their source.

No mention of fossil fuels. No mention of oil. No mention of coal.

They are trying to fight a war against an enemy they're too scared to even name
There's a reason for this.

It's another phrase that never appears in the Paris agreement:

Conflict of interest
Under the United Nations Framework Convention on Climate Change, dozens of business and industry NGOs have a stake in climate negotiations.

This was drawn up to include the big players in any solution - it makes sense to involve the accused in trial proceedings, after all
What is less clear is how large an influence big energy has in the process.

Under the current framework, companies such as Exxon, Chevron, Total, RioTinto, Glencore, BP, Repsol etc etc etc all have a seat at the table through their links to NGOs party to the UNFCCC
So under the Paris process, energy industry representatives such as the World Coal Association (guess what their agenda is) sit in the same rooms where delegates discuss ways of averting climate disaster.

Isn't this crazy?
Watchdogs including
@StopCorpAbuse
have repeatedly warned that these energy representatives are using their presence at the UNFCCC to undermine efforts to curb carbon emissions and stop fossil fuel use
Take a look for yourselves at the types of companies that have a seat at the UN climate talks table (courtesy
@StopCorpAbuse
)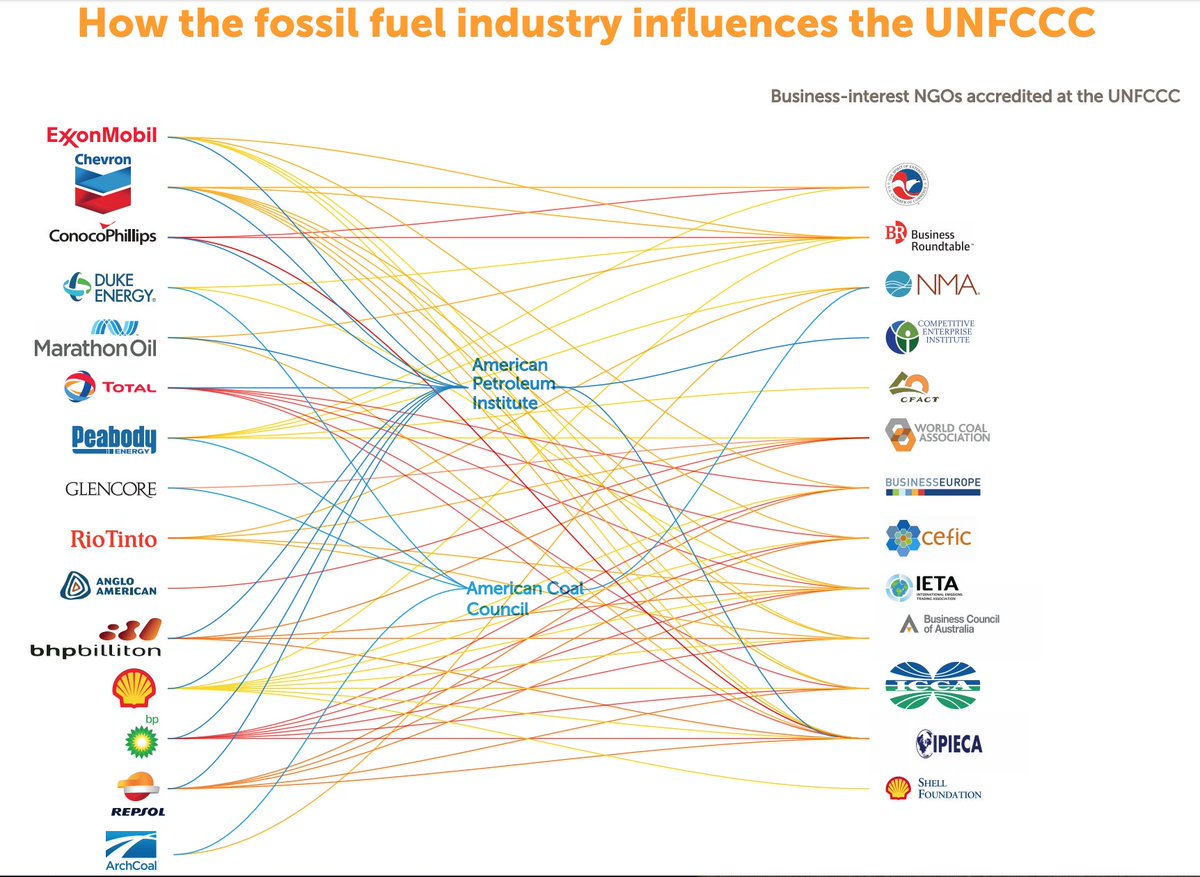 Without a radical, order-of-magnitude cut in fossil fuel use, we have no hope of stopping climate chaos.

Most climate models agree that unless we do this, we're talking 4C rises by 2100 (you can see my thread on that scenario here: )
This is an obvious conflict of interest, yet it never even gets mentioned during talks.

You can't even whisper the phrase without attracting looks of horror. They're ignoring the largest elephant in the room ever seen on Earth
Giving energy giants a say in how we tackle climate change is like giving Jack the Ripper a seat on the panel probing sex workers' rights
If there were conflict of interest provisions in the Paris agreement then they could at least be held accountable for what they were saying in those closed climate negotiations.

But there are none
Parties will reach some sort of deal in December - the political pressure is too great for them to walk away with nothing.

But unless issues such as conflict of interest are addressed, and unless big CO2 emitters are held accountable, it won't be worth the paper it's printed on