Cory Booker has dumped out more "committee confidential" Brett Kavanaugh emails about the extent of his involvement in the PIckering nomination, showing among other things that he didn't just handle but personally drafted the op-ed
dropbox.com/sh/cc4u94lgync…
/1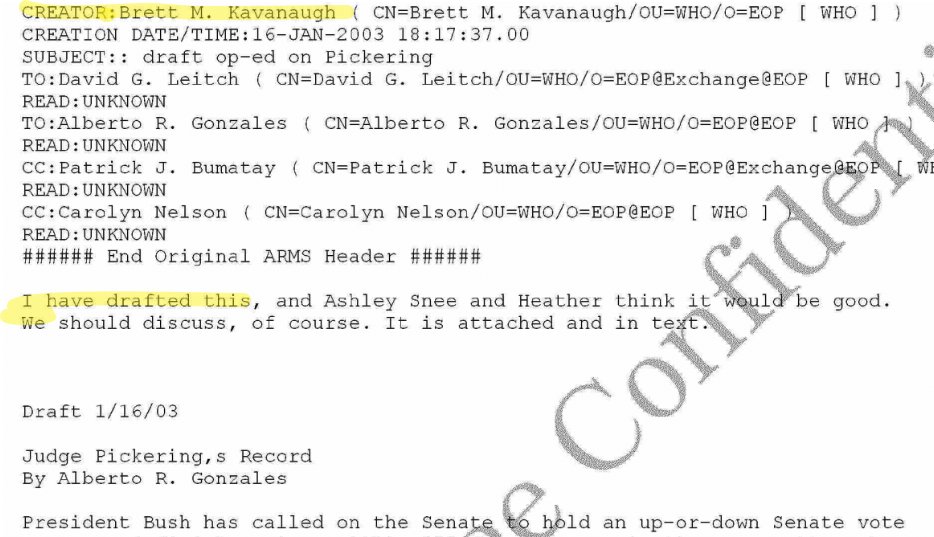 This trove has other stuff in it about meetings, research, strategizing. It also has this, which was also in that batch some unknown person provided to me last week:
nytimes.com/2018/09/06/us/…
/2


In August when a Bush lawyer gave some WH emails to the Judiciary Cmte and they showed some of his involvement in Pickering nomination, I wrote about Dems accusing BK of having given misleading testimony as an appeals court nominee distancing himself /3
nytimes.com/2018/08/16/us/…
At The National Review,
@DavidAFrench
attacked not just the Dems (fair game) but the NYT for having written about the dispute, calling my article a hit piece. I generally respect David, but I thought he did so in a bad-faith way. /5
nationalreview.com/2018/08/new-yo…
The White House then greatly amplified
@DavidAFrench
's article while compounding the distortion. It used the White House press release system to put out lengthy excerpts of it that further edited down what the then-available emails showed. /7


So that became the narrative meme on the right. I doubt very many of the bottom-feeding aggregators and Twitter commentators clicked through and even knew they were being misled.
/8
I'd distinguish this from something valuable for the public discourse
@DavidAFrench
also did: he tracked down the long-retired octogenarian judge and asked him, and Pickering said Noel Francisco was his WH contact and he didn't remember knowing BK at the time./9