Beginning to think the CW that "Joe Biden would be such a great general election candidate for Dems if only he could make it past the primaries" might actually have it a bit backwards.
Right now, Biden is the best-positioned candidate in a field of record-breaking size to hit 15% thresholds virtually *everywhere,* which is a really underrated advantage when it comes to building a delegate lead.
He's also got a considerable regional head start in the South, thanks to his huge early advantage with African-American voters (name ID + Obama nostalgia) & because there are no candidates from the region (unless you count TX).
Biden also benefits from a Dem primary electorate that's older, less white & more moderate than the left-leaners dominating the convo on this & other sites.
I keep coming back to this Jan.
@pewresearch
finding that 53% of Dems/leaners want party to move in more mod direction: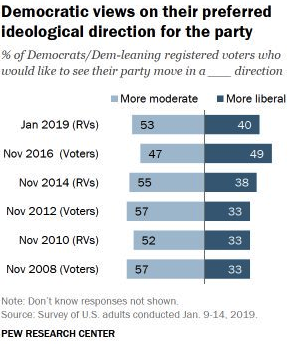 Biden also benefits from Dem voters' *perception* that he is the most electable candidate in the field. Like, by far. For a deep dive on this, make sure to read
@BaseBallot
's piece from last week & check out 2nd chart down:
fivethirtyeight.com/features/democ…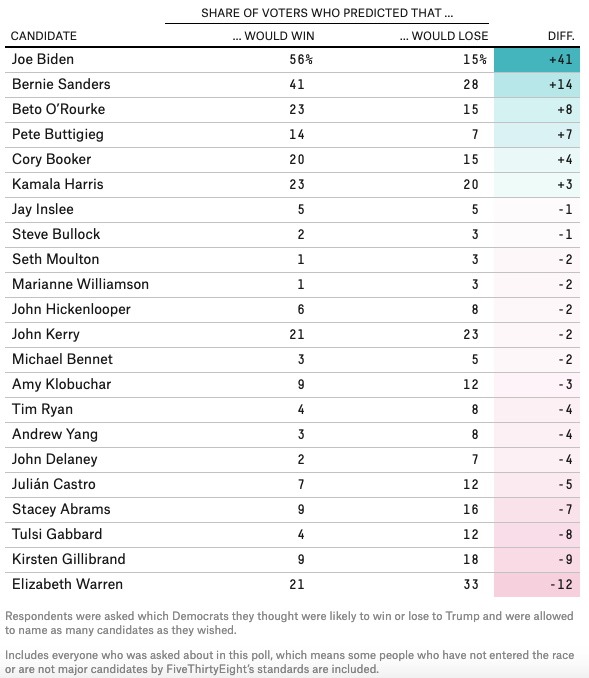 However, I'd argue Biden's liabilities in a *general election* vs. Trump are more serious than a lot of Dem voters seem to think. For starters, as
@NateSilver538
pointed out, check out voters' appetite for a candidate who's 75+:
What's more, many Dems banking on Biden's electability are underestimating Trump's ability to weaponize social media/other platforms to exploit Biden's baggage & open rifts in Dem coalition over touching/busing/Anita Hill/ideology/you name it, depressing base turnout a la '16.
Sure, Biden will win just about all the suburban Rs Trump has alienated & converted to Indies/Ds in the last few years. Just about any 2020 Dem would. But ask yourself: will young voters, particularly those of color, be jazzed enough about Biden to bring 3 friends along to polls?
After all, Dems' underperformance in MI/PA/WI/FL/NC in '16 wasn't just about working-class whites. It was also about Clinton's failure to mobilize the Obama coalition at '08/'12 turnout rates, particularly young & African-American voters.
Long story short: yes, I think Biden has a very good chance to become the Dem nominee, perhaps even after a floor fight in Milwaukee. But no, at the moment I don't consider him Dems' most electable candidate vs. Trump in November.
Who do I think *is* Dems' most electable 2020 candidate?

Hint: she may or may not be running.