Hi
@Liz_Cheney
, I worked at the U.S. Holocaust Memorial Museum, where I gave tours to tens of thousands of folks, introducing them to things everyone should know about the Holocaust, things you'd know if you actually visited.
@AOC
is right... (thread)
First, 6 million Jewish people were slaughtered out of anti-Semitic hatred, but 17 million people total were systematically murdered. This included persons with disabilities, Roma, Jehovah's Witnesses, LGBTQ folks, and other groups. Don't erase that.
(image:
@HolocaustMuseum
)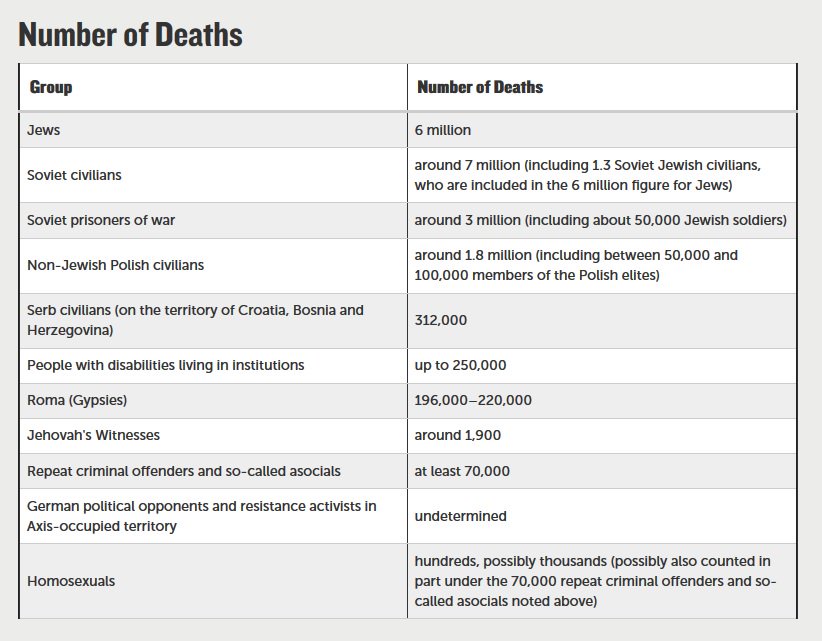 For several years, there was a popular exhibit at
@HolocaustMuseum
called "Some Were Neighbors". It meant to highlight how the Third Reich would not have come about without the complicity of civilians. Ordinary folks. Neighbors.
The genius of the "Some Were Neighbors" exhibit is that it didn't hold back. It talks about how doctors, lawyers, teachers, police officers—upstanding citizens—directly sold out their friends and neighbors (Jewish + others). Specific stories. Brutal stories. Violence + betrayal.
Throughout the exhibit were examples of real people who may have not worn Nazi armbands but turned-in Jewish folks, often unnecessarily. Some participated in violence. Most participated in discrimination. Just ordinary people, not Nazi party hacks, behaving ruthlessly.
There was no subtlety about the exhibit. The message was clear: these people are just like you, just like your friends and family, and they viciously bought into Nazi ideals. Their ears and tongues did the bulk of the legwork in rounding up Jews and others to be exterminated.
And they were led to do this by vicious propaganda that downplayed the atrocities taking place. The German civilian population was held to a party line that Jews and others were simply being "relocated" to "labor camps". Questioning this would get you killed.
The lack of transparency at the time about these camps is devastating, and instead of accountability on human rights, the vast majority of people did nothing and enabled shaming and violence toward those who wanted answers.
You know what we did in America,
@Liz_Cheney
? Part of the main exhibit at
@HolocaustMuseum
is how we turned away Jewish refugees at our shore who were fleeing persecution in Germany and elsewhere. We turned them away, sending them to their deaths.
In fact, as
@HolocaustMuseum
points out, American diplomats knew Jews and others were being targeted. We did nothing... until Americans were attacked in Germany in 1933. Hitler promised our diplomats that would end, and that was somehow good enough for us.
This goes on for years. Stories of Jews and others being brutalized, rounded up, and put in "work camps", never to be heard from again. We knew about this because our leading newspapers reported it. Many of our citizens protested, but our government did nothing.
There were able to do this, in part, because of people who diminished crimes against humanity, who constantly engaged in bad faith with reports of violence and discrimination against marginalized people.

"It can't be that bad. You're overreacting", they said.

It was, and no.
You need to understand, Congresswoman
@Liz_Cheney
, that the Holocaust happened over a long period of time, abated by the persistent excuses of those in power to do something. Out of fear. Out of selfishness. Out of bigotry.
When Congresswoman
@AOC
refers to these places near the border as "concentration camps", where protocol is still secret and obfuscated, where abuses and unnecessary death have been documented, where children still live in seemingly intentional awful conditions, she's right.
I would encourage you to visit the U.S. Holocaust Memorial Museum, Congresswoman
@Liz_Cheney
. You may find its content far more useful than as a vehicle to make a cheap political point while our government under Trump commits horrific atrocities against innocents. /thread