(1)
Thread: June 5th
#earthquake
near
#Ridgecrest
CA
I'm an earthquake survivor from NZ (2011) who will provide reporting & commentary below, just as soon as I can load the USGS pages properly.
This was big, shallow, & the city has 28k people.
ready.gov/earthquakes
(2)
OK, have given up on the USGS website for now. Current USGS-sourced assessment of this EQ is:
Mag: 7.1 (severe)
Depth: 0.9km (half a mile, v. v. shallow)
Location: 17km NNE of Ridgecrest, CA (very close to city)
(3)
I would be very surprised if there is no loss of life from this EQ.
185 people died in the Christchurch NZ EQ of 2/22/11. I was thrown across the room, but was fine, compared to others.
Ridgecrest: 28,000 + rural areas is a lot of people affected.
(4)
My advice to friends & family of those affected:
Do NOT call folk in the area, it will crash the network. Get one person to use SMS then feed out the info.
Locals need mobile services for 911 calls.
#Think
(5)
Also be wary of unconfirmed "news" reports. Stick with official sources only.
Please do not drive to Ridgecrest to offer food, water, clothing, & volunteering. That leads to the
#SecondDisaster
where already stretched responders have to crowd-control you & process items.
(6)
My concern is with the 28k+ people close to the epicenter.
In addition, people in LA are affected. Always a good idea to practice your response bc The Big One is inevitable. Not if, but when:
(7)
Wherever you are if you feel an earthquake, remember that the safety advice has changed in recent years:
#DropCoverHoldOn
bc if you get in a doorway you can get injured. Crouching under a table or next to it or any solid furniture is safer. Cover your head.
(8)
Here's an infographic to save to your phone, and print out. Have drills with the family. Make sure everyone knows where to meet up after the earthquake.
Study the advice at
ready.gov/earthquakes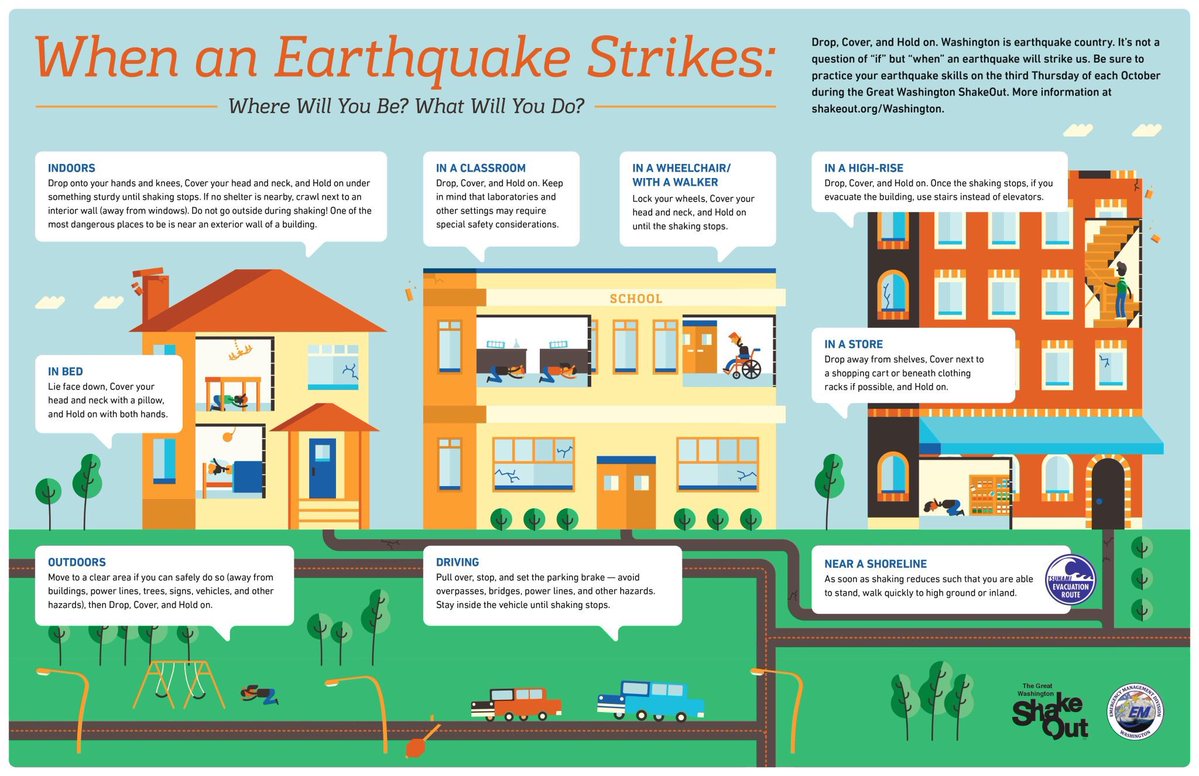 (10)
Dr Lucy Jones is brilliant. In NZ, our seismology and geology experts became the go-to people as we dealt with months of aftershocks, fear, and stress. Knowledge is power.
(12)
In a few minutes at 10pm local time there will be a press conference. I will comment on it after its finished.
Actual number of casualties is unlikely to be known this early on. All we can do is wait.
Replenish charity funds for the next disaster:
nvoad.org
(14)
#DidYouKnow
federal
@samhsagov
's Disaster @DistresslLne provides 24/7 365-day crisis counseling & support to people experiencing distress during emergencies & disasters:
📞 800-985-5990
📱 Text TalkWithUs (Eng) or Hablanos (español) to 66746
samhsa.gov/find-help/disa…
(15)
I can't stress enough how important it is for everyone to be
#ready
for disasters, (esp. earthquakes bc there is NO warning.)
The more SELF RELIANT you are, the easier it is for First Responders, AND you can help seniors, disabled, babies etc too.
(16)
Phew. My prediction of a few casualties now seems unfounded. There may be reports of them later, but the press conference provided the following points:
"There have been many calls for medical assistance, but a total number was not given."
(17)
"There are currently no fatalities and no collapsed buildings." - press conference.
If a very shallow 7.1 EQ hit near a city of 28k people in NZ, there would be fatalities.
Our geology is different in several respects. That's above my pay grade to explain though.
(18)
I'll be back in a couple of hours with more updates about the
#RidgecrestEarthquake
effects locally and in the wider SoCal area.
(19)
Aftershocks will continue.
🛌 If in bed, stay there & cover your head & neck with a pillow.
🚗 If in a vehicle, stop in a clear area away from buildings, trees, overpasses, underpasses, or utility wires.
(20)
Some photos of road damage near Ridgecrest
🚧
(21)
State of Emergency declared for San Bernardino County.
(22)
Good source for local Ridgecrest news updates
@KGETnews
.
Shoutout to all those working through the night in many parts of CA, in co-ordination centers, as first responders, in healthcare, utilities, media, the list is long.
The $ impacts will be huge, too; USGS modelling: