When people say the OT prophesied the coming of Jesus & therefore the fulfillment of prophecy is *proof* that Jesus is the Son of God, I say, "Not quite". The OT had various themes & promises that came together in an unexpected way in Jesus that was clear after His resurrection.
From a purely historical standpoint, you'd have to say that *something* happened that made Jewish followers of Jesus read the OT differently & see the Messiah in a scandalously fresh new way. Christians say that "something" is the resurrection. Here's
@profntwright
on OT hope: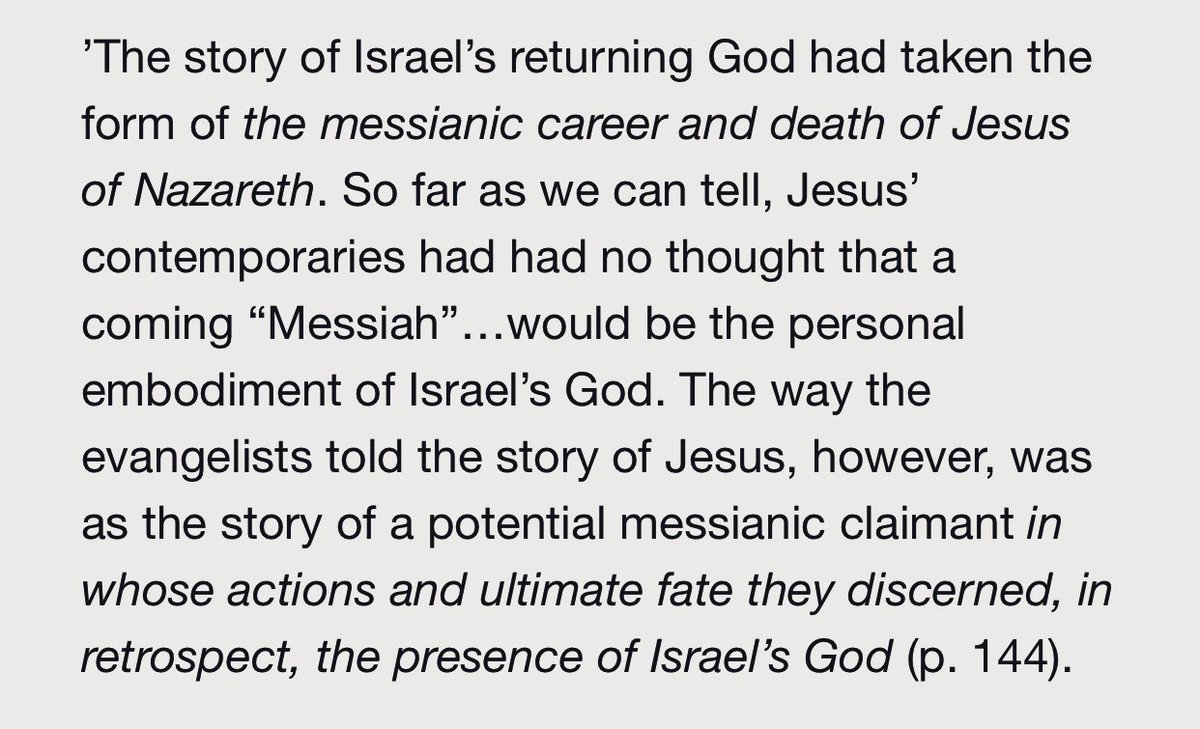 People want to use history to answer questions like, "Did the Fall of Jericho really happen?" (OT), or "Did the resurrection really happened?" (NT). But the better use is history is in pointing the development of belief and ask what could have produced such a belief.
For example:

In the OT, how the Israelites develop such a radical monotheism in the face of polytheism around them, and make the shocking claim that the sole sobering creator-God was in a special relationship with them as their covenant-God?
And in the NT: How did Jewish followers of Jesus make a claim that would have been scandalous to Jewish belief on several counts (a crucified Messiah?? YHWH made visible in a human??) & absurd to Greco-Roman beliefs (how could a crucified failed rebel be hailed as a god?)?
When you employ history in that way, you allow yourself to question the presupposed view of space (heaven and earth are split realms) and time (present age and eternal life are separated). This the genius of
@profntwright
's argument in the Gifford Lectures.
Then, when those presuppositions are questioned, you're able to stay away from two errors: 1. You can't say you would have arrived at Jesus as the Messiah from the OT alone; 2. You can't say that Jesus emerges from nowhere, an ahistorical intrusion.
No: Jesus is fulfillment (of the Jewish view of Temple as where heaven and earth meet; of Sabbath as where Ages overlap; of Messiah as truly & tonsil image-bearing vocation of humans)...but in a surprising way which only can be seen when read backwards from the resurrection.
[Thank you for coming to my TedTalk on Jesus, history, and the use of prophecy.]
*sole SOVEREIGN not sobering.