Parts of a Dravidian (South Indian) Temple:
1)Gopuram: A Formal Entrance to the Prakaram (compound) of the Temple. Gopurams of Mahabalipuram & Kailasanatha of Kanchi are small in comparison to their Vimanas.
@ReclaimTemples
@punarutthana
@LostTemple7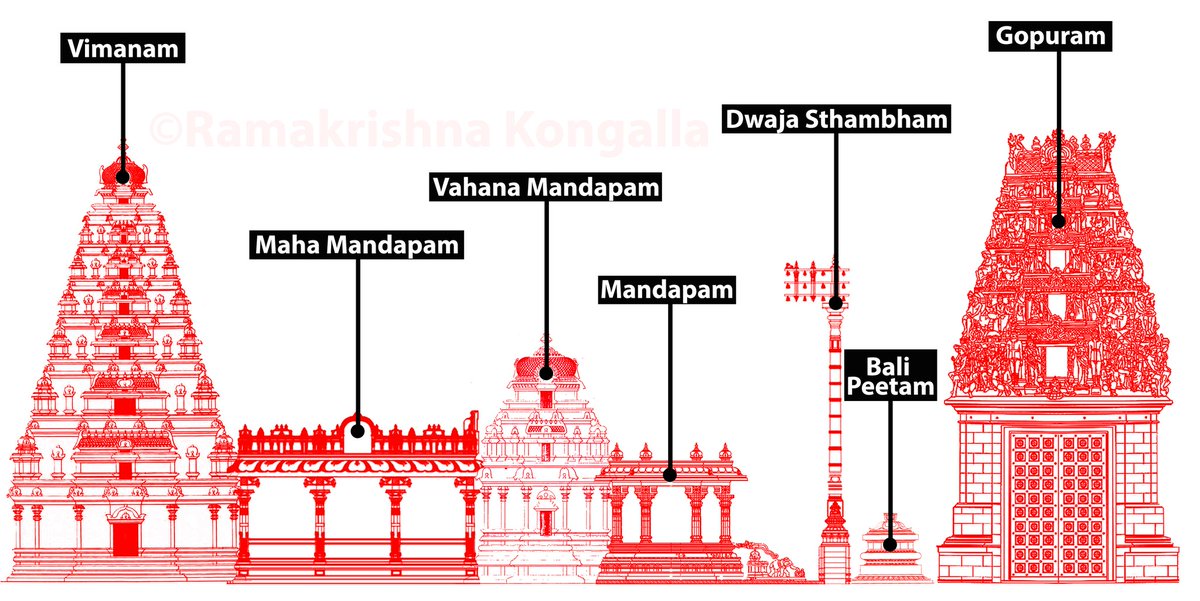 + Later the Gopurams grew in their size dominating the Vimanas and reached their zenith during the time of Vijayanagar rulers.

2)Bali Peetam: A Sacrificial Platform to offer "Naivedyam (Bali)"/offerings.

It has always been misinterpreted by certain section of people that...
+...Balipeetam means the place of "sacrificing the animals". Those are the people know little of what sanskrit & it's rich vocabulary is.

3)Dwaja Sthambham: A Flag post at a Magnetic point to connect the Earth and Heavens generally between Garbha Griha and Gopuram.

It is...
+ a fact that a devotee boss his head below Dwaja Sthambha leaving all his "EGO" before teaching the lord.

4)Mandapam/Chawadis: Used for different rituals related to the Murti/Temple.

Sometimes also used for cultural performances like Natyam, Ganam etc.
+ 5)Vahana Mandapam: Space for Vahana of God. Garuda Mandapam for Vishnu & Nandi Mandapam for Shiva. Garuda & Nandi facing their Masters.

Sometimes the Vahana Mandapas are absent & they are sported in open space.
+ 6)Maha Mandapam: Between Garbha Griha and Vahana Mandapam for Devotees to offer prayers.

Chala Murtis like Snapana Murti (Meant for Abhishekam or offering) & Utsava Murti (Meant for procession) are kept for worshipping & rituals.
+ 7)Vimanam: Pyramid Structure above Garbha Griha with many Talas (Floors) as Shikhara of Nagara Temple capped with a Stone called "Stupi".

Initially Vimanam has been Higher than the Gopuram. Reaching it's zenith during the time of Cholas, became small to Gopuram in later times