In 2015, a UNHCR report on the refugee crisis found that, "Britain's right-wing media was uniquely aggressive in its campaigns against refugees and migrants."
In the past 5 years, not much has changed.
#Refugees
#Immigration
#MediaBias
@Refugees
1/7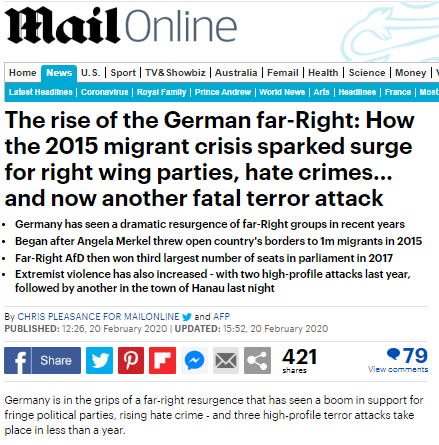 Today's example from the Mail Online blames far-right terror attacks in Germany on the so called 'migrant crisis' of 2015, when Angela Merkel opened the borders to migrants crossing the Mediterranean.
2/7
dailymail.co.uk/news/article-8…
The article also mentions "headline-grabbing stories of sexual assaults, notably on New Year's Eve 2015/16 when more than 1,000 women in 12 cities including Cologne claimed to have been sexually assaulted, mostly by immigrants."
3/7
But it fails to inform readers that many of the alleged incidents of 'rape' proved to be untrue, with statistics 'strongly exaggerated' by far-right parties and outfits who have manufactured the 'crisis' as a tool of incitement. 4/7
spiegel.de/international/…
In the UNHCR report, The Mail was found to be 'twice as likely' to link refugees with violent crime, property crime or terrorism offences.
Another example, today they headline 'two members of Arabic family' in a story on organised crime in Germany.
5/7
dailymail.co.uk/news/article-8…
Perhaps the Mail Online has forgotten about the murders of 9 immigrants by Neo-Nazi terrorists between 2000 and 2007, or the fact that far-right terrorists have committed nearly 169 murders since 1990, not including the victims in
#Hanau
this week.
6/7
zeit.de/gesellschaft/z…
The full UNHCR report, "Press Coverage of the Refugee and Migrant Crisis in the EU: A Content Analysis of Five European Countries," is an excellent reference and can be found here:
unhcr.org/56bb369c9.pdf
7/7