Indeed so.
Will Norman just standing up...
Will Norman starting by saying that although Mayor's Transport Strategy consultation has closed he will happily look at any prompt emails...
Norman: At heart of Mayor's transport strategy is a commitment to improve Londoner's health.
Sadiq has made commitment to shift from cars.
At present, equal proportions of Londoners are using cars and public transport.
This dependency on the car is create danger and pollution...
...but is also at the heart of our inactivity crisis.
40% of Londoners are not meeting the WHO guidance on activity.
Central aim of the Mayor's Transport Strategy is to move journeys by walking, cycling and public transport from 64% to 80%
Throughout the lifetime of this strategy we are looking at the [equivalent of] populations of Glasgow and Birmingham coming to London.
At heart of this is new initiative and a new approach to how we use our streets, the Healthy Streets approach
[healthy streets wheel, drink]
Healthy Streets approach utilises 10 key indicators (tweets passim etc.)
Norman now shows before image of Orford Road, Waltham Forest.
The before and after of Orford Road from Mini Holland in WalForest are cited by Norman as being the shift Mayor's team and TfL want to see.
There are now no vacant shops in Orford Road. People walking & cycling are spending well in shops. Reduced car access has good consequences.
Now looking at Archway. Norman does ask just how the images he gets through TfL wind up being the ones without traffic(1)
"We can't do this alone" says Norman, as he notes 95% of roads are in borough control.
New funding stream, Liveable Neighbourhoods Fund...
...fund can do a raft of different things depending on need and context.
£85-86m funding, boroughs applying to first phase.
Can be filtering streets (as image shown by Norman), reducing motor dominance, making town centres more vibrant and so on.
Norman on Quietways. Describing riding on Quietway 14, which is a good change.
Quietways are being much commented on, but _done well_ work.
Norman very keen to emphasise that point on Quietways, seeking no doubt more support in the room but also nudging boroughs as well.
Norman now running through examples of current schemes in consultations with Superhighways.
CS9 running from Olympia to Brentford and CS4.
But what's next, and in the pipeline?
Norman draws up image from end of TfL's Strategic Cycle Analysis and says support, modelling important
Norman also briefly notes next phase of Cycle Superhighway 6 (N-S) & CS11 (specifically at Swiss Cottage) will be spades in ground this year
Norman now talking about HGVs and lorry safety.
Describing the poor levels of visibility drivers are currently being given by vehicles.
Norman describing the "direct vision" standard with requirements on cab windows and visibility.
To rate vehicles using a star rating system.
One of the challenges is that not enough vehicles with direct vision exist, not just to buy but even coming down production lines.
Manufacturers are not just designing vehicles for London but for the whole of the European market. Hence, lobbying via European bodies.
Norman says infrastructure is important and vital but also notes need to drive behaviour change.
TfL STARS scheme reaches ~ 50% of schools.
London is seeing notable increases in cycling at present, but the diversity of that growth (gender, age and race cited) is a concern.
Norman now showing an old gent on an eBike he met, who said he did ~60 miles/day
500k/yr sold in Germany, ~30k/yr in UK
EBikes appeal to "a different kind of cyclist" says Norman, who also cites a friend working in the NHS using it to work in communities.
Also seeing cycling growth from new models like dockless bike hire which Norman says despite "teething troubles" are tremendously exciting
57% of Londoners use Google Maps to plan their way around the city.
How do we get cycling into such tools (& CityMapper etc) to support it?
Norman rounds off with some brief thanks and prepares to hand over to his TfL Colleagues...
Clarifications first. Some questions haven't in fact been clarifications (shock!)
But... Norman confirms CS11 gates still being discussed...
And... query on Liveable Neighbourhoods funding - is it one off? Norman says it is a long-term programme £85m is over four years though.
And...query about filtering and how that should be worked for? Norman keen on support from bottom up as well as support via Mayoral strategy
Norman does say that in particular for quietways and filtering there is a need political leadership locally as well as from the top.
Will Norman retires... to his seat (sorry, I'm just playing with you all)
And now we get the Cycling News, with Neil.
Neil Guthrie says he decided to look outside London given heavy TfL focus today:
- Scottish Government pledge 2x active travel to £80m (£13.50/hd)
- Labour pledge for £10/hd
- Mayor Andy Street also supporting £10/hd
- 'Operation Close Pass' reaches Exeter. Exeter a former Cycling Demonstration Town, mats supplied by cycling UK
- Big Birmingham Bikes scheme
Another 2,000 bikes now avail, 3.5k now handed out
- Worlds largest cycle park also opened in Utrecht [~12k?]
Neil has also been on holiday.
Kos Town, pop 25,000
Has two way raised tracks and dutch style cycle tracks at carriageway
Low level lights
Holiday trip so holiday photos... and measurements!
200/hr on busy tracks
Good Broad demographics too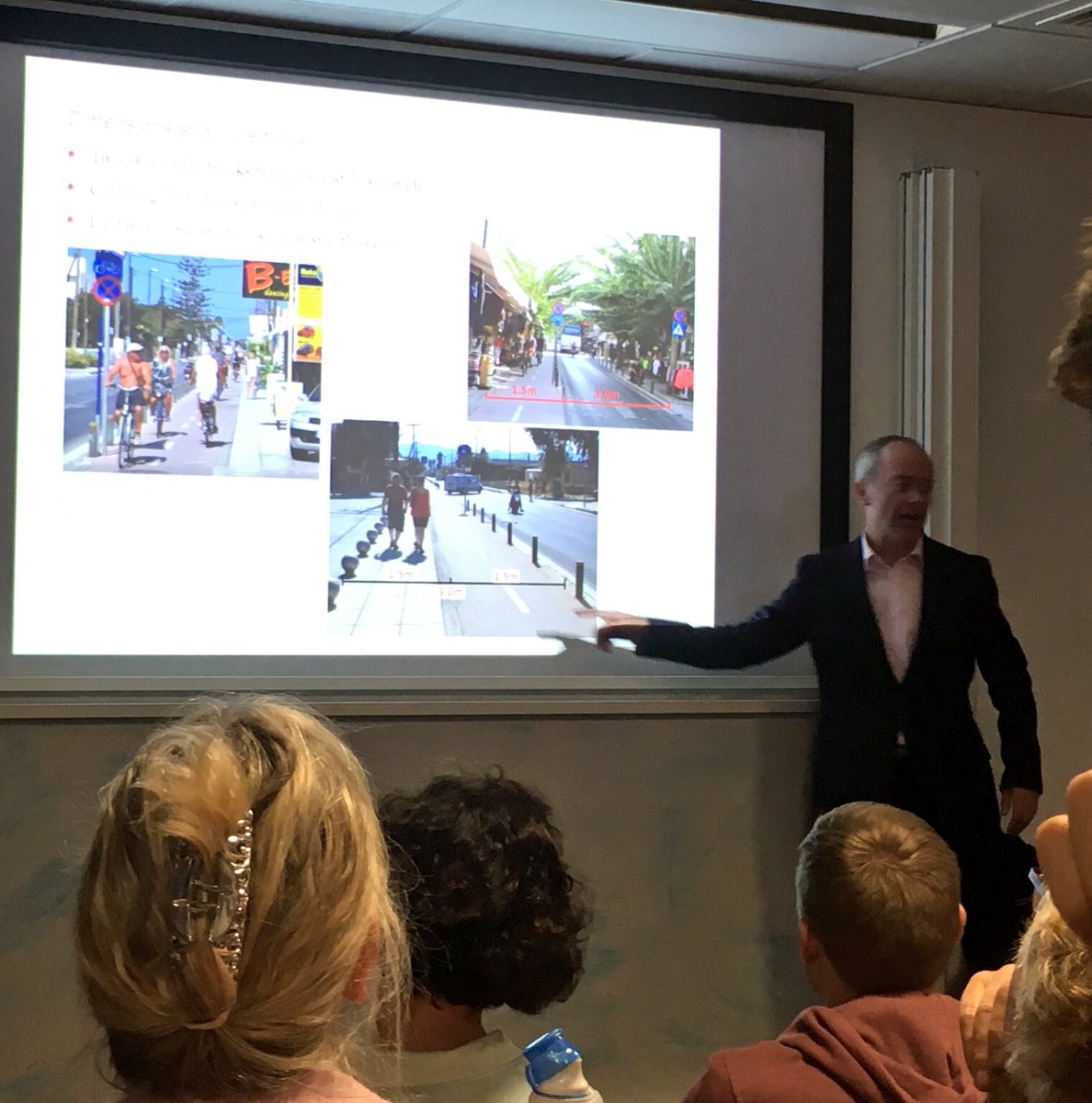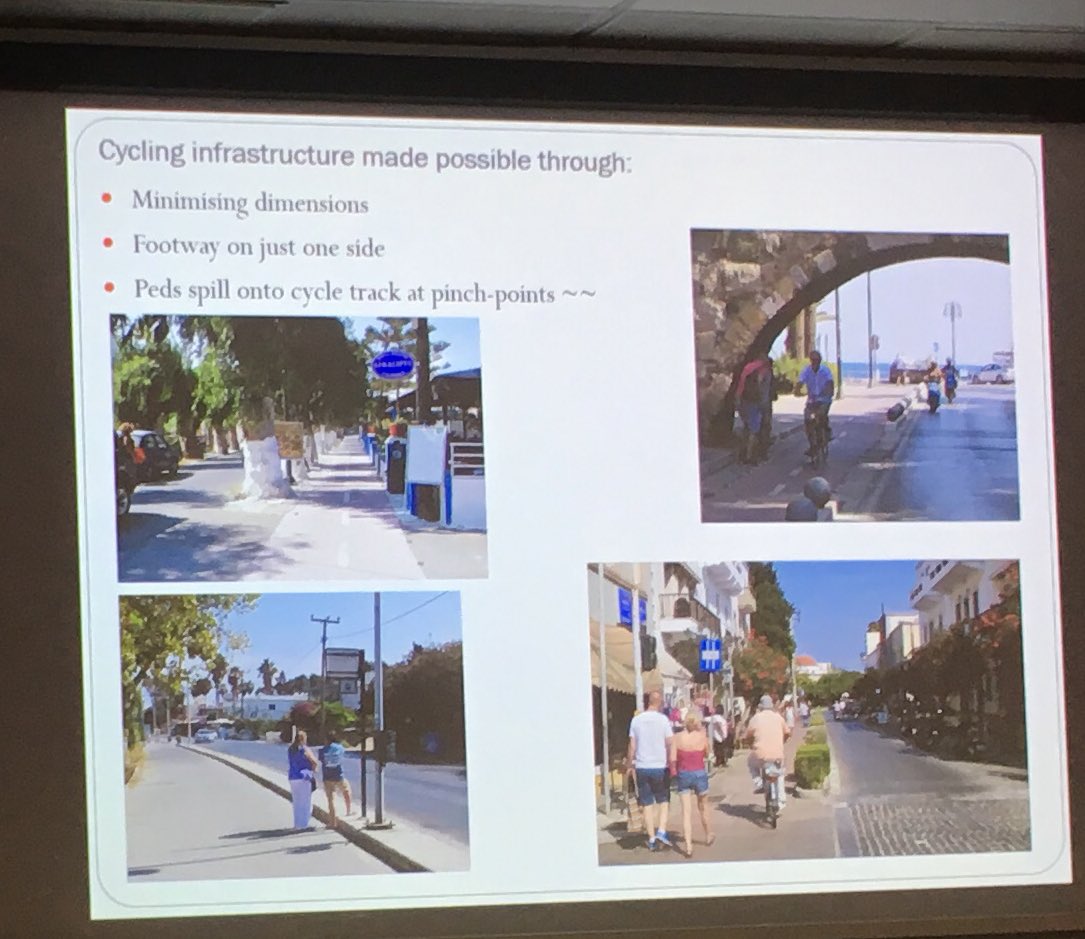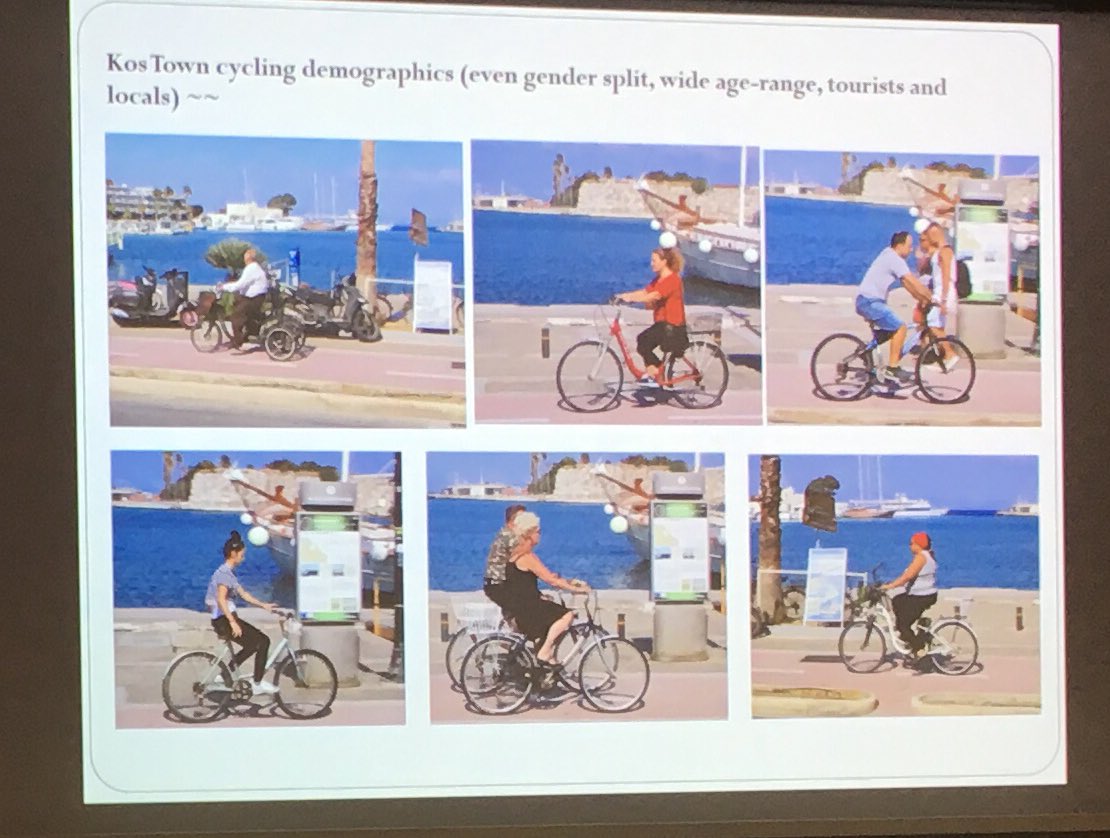 Cycling in the News...
Tony Blackburn weighed in and
@johnstreetdales
noted the contribution from the "respected commentator and noted sage"
Neil noting the issue of using the term cyclist continues and notes that IAN195/16 rather sensibly opted to talk about "cycle traffic".
This is Claudia Penaranda and Alex Longdon of TfL, The Strategic Cycling Analysis - Informing the development of London's core cycle network
Claudia's background in architecture & planning, joined TfL having come from Barcelona
When joined TfL had no long-term spatial cycling plan
TfL's Strategic Cycling Analysis was published on 16th of June.
Press coverage included comments from Gilligan, former Cycling Commissioner.
Claudia reads Gilligans's comment from the time that he was against it on grounds you could just look outside
Hopes to convince us otherwise
Policy context for Analysis was draft Mayor's Transport Strategy - enabling the spatial target 70% of Londoners within 400m of cycle network
Already can analyse spatial targets:
-TfL by Spring 2017
9% of Londoners in 400m
20% in 1km
-Business plan to 2022
34% in 400m
61% in 1km
Compared what was needed against best practice internationally. Impressed by Seattle and Boston's Plans.
(In context of developing network)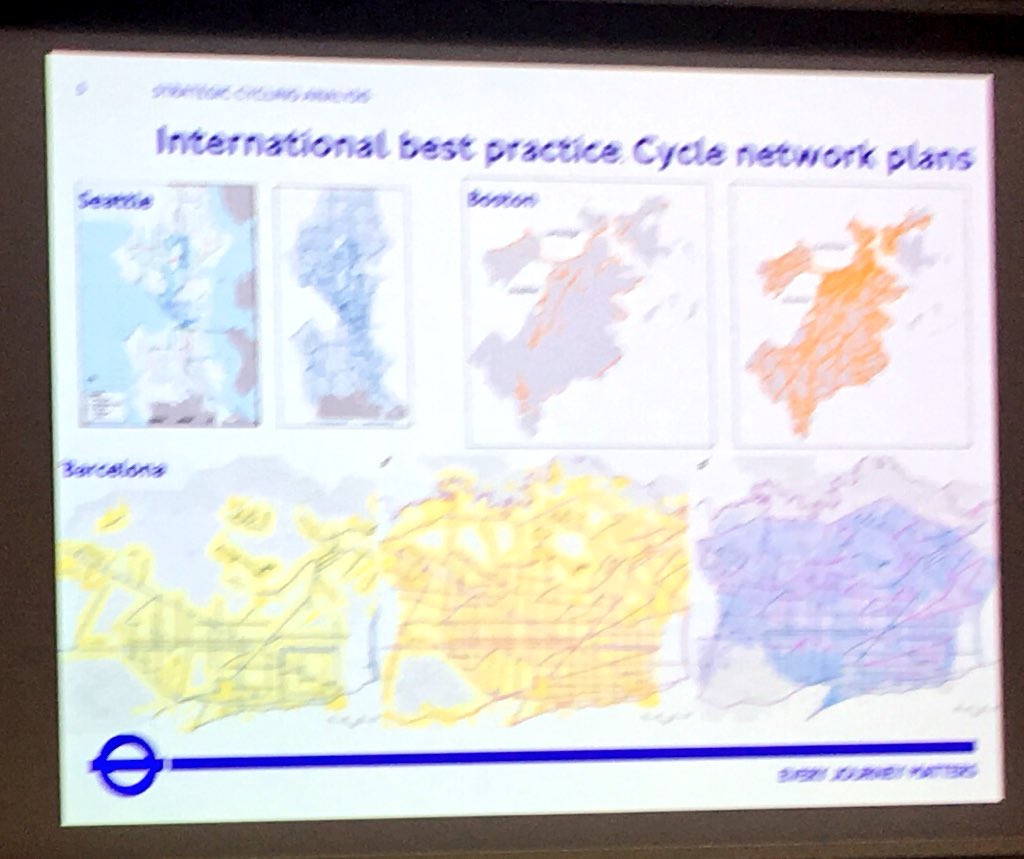 Claudia noting many stages and approaches that analysis covers - how to relate to other priorities including walking and public transport
Alex Longdon now presenting with slide showing TfL 'agglutinating' various datasets:
Cynemon, and other cycle data models in TfL's reach.
(Note, will illustrate using screen caps of report, not quiet same as slides)
Can start by looking at where are people cycling now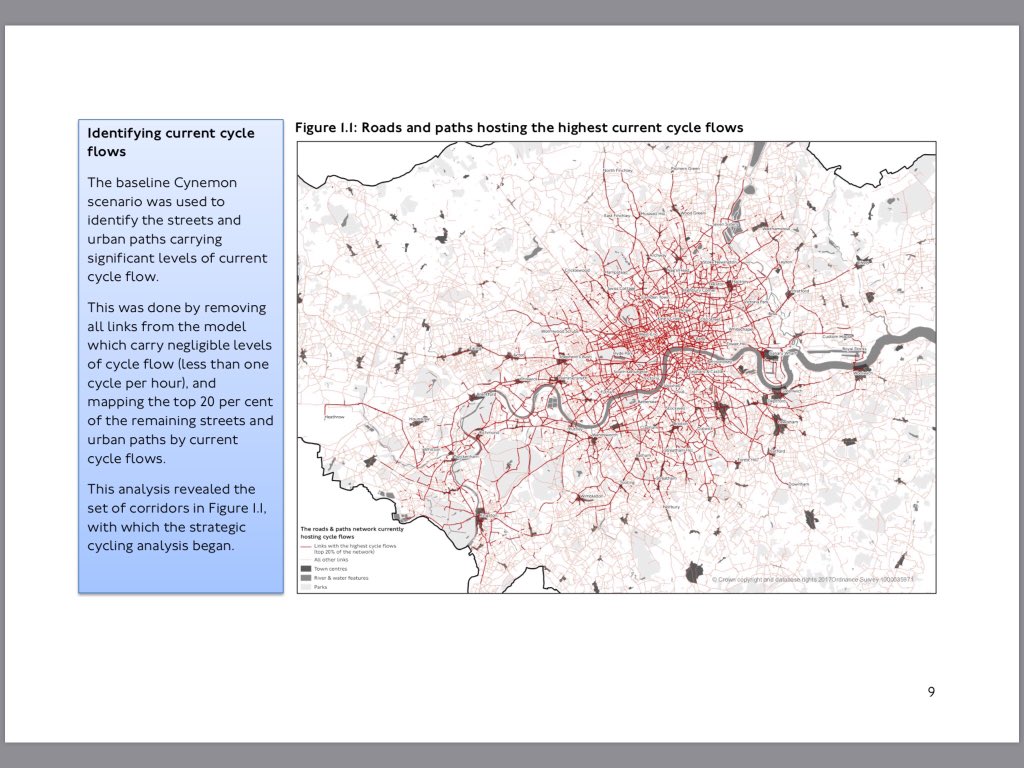 And then add the question of where might people potentially want to cycle to.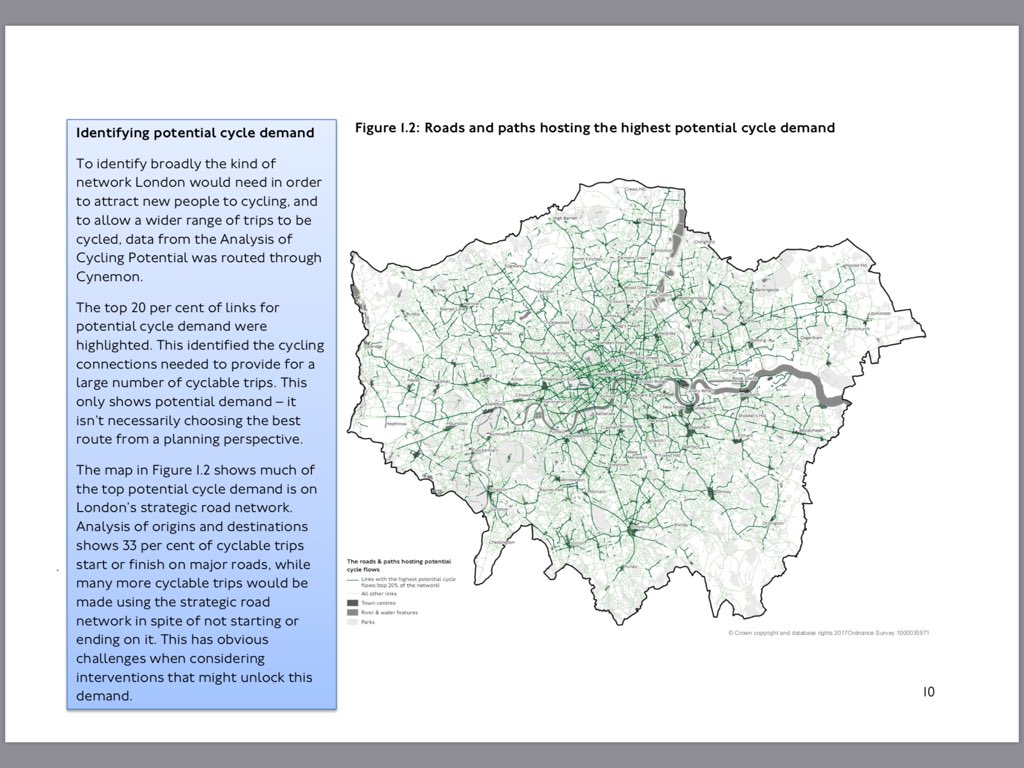 Taking these first two analyses together and then comparing them to the planned investment lets you consider where gaps in network are.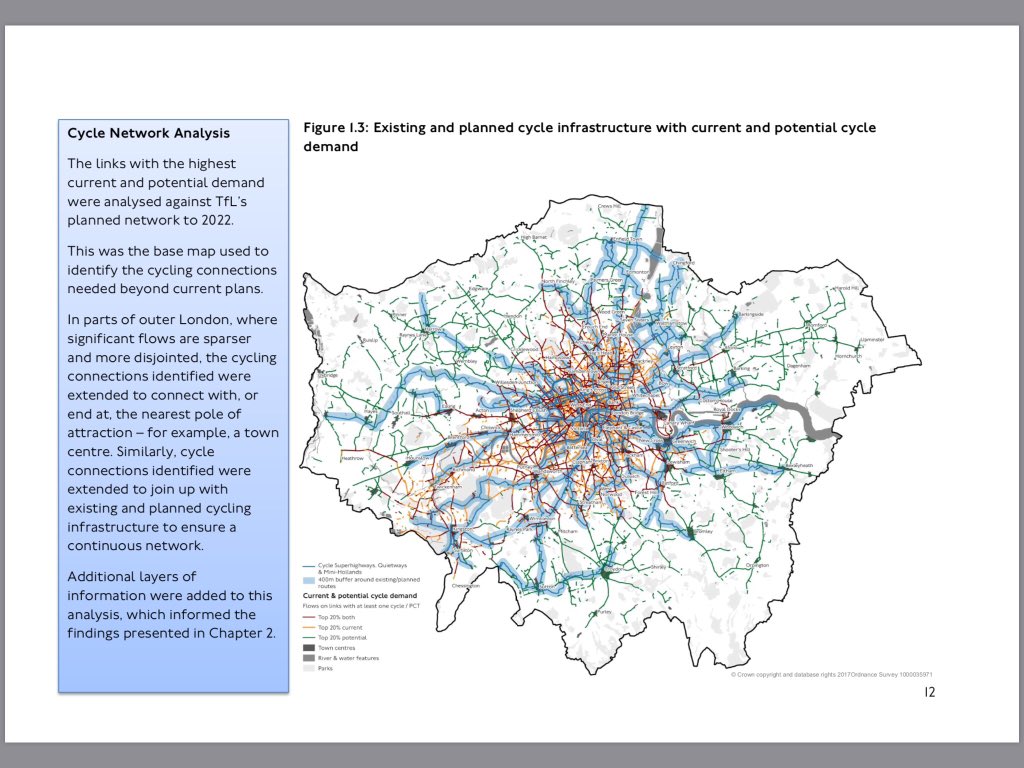 Further analysis about potential of enhanced network can then provide for an idea of prioritisation.
Intentionally, no low. Medium or higher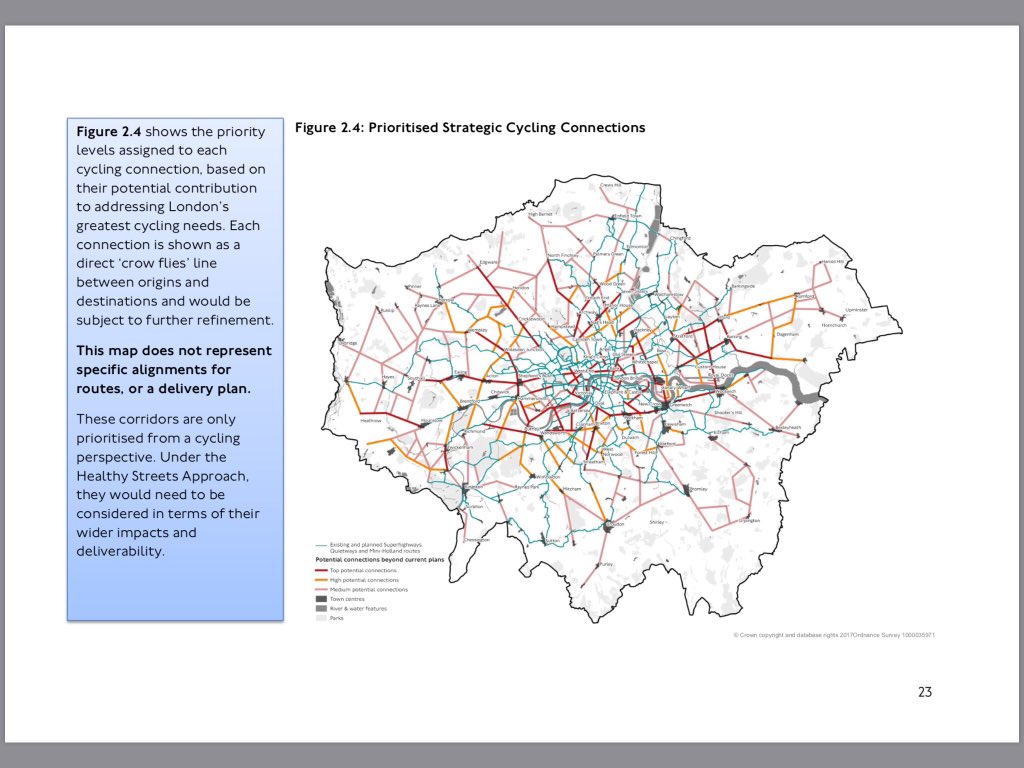 The analysis lets you show that improvements for cycling can have synergy with areas where walking needs improvement for its own potential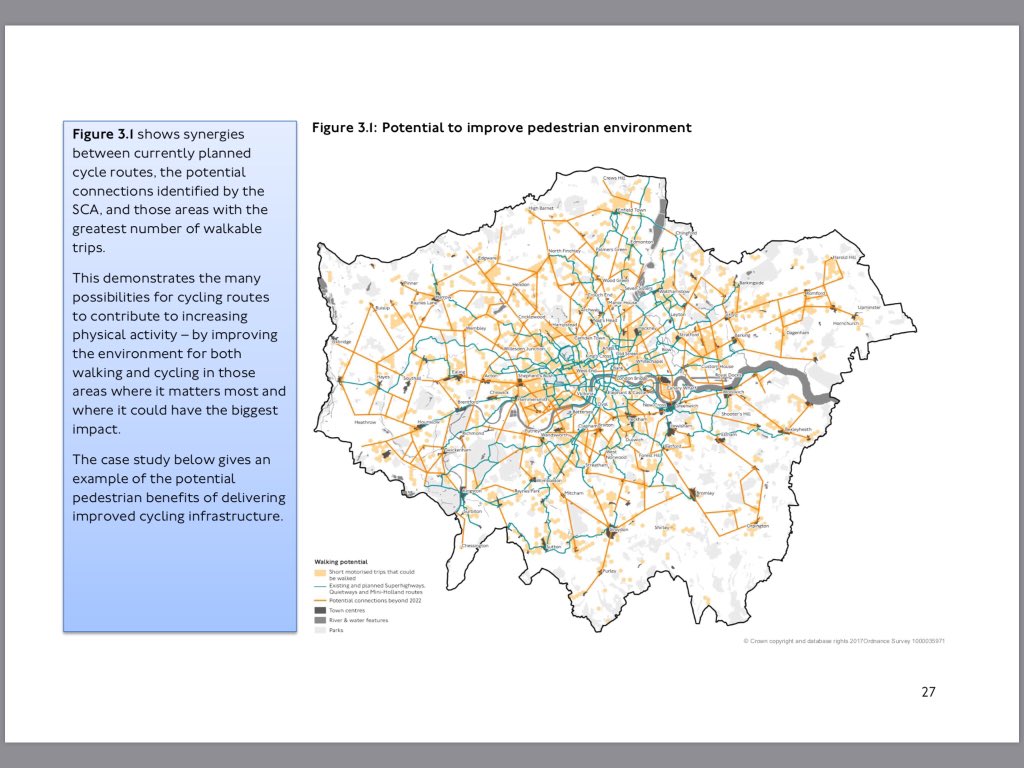 Similarly Support for goals like Vision Zero can be demonstrated by analysing synergy with locations where collisions need consideration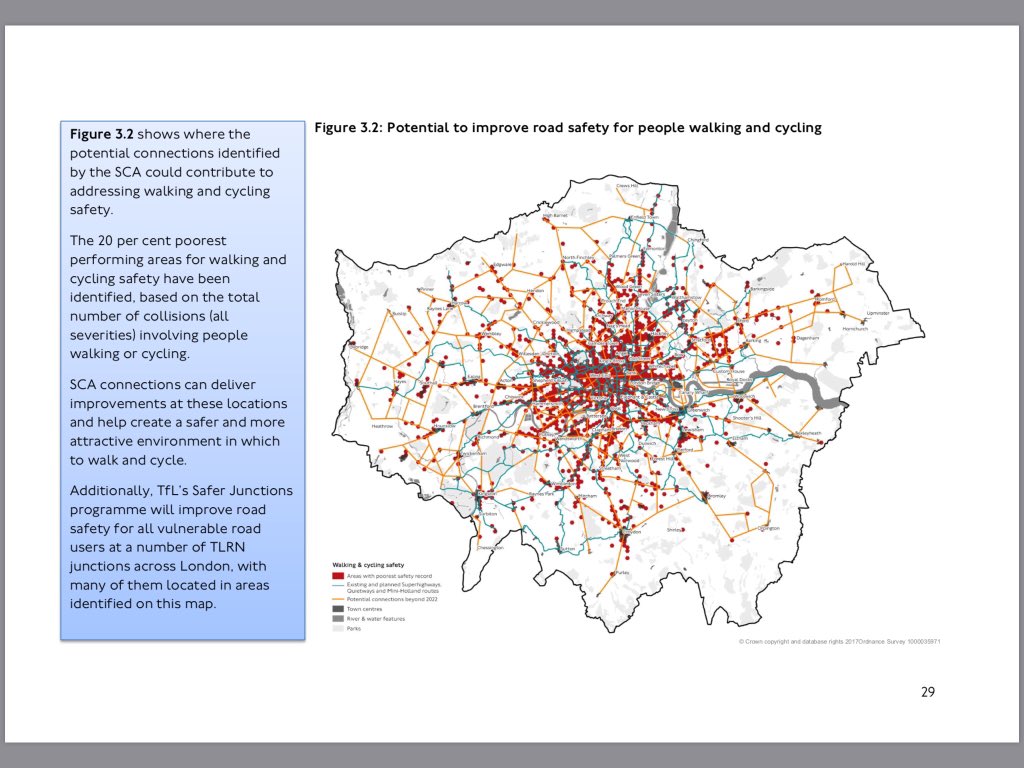 Claudia notes that they wanted to discuss upfront the need to plan carefully where corridors have heavy demand for cycling and buses.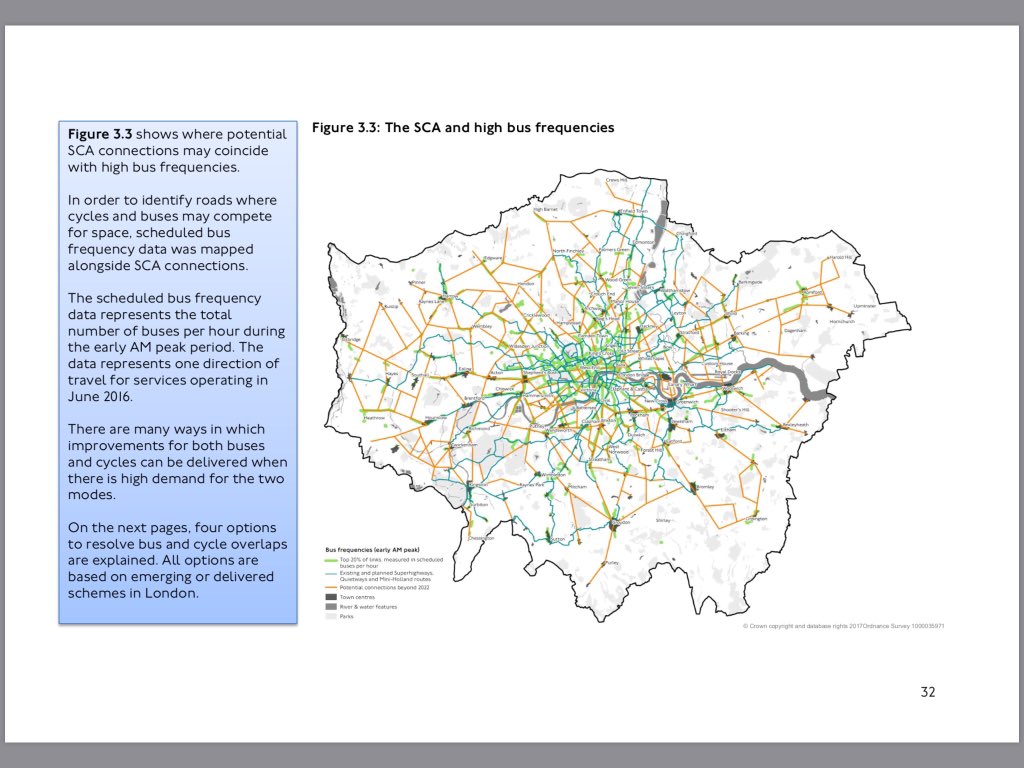 4 Options identified
1-
dedicated facilities
2-
reduced access for other road users
3-
high quality facilties in parallel
4-
reworking buses
SCA already has 4 key uses:
Draft MTS
Defining new routes in inner and outer london
Central London Grid phase 2
OA studies (eg Isle of Dogs)
Next Steps:
Find every opportunity to deliver the network
Include the network in London Plan and Local Plans

Q: How can it be enriched?
1st Q: Have you identified a cost?
A: Not really possible, plan goes very far out and does not specify the form of infrastructure.
A: Also, cost to who is a key point.If it is in local plans and London plan then it can be paid for by developers and long term investment.
2nd Q: what is TfL doing in planning to support multi-modal use of cycles?
A: Are works, e.g. in Crossrail to scale up cycle parking.
A: important to also understand that the potential is very much spatially determined. Outer London has greater potential for multi-modal.
A: also within the SCA there is a notion of a cycling PTAL - access to public transport by a given time spent cycling. Huge potential.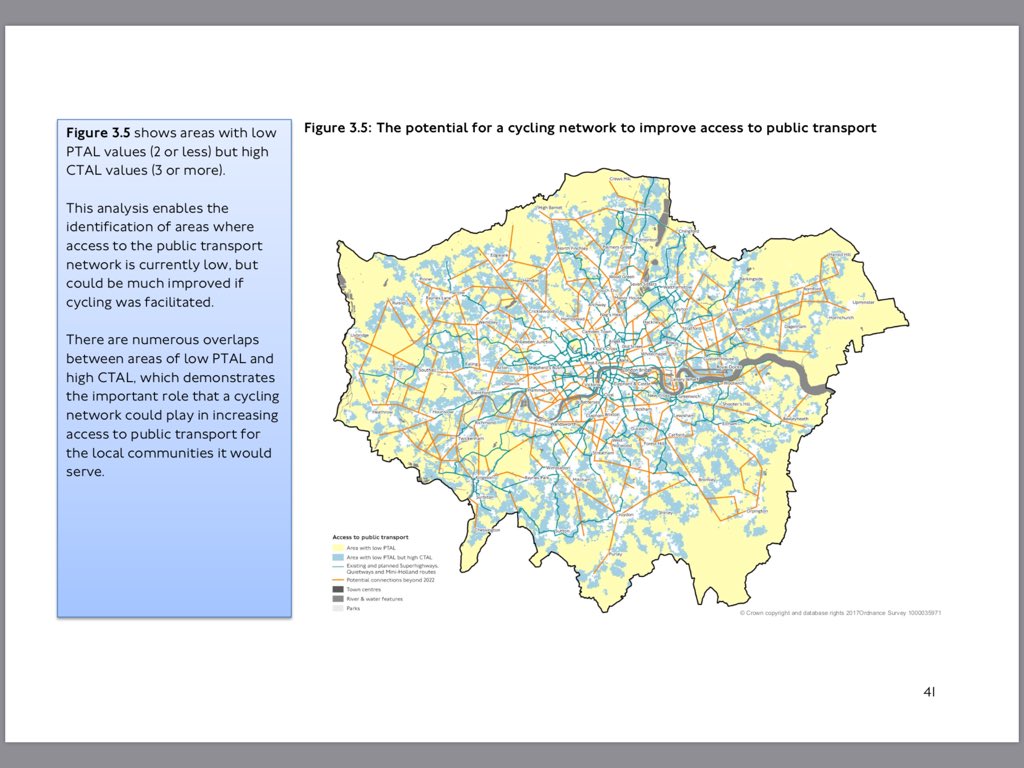 Lengthy context adding A from Will Norman: important to understand policy supporting is not just in Transport & covers parking etc as well.
3rd Q: John Adams (70yrs) asking about Driverless Cars and how much influence cycle planning and planners are making on plans e.g. at NIC
A from Will Norman: Everyone is getting a little carried away with driverless cars. They are still cars with their negatives...
...but also there are unforeseen and consequential negative impacts to be worried about - will cars circulate and cause traffic, not park?
4th Q: What are the key levers and approaches to diversifying cycling in London?
Alex: #1 barrier is safety in every single survey, it's key
Claudia: we have seen from international studies that more complete networks are important. Higher quality does lead to higher modal share.
Claudia: There are already improvements in diversity that can be observed on E-W and N-S superhighway but need a network not just a pair.
Norman: working in schools is important and cycling need to be fun, the f words matter.
The infrastructure matters, as does reaching out.
Norman: but a wide range of things matter, including parking,
Bike to Work is great, but it's not available to everyone- how do we fix that?
5th Q (related): someone who runs breeze rides for women in outer London. Not much infra, even on SCA.
Women put off by intimidation & abuse
5th Q (cont): How do we conquer this, feels like there is a deskilled generation of drivers
Norman: close pass initiatives and reporting imp
Norman: Really need to make this anti-social behaviour socially unacceptable.
Norman: Also see potential in working with other cycle commissioners and mayors to drive further changes that would help this and more.