One like, one unpopular Blockchain/Cryptocurrency opinion
1/
trusted intermediaries are sometimes great
2/
there is no such thing as crypto economics, there's economics
3/
99% of these projects are going to fail
4/
there is no such thing as "beyond regulation" blockchains are decentralized, people are not
5/
the UX in this space is garbage
6/
Don't even get me started on branding. Everything is coin this, block that. There's probably no strong TMs in the space. Maybe Kraken.
7/
Also, for a tech that solves people problems (trust/consensus) everyone seems focused on the tech problems, not the people
8/
also, code is NOT law. Full stop. Why Lessig thought that was a good idea is beyond me.
9/
if people really want widespread adoption they need to realize not everyone wants to be their own bank
10/
along those lines, the hype machine needs to settle down, this looks a lot like religion h/t that
@ReformedBroker
article for that
11/
blockchains are not building an alternative system, they're complementing the current one, sorry. At least this is more user up.
12/
also, cryptocurrencies at present are terrible cash and credit card replacements. For more than just tx/s speed reasons
13/
outside of Bitcoin no one has proved a real long lasting use case for decentralized applications
14/
market cap is a terrible metric
15/
ICOs are like trying to argue your new Lexus is a new kind of vehicle different from your Toyota, guess what, they're both cars
16/
speaking of ICOs, 99% are unnecessary. seriously, build the network, be the first miners, get paid if it works
17/
re: economics, Hayek and Mises are not the only economists that every lived, no seriously
18/
Satoshi Nakamoto died with Hal Finney
19/
Central Bankers understand Bitcoin and cryptocurrency very well
20/
so do intelligence agencies and governments. Jussayin
21/
you haven't solved for the incentives when you have a blockchain without a native token, that's just a database
22/
a million blockchains for everything will be just as bad as a reward points account for every business. Please. No.
23/
smart contracts are not smart and not contracts. Who is in charge of marketing around here?
24/
this space is too alienating. something has to be relatable. Design for a grandma in Wichita, not a damn vapping hipster in Tenderloin.
25/
you should want regulation.
26/
a future where every business has it's own token is a nightmare hellscape
27/
a blockchain that allows Turing complete programming is not always a good thing
29/
it should be: "A Peer to Peer Electronic Value Transfer System," cash was a stupid choice
30/
if Satoshi didn't do a whitepaper, and just did some blog posts, we wouldn't have to suffer through all these piles, except PonzICO 🔥
31/
Blockchain is evolutionary, Cryptocurrency is revolutionary
32/
DAOs will never work as advertised
33/
probably less than a dozen coins are novel
34/
I swear if I have to hear "Game Theory" one more time I'm punching John Nash's corpse
35/
with few exceptions, never have people made so much money by delivering so little of value
36/
not every arrangement that involves a trusted third party needs a blockchain solution
37/
the worst marketing move in this space has to be calling it an ICO, that said, stop. trying. to. make. Token. Generation. Event. happen.
38/
really bitcoin is a dumb name too. Not that I have a better one
39/
we don't need Blockchain satellites, we need key management solutions
40/
regulators/authorities don't need to understand the tech to understand fraud
41/
there never was a Zug defense
42/
if any of this works it'll be because we all just peg against Bitcoin, which is what we're doing already
43/
there's too much founder worship in this space, not healthy long term
44/
more often than not your problem DOESN'T need a blockchain
45/
state issued crypto with better UX would destroy the current offerings
46/
a fork should ostensibly hurt both chains, instead everyone wins, because that makes sense
47/
we ever going to figure out environmentally sound PoW, or nah
48/
PoS just seems like it shouldn't work, you know it's true
49/
there's like 800 dApps, right? Are they useful?
50/
bitgold would have been a better, at least more accurate name, yes I know, don't @ me
51/
digital provenance, that is proof a digital event occurred, is more valuable than the value transfer
52/
for a tech to bring the unbanked into the game why is everyone in San Fran, and NYC, you need outreach teams like Nokia did way back
53/
if you want the tech to speak for itself (which it surely can) leave the politics out, not everyone into this knows Bastiat
54/
also, the State is going nowhere. what are we going to do have Blockchain managed use of force?
55/
Satoshi, like all humans, made mistakes... Probably
56/
ICOing pre-testnet is probably always a bad idea
57/
the best meme in this space was that one
@NeerajKA
did with Zuckerberg "bitcoin v. Blockchain." This is known.
58/
we really should only be talking in terms of decentralized applications (h/t
@adamludwin
) and cryptoassets (h/t
@cburniske
, I think)
59/
this tech enables novel solutions to people centric problems, that's more important than the tech problems
60/
OGA should be the goal for adoption, "Once Grandmas Adopt," not "destroy the banks"
I'm 18 in the hole. I'll catch up in the morning.
Naively thought I'd be in the hole 50, instead it's 420. There's no way I have that many unpopular opinions. On anything. I have a few more.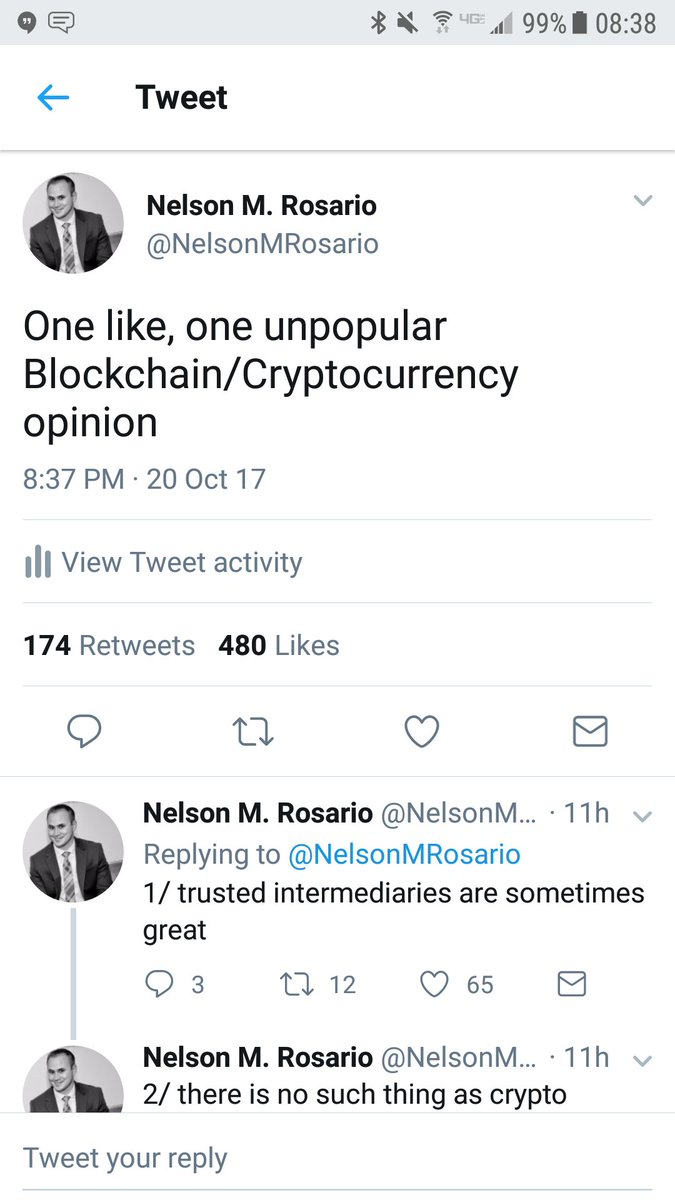 62/
Practically speaking, there isn't a big difference between Monero, Zcash, and Dash
63/
It's basically insane we use exchanges for this stuff where we know next to nothing about the exchange operators
64/
equally insane, and supremely ironic, is that people hold coins on exchanges. Everyone has done it at some point.
65/
too many people in this space seem more concerned with proving how smart they are than building. You're all geniuses. Now go build.
Taking a break. be back later. I'm sure I can't find something else to bitch about
67/67 I'm pretty much tapped out. This was fun. Tons of really smart people commenting. Listen to them.
For the record, I love this space, it's potential, and the people I've met involved in it.