Criminal legal aid has been cut AGAIN for solicitors. It will be portrayed as fat cat lawyers whining. Here's a thread on why it matters.
2.
The govt has announced that it plans to cut legal aid fees in particularly complex Crown Court cases (involving 6,000+ pages of evidence)
3.
(This affects solicitors, who are paid for Crown Court work under a different scheme to barristers. So no direct self-interest here)
4.
This comes on top of nearly 20 years of real-terms cuts to solicitors' fees. The most recent of which was a 8.75% cut in 2015.
5.
Before imposing this cut in 2015, the MoJ consulted on the likely impact on criminal solicitors. Here's some of what the MoJ was told: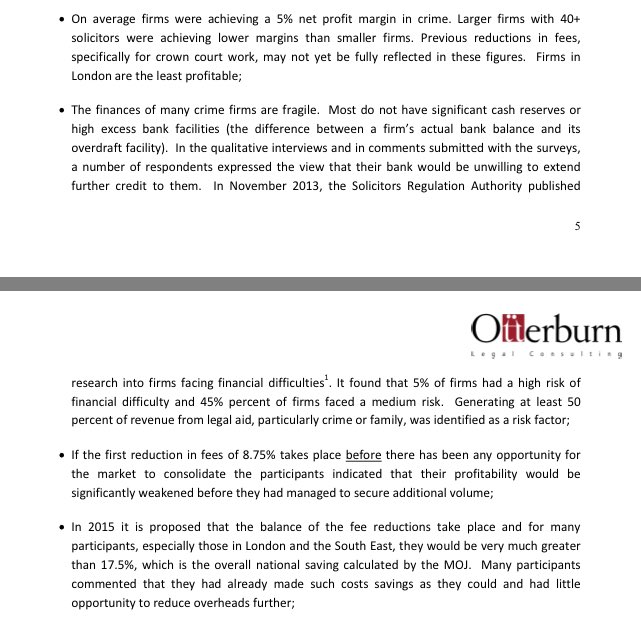 7.
This was *before* the 8.75% cut, and didn't take into account the round of cuts prior to that. So criminal firms are really struggling.
8.
Of course, the govt ignored the experts and imposed that 8.75% cut in any case. Lots of solicitors I know are since out of business.
9.
Then we have this most recent cut. Again, the government consulted. Again, guess what they did? Yup. They ignored the responses and cut.
11.
So, to recap: solicitors' firms, already financially fragile and operating on teensy profit margins, are cut again and again.
12.
Now to deal with the "fat cat" myth - see the report above. 5% profit margins (before the cuts). Average salary of crim solicitor £30k.
13.
Clear consequence: fewer firms will survive. More good lawyers will leave criminal defence work (as I say, I'm seeing it happen).
14.
So, why does it matter to you? Because, although I'm sure you don't plan to use a criminal solicitor, one day you might have to.
15.
And if you do - if you are wrongly accused of a crime - you want good, publicly funded lawyers to fight the state's misconceived case.
16.
Barristers take the credit in court, but in most cases the real hard work is done by solicitors. Good solicitors make the difference.
17.
Solicitors are the A&E staff of the legal world. They spend a lot of time dealing with people you may have limited sympathy for.
18.
It's often patching up the devastation of alcohol and drug-fuelled violence, tragic accident and wanton human self-destruction.
19.
But just as you want properly trained and properly paid doctors and nurses, so you should want the same for solicitors. Just in case.
20.
Don't let the government destroy legal aid solicitors by convincing you they're just for "other" and "bad" people. They're for us all.
21.
And the fact that this time the govt is targeting complex cases should terrify you. Because these are the ones carrying huge sentences.
22.
By making these cases financially unviable, the government is actively disincentivising lawyers from working on them.
23.
For government it's great: less expenditure, more easy headline-grabbing convictions. For the wrongly accused, it can ruin your life.
24.
Criminal legal aid is your insurance policy. Don't let the government cancel it when you're not looking.
#SaveLegalAid
ENDS