(THREAD) There's misinformation about me going around today, and since I'm just one person, there's no easy way for me to defend against it except to direct folks to the bio in my profile and answer any questions anyone has here—which I'm happy to do. Bio:
sethabramson.net/bio

1/
Some are wondering why the Editor-in-Chief of POLITICO attacked me today—and honestly I've no idea. I've had a relationship with POLITICO behind the scenes, and I think that that's not something the publication is prepared to admit at this point for reasons I can't/don't know.
2/
Many of you know that POLITICO asked me to do an interview—which I granted—and which led to a lengthy POLITICO article that called my work on social media "urgently important theory-testing." I stayed in regular contact with a POLITICO writer thereafter.
politico.com/magazine/story…
3/
I was next contacted by phone by POLITICO's chief investigative reporter—who was also once head of Investigative Reporters and Editors (IRE). He said he'd been meaning to call "a long time" because he was a "fan of mine." He called me "one hell of an investigative journalist."
4/
POLITICO asked me for my assistance with research: they wanted me to regularly feed them research, and wanted to ask me questions about things in the Trump-Russia investigation they didn't understand so that I could explain it to them.
I'm a fan of POLITICO, so I said "yes."
5/
Please understand that I didn't approach POLITICO—they approached me because (they said) I was "one hell of an investigative journalist." I thereafter spent hours on the phone with POLITICO feeding them research and answering their Trump-Russia questions. I was happy to do it.
6/
I was under the understanding that my work would be cited in any resulting articles, but also agreed—because they asked for this, and I suppose I should have been suspicious from the start—not to reveal that we were working together. That was important to them. I now know why.
7/
When they published an article wholly drawn from my research, my name was nowhere to be found. I felt that was a violation of our agreement, so I said online that my work had been used for the story—as was my right to do, given that they'd used my workproduct without citation.
8/
Many of my readers apparently contacted POLITICO to complain that they'd "stolen" (a word many of you apparently used in communicating with them) my research on George Papadopoulos and published it. Suddenly POLITICO—which had used my work without citation—was angry. With me.
9/
POLITICO explained to me that—contrary to our earlier agreement—they could *never* cite independent journalists on social media in their articles, because if they did so "they would need to put a citation to someone online after every single sentence in every single article."
10/
I found that admission stunning: that POLITICO considered itself so reliant on the research they took from people online (uncredited) that they were declaring it official policy never to cite research done by people like me.
I learned *a lot* about Old Media in that moment.
11/
What followed was an email conversation (which I still have) in which POLITICO urged me to continue working with them—feeding them research and answering all their Trump-Russia questions—without pay or acknowledgment. I told them I respected their policy but could not accept.
12/
I didn't give them (in that conversation or later on the phone) a hard time. I said that they had a right to whatever policy they had, but that I just "wasn't interested in that sort of relationship." Here's an excerpt of one of my many emails back-and-forth with POLITICO: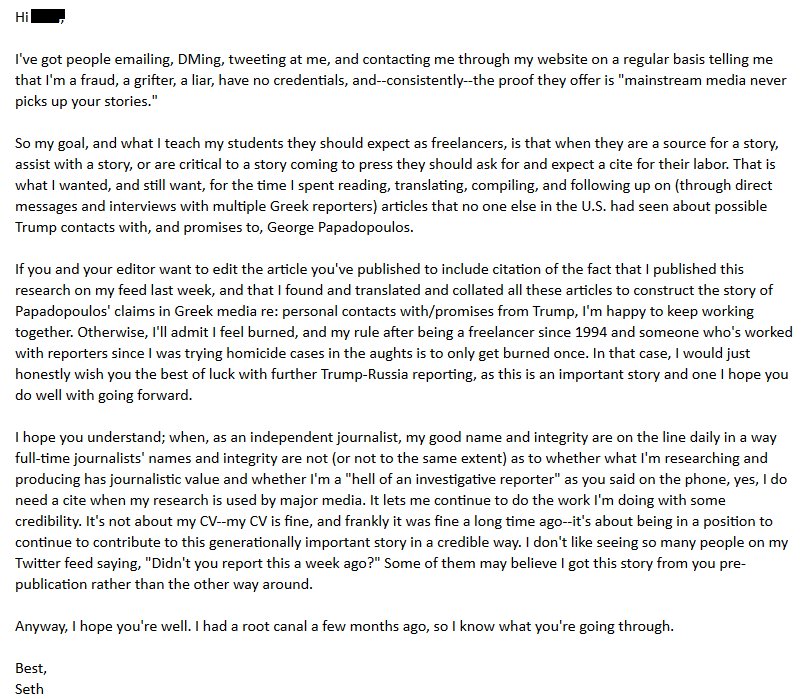 13/
After POLITICO dangled the possibility of me becoming a paid/cited research assistant for them—they really wanted me on-board, that much was clear—they suddenly "discovered" that I'd posted that we were in contact with one another on Twitter and immediately ended all contact.
14/
That's the context for POLITICO's Editor-in-Chief spreading a hitpiece about me on Twitter today and lauding its author. (And please know that I do still have all the emails of my full exchange with POLITICO.) But I post this because it's part of a larger lesson I've learned.
15/
That lesson is about how much of what media does behind the scenes they don't want you to know. Behind the scenes, I've been contacted by Congress about my research—multiple times. Behind the scenes, I've been asked for my help by ABC News' investigative team—and many others.
16/
And I'll credit POLITICO with this much: they were willing to have a philosophical conversation with me on the phone about how media is changing, and about how we may one day—but *not yet*—be at a point where major media can acknowledge online independent journalism publicly.
17/
All my phone calls and emails with POLITICO were cordial—and I remain a fan of the publication. But what I know in my heart is *wrong* is for them to both not disclose these interactions with me *and* go online and attack me as a noncredible source of investigative reporting.
18/
The right for anyone at POLITICO to question my credibility went out the window when they called my work "urgent," remained in touch with me, and then begged me (and it really was something close to that) for my assistance, research, insight, and even my contacts in Greece.
19/
Anyway, I'm not upset—I'm *disappointed*. And I'm happy to answer any questions anyone here has about my background (which is transparently listed in my Twitter bio, and is 100% accurate), or my contacts with media, or anything else you feel unclear about regarding this feed.
20/
As ever, I appreciate my readers and will always try to answer your questions fully and honestly—which is why I'm one of the few on Twitter who uses his feed to do AMAs, and answers questions about his bio when asked. I can't tell you how much misinformation is out there now.