Here is my thread of optimism for
#TheStateOfTheResistance
– it is easy to let the events get us down, but: We. Are. Mighty.
#StrongerTogether
.
#BlueWave2018
#BluNami
#BlueTsunami2018
1/
Reason 1 for optimism: We are all worried about Trump firing Mueller after, perhaps, he first fires Rosenstein. First, he is getting advised NOT to fire Rosenstein. By his own WH, & by many congressional GOP.
newsweek.com/rosenstein-tru…
2/
Second, even if he fires Rosenstein, he may have to go through A LOT of DOJ people before he finds anyone willing to fire Mueller. Once you go below Sessions, the appointees like Wray, Rosenstein, are no shrinking violets, & not hardcore Trumpists.
3/
Third, worst case, if he gets someone to fire Mueller, like his own Private Bork, Mueller will NOT be easy to fire. For one thing, Mueller, a clear patriot, can take it to court himself, per this excellent piece by Bookbinder, Eisen, & Frederickson:
bit.ly/2BIkQLl
4/
Mueller likely has standing in court to challenge any attempt to fire him. The money quote is excerpted below. The outcome of such an appeal is not guaranteed, but the risk is very real for Trump if he goes this route. 5/

There are all kinds of reasons laid out in Bookbinder, Eisen, & Frederickson's paper explaining also that the empaneled grand juries will not go away, nor most of the apparatus. He cannot fire all those attorneys with Mueller without cause.
6/
We also know that we are ready to take to the streets if Trump tries to fire Mueller. This would put serious, serious pressure on congress and on the WH.
act.moveon.org/event/mueller-…
7/
Wait you say, what about martial law? It is not easy to invoke the use of domestic military force of US troops in the US principally because of the Posse Comitatus act. There has to be a clear threat to national security and a limited time frame, ala the LA riots.
8/
National guard can be called out, but not likely for most governors – why put yourself on the line for this joker?
9/
So I am gonna assume that no matter what Trump does, he cannot stop Mueller or what Mueller has set in motion.
10/
Now, some have pointed out that if Rosenstein is sacked, Trump could put in someone who may not fire Mueller but would not refer his recommendations to Congress for possible impeachment.
11/
IN that case, Mueller would probably forego his tight ship and leak. Then congress could take the information and use it as a basis for impeachment.
12/
Also, while there is a lot of argument about whether Trump can be indicted as a sitting president, at least at the federal level, there is a strong case to be made that he can as
@DenbrotS
has argued.
13/
What about pardons? Yes, Trump can pardon a lot of the jokers under him. He may or may not be able to pardon himself for federal laws broken. But
@AGSchneidermann
can bust the ass of him and any cronies who did their deeds in NY State.
14/
Now, turning to my other reasons for optimism. WE ARE MIGHTY IN THE RESISTANCE! The
#WomensMarch
#WomensMarch2018
have proven that we can mobilize many, and that mobilization is translating into direct political action!
15/
Look at these numbers! Around 1100 dem candidates for congress to 800 from the GOP. Retiring GOP incumbents have broken the record for an election year. 16/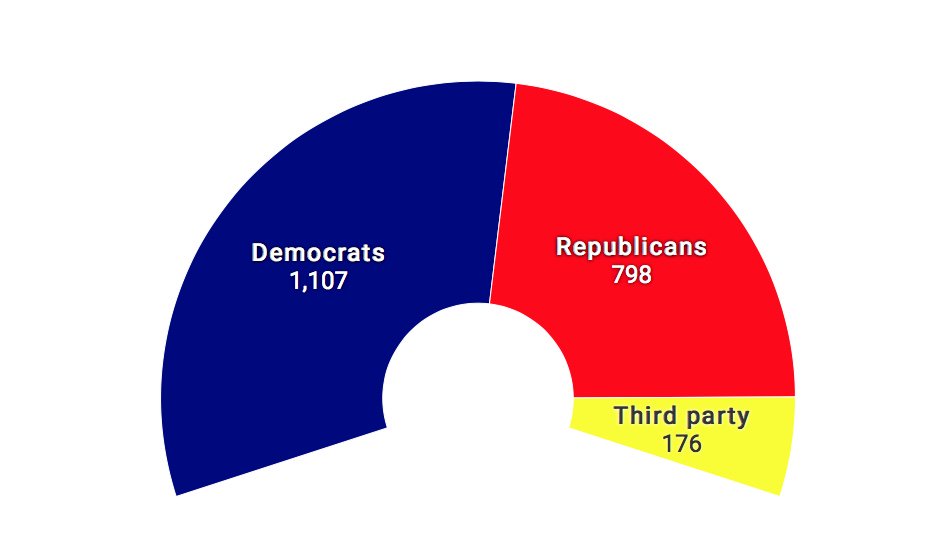 The enthusiasm level of the dems remains skyhigh, and dems are looking great on generic ballots – +9 points on Real clear politics average.
bloomberg.com/graphics/2018-…
17/
Also: THIS IS SELF ORGANIZING! The DNC helped in AL, but the community did the work. These candidates are showing up without DNC prodding! WE have a self-organized 50 state strategy!
18/
As of the middle of the month, a record 390 women are running for congress. 82% are not incumbents- looks like 2/3 are democrats.
20/
I know in many states we face gerrymanders, voting suppression, voting machine shenanigans. We need to push for paper ballots with a receipt/paper trail, per
@mikefarb1
21/
But the results in VA, AL, and high turn out in other special elections where we nearly flipped the district are showing that we can win if we turn out.
22/
If we put out big numbers it is hard for us to lose even when the GOP cheats – and of course they will.
23/
This is not even mentioning all the incredible activism on state and local races! Blue Tsunami indeed!
#BlueTsunami2018
#Blunami
24/
So, in summary? I remain optimistic that Mueller will get it done, and that we will get it done in November. The people are stepping up. Peace out Fin/