Last week,
#NeuroThursday
made this shocking claim. This week, the time has come to unpack it, and ask the big question: what are we actually seeing, and what do we only think we see?
First off, a clarification: in that quote, I simplified for speed and clarity. It's not that we have *no* color vision in our periphery. It's just that we have *less.*
But the point is the same: in your daily life, your whole vision seems perfectly colorful. But it's not! Your brain, that devious creature, is lying to you yet again.
Color vision - all vision - comes from cells in the back of your eye (your retina) that detect light. These cells are called "rods" and "cones," because they're shaped like… yeah, exactly.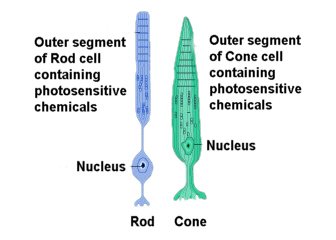 (Rods and cones are the main way you detect light, but there are other ways. I talked about another light-sensitive cell type on the winter solstice!)
Rods and cones each have a little chemical cascade going on, but that cascade is very energy-sensitive. When a photon of light lands, the cascade goes off-kilter, and the cell's output changes.
Poof, we have information! A change in cellular (neural) activity based on the light that came into our eyes.
Not any photon of light will do. Well, maybe for rods, they're omnivorous - but easily sated. They can only tell brightness (not color), and are much more effective in low light. Rods give you night vision.
Then, your sweet pointy little cones. They require lots of light, but they us eit to provide all that color vision you love. That's because humans have 3 kinds of cones, each with a different chemical, which responds to a different color (wavelength) of light.
Red cone, blue cone, green cone. Depending on the color of light hitting the eye, the light will activate one cone type more than another. I think the best metaphor (bear with me on this) is latitude & longitude on a map.
This information gotta get carried by nerves, from eye to brain. So all your brain knows is the output levels of each cell type. Lots of red! Medium amounts of blue! Low green! This is why you need 3 cone types.
If I told you to meet me someplace, and all I told you about its location was "it's on this map at 39° North," you'd want to kick me in the shins.
"39° North" describes a line, not a point. Lots of locations are at 39° North. You need me to tell you latitude AND longitude, because there's only one point that's both 39° North and 90° West.
The cones work like that: each one just gives you a value, so you need a couple together to pin down a unique location. (Or, here, a unique place on the rainbow wavelength of light.)
This is how you get color blindness. About 6% of males are born with a malformed green cone, and as a result, they don't get a complete address. To stretch a metaphor, they see latitude & longitude but not elevation.
Which is totally enough to function with! These people live quite fine lives! (And may even have better acuity for non-color things like edges & contrasts.) But sometimes, they get a latitude & longitude but can't tell which floor of the building is which.
Thus, you can get situations where two colors that look different to most humans (two addresses on different floors of the same building, in our metaphor) look the same to a colorblind person.
(Note that "bad green cone" ≠ "can't see green," for reasons too complicated for the main thread. Happy to explain if anyone wants to know.)
Everyone with me so far? You have rods for black & white low-light vision, cones in 3 flavors for color vision.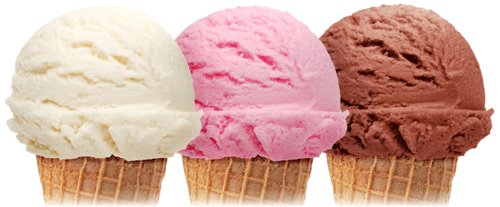 Your cones are concentrated in the center of your eye - we call that spot the "fovea." When you look directly at a Thing, your eyes focus the Thing's image on your fovea.
(I will never forget that sweet sweet college Scrabble game where I put "foveate" on a 3x Word Score. That's the verb form: to center something in your fovea, i.e. to look directly at it.)
The farther you get from the fovea - that is, into your peripheral vision - your eyes has fewer cones, and more rods. This is why your night vision works better from the corner of your eye.
And this, at last, takes us back to the original question. Why don't we normally *notice* that our color vision gets bad out in our peripheral vision?
(If in doubt, stare at a thing, and have a friend slowly bring a colored shape into your peripheral vision. You'll identify the shape before the color. For more details see e.g.
exploratorium.edu/snacks/periphe…
)
When our brain has insufficient information – which is always, in a complex and ever-changing world – it fills in the gaps with its best guess.
Your eyes are always moving! You just saw that cat with your color vision a moment ago, it probably hasn't changed. You know what color cats are around your house. Your brain totally knows what color it should be.
Your brain is filling in gaps - making guesses from incomplete data - nonstop. We seem to experience this whole-scene visual perception, but only a small fraction of it is built from things our eyes are actually seeing right now.
I could demonstrate this with a demo of change blindness, or an explanation the stopped-clock illusion… and I will. But next week! Because I am a terrible tease, and I've gone on long enough for tonight.
This
#NeuroThursday
lesson is about vision: the main difference between your focus and peripheral vision comes down to which cells sit where, on the inside of your eyes.
(Main difference, not only difference. There are subtle cognitive/brain-level differences too. For example, things crowding together causes much bigger problems in the periphery than in central/foveal vision.)
Tune in next week to see how the brain fakes it 'til it makes it. (Hint: your brain never makes it. Turns out impostor syndrome goes all the way down.)
And if you're a Hugo Awards sort of person, you could also consider nominating me for the Campbell Award for Best New Writer. This is my final year of eligibility, and I've spent these years bringing you all a bunch of fiction, editing, and more!
benjaminckinney.com/awards-eligibi…
But more importantly than any award shenanigans, consider sharing the thread so more people can bask in the neurons!

(Yes, rods and cones are neurons. So baskable.)
This content can be removed from Twitter at anytime, get a PDF archive by mail!
This is a Premium feature, you will be asked to pay $30.00/year for a one year Premium membership with unlimited archiving.
Don't miss anything from @BenCKinney,

subscribe and get alerts when a new unroll is available!