Please show me the screenshots of our SAN here during Chibok Saga. We've already established that the scenario remains the same with the tacit approach and reaction. Hypocrisy makes fools of us. Only one rule should apply. This is an indictment on your sense of Judgement sir
Responsible Citizens don't care about your political game of interests that tend to create a religion out of politics. We don't care about your acronyms or politics of ethnic extraction. We want credible and competent leaders. Stop changing the rules. Your hypocrisy sickens us.
The GEJ administration messed up with the ChibokSaga. They downplayed, denied and later gave excuses. The very same thing the GMB admin did when presented with the same situation in
#Dapchi
. Nothing different. How then will a qualified SAN see this differently?
#PersonalInterest
How far will political neophytes go to compensate for SANship? Turning the constitution on its head just to please? How is one a display of weakness & ineffectuality and the other is a National Crisis that calls for National Unity?! This is so unfortunate.
At least we all can see why EFCC can't win any case with this kind of legal practitioners downloadable by the highest bidder on Jumia.
#MorallyAndEthicallyBankrupt
🚶🏽‍♀️
Let me just leave this here. Same man while seeking opportunity from the opposition. Today the same situation is a National Calamity & the C-in-C is absolved from responsibility. No outrage should be shown by the people but we should be united in the quest for solution right? 🤔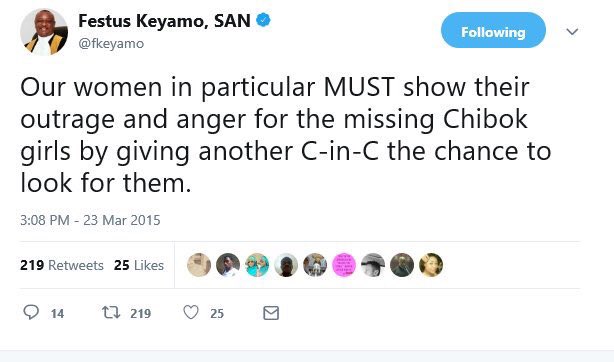 People ask me what is meant by "Snollygoster" well our adulterated SAN here illustrates it perfectly with his hypocritical tweets of then and now. I doubt if there is any other who is as unprincipled and shrewd in amorality in the legal profession as this. Zero love for Nigeria😞