(THREAD) In this brief thread, I try to dispel some of the misinformation surrounding White House Communications Director Hope Hicks' closed-door testimony today before the House Intelligence Committee. It's more—and less—critical than you might think. Hope you'll read and share.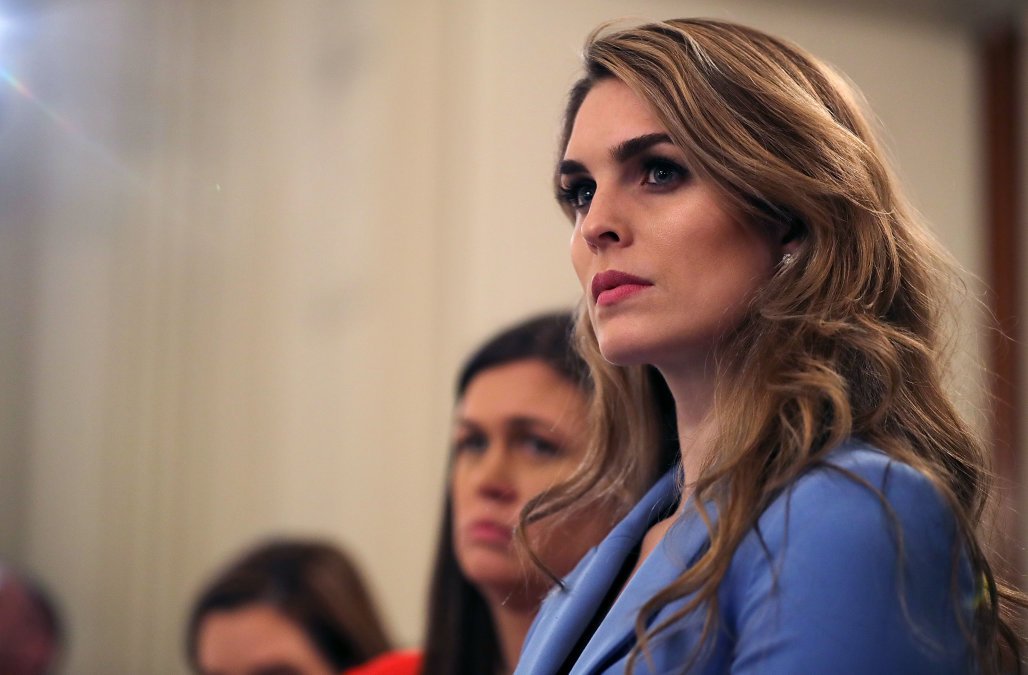 1/
Hope Hicks has been treated with kid gloves by the media/Congress since Day 1. The only other people with such regular access to the president during the period he's alleged to have had clandestine Trump-Russia ties are Ivanka Trump and Kellyanne Conway. You may see a pattern.
2/
This is *not* the sort of comment I would normally make, but I make it here because it's such a striking and troubling trend: the powerful *women* surrounding Trump as he made his campaign and White House decisions on Russia have been treated as though they weren't even there.
3/
Even today, some who don't follow the Trump-Russia story closely are saying the key reason to be interested in Hicks' testimony is she helped Trump write a false Don Jr. statement after appearing ready to bury Don's emails in a conversation with Trump spokesman Mark Corallo.
4/
It's true Corallo—who quit his job as Trump spokesman due to infighting and, more critically, "that he was being lied to"—has given us some insight into Hicks' potential culpability in witness tampering and/or obstructing justice with Don Jr. and possibly a coverup thereafter.
5/
It's illegal to know someone is a future witness in a criminal probe and write a false statement for them to put out under their own name, so Trump is facing serious legal liability—as is Hicks—for doing so. And if Hicks planned to destroy evidence of a crime, it's even worse.
6/
But Mueller *didn't* meet with Hope Hicks for *two days* of interrogation last December just because of a single phone call she had with a Trump spokesman in an incident for which he already has multiple witnesses and Trump is (frankly) dead to rights.
abcnews.go.com/Politics/hope-…
7/
Just as Ivanka was at Trump's side for *everything*—meetings with the Agalarovs, Trump Org trips to Russia, business deals in Panama with shady Russians, closed-door strategy sessions undoubtedly involving Trump-Russia chatter during the campaign and after—Hicks is ubiquitous.
8/
Hicks is the outside world's *conduit* to Trump, under the rather flimsy excuse that Trump doesn't use email—he's admitted he sometimes does—so if you wanted to get a message to Trump on the campaign, it was *universally* reported by reporters that you had to go through Hicks.
9/
For this reason, we saw reports of Papadopoulos and Page—national security advisors!—emailing *Hicks* Russia-related content so that it would get to Trump.
In other words, if Trump ever saw an email or was ever passed a message on *anything*, Hicks likely saw/heard it first.
10/
A successful criminal conspiracy is as small as it can possibly be—and when possible, limited it to those one knows would never betray the conspiracy, like family members. It's clear Trump's inner circle was largely family—it's also clear Hicks was inside the circle of trust.
11/
Hicks—unqualified for her job when hired and unqualified for her current (promoted) position—has one qualification besides (it's reported) Trump likes looking at her: absolute loyalty and discretion. She avoids the limelight and can keep a secret. That's why Trump let her in.
12/
It's virtually impossible to believe Trump could've coordinated with Russia without his gatekeeper hearing about it at the time or—more likely—sometime thereafter. Hicks is therefore *worthy* of two days of questioning—because she's one of Mueller's most important witnesses.
13/
All that said, the history of the House Intel Committee's "investigation"—air-quotes well deserved—is that it always limits questioning to whatever the most narrow line of inquiry for a given witness could be. So expect the GOP to try to limit questions to the Corallo issue.
14/
This means that, to the extent that anything about today's testimony leaks—and it will—it'll be about the Corallo phone call and the Don Jr. statement. That will lead Americans to falsely think Hicks is a minor witness and that those issues are the only ones she can speak to.
15/
In fact, Ivanka, Hicks, and perhaps even Conway should be among the most important witnesses in Mueller's probe—as they had better access to Trump than almost any of the dozens of male witnesses in the case. Why are they being treated as insignificant? I don't know. Misogyny?
16/
The *one* way in which Hicks will be treated identically to, say, Steve Bannon is that the media will pretend that Hicks has today—as an option—telling Congress that she's asserting one of several executive privileges in refusing to answer questions from members of the HPSCI.
17/
In fact, as was the case with Bannon, almost all the questions Congress has for Hicks that involve Trump-Russia coordination involve events that *predate* Trump gaining executive privilege by entering the White House. She *should* be required to answer almost *all* questions.
18/
Needless to say, she *could* plead the Fifth Amendment to get out of answering questions. Or—depending upon the agreement that led to her testimony—she *could* say Congress needs a new subpoena if they want her to answer questions she doesn't want to answer. But that's it.
19/
Otherwise, she *cannot* refuse to answer questions about the campaign or transition on the basis of executive privilege, and as she's already spoken to Mueller for two days she can't use Bannon's excuse and say that a pending Mueller interview precludes her cooperating fully.
20/
In sum, today's testimony *should* be exceedingly long, and Hicks *should* be treated as key to unlocking Trump-Russia coordination, and she *should* be forced—under threat of Contempt or subpoena—to answer nearly all questions anyone on HPSCI would have. But it won't happen.
CONCLUSION/ One day, the media and Congress will stop treating Ivanka, Hicks and Conway with sexist kid gloves and start treating them like the key witnesses—and as to the first two, likely co-conspirators—they are. Until then, we'll have today's little "limited-purpose" charade.