I'm glad he's fake ass being reflective for yall. Bc he coerced me multiple times, I got older, said something, and was too into centering his own feels to say shit, let alone acknowledge it. All these words, and he can only abstractly admit he aint shit
vox.com/first-person/2…
Generally just not a good person, just pretending to be.
Im free now, so i can admit that. And its for the best. What we often consider "protection" is often just denial or even cognitive dissonance.
But ya know, Thank God for the fuckbois posing as feminists. 😒
TW: Rape or this so called grey area that Robert Reece is talking about. Story time
One night, circa 2012, after a trip to Memphis, he made me mad. I'm not sure what we were arguing about, but he would chronically cheat on me and lie about it. We were basically in the thick of our toxic ass relationship
I started seeing this guy that lived in my complex. Had sex with him. Being 22, and a Scorpio, during this argument, I thought, this is the perfect time to tell him. Make him hurt like I'd been hurt. I tell him, get no reaction. So I'm like, "That's It? You aren't mad?"
"Nah." Mind you, we are on the phone. He's at his house. I'm at home. We keep going back and forth. It's late, like 4/5 a.m. eventually I hang up on him, get naked, go to sleep
I hear birds chirping and my roommated rustling in the kitchen downstairs as im slowly come back to consciousness, I open my eyes and there he is standing over me. I'm scared as shit. I jump, pull the covers up, and pull back and say, "What are you doing here?!"
I asked bc he looked like he was going to kill me. He was dressed in all Black, had his hood over his head, and yea...I didn't know what to think. It was so late at night that we were arguing I didn't tell my roommate to not let him in.
I also, at that point, kept our relationship and all its bullshit to myself. Because that's what I was taught *loud sigh* Anyway.
I ask, and he responds with a shrug, "I'm here to fuck you in the ass." His response also startled me. Sounded removed, distant. I'm still shook. And say, "What?! Nigga no! Get out!" He replies, just as calm, "Nah, not until I fuck you in the ass."
I knew what this was about. I did. My admission. He wasn't happy about it, to say the least. we'd never engaged in anal sex. I was curious but not like this...I felt so helpless, so vulnerable, I just wanted him to leave. Sort this out later, as best our young asses could...
He wouldn't leave. He sat on tthe floor next to my bed. Refusing to leave until I obliged. And eventually I did. I just wanted him to leave.
We never talked about it. Proceeded like it never happened. Even went over to have sex later on that day bc I had this bad habit of acting like harm between the niggas I loved didn't happen. My first boyfriend raped me the first time I had sex. We stayed together another 3 years.
So I was used to shouldering that type of trauma. It took another 3 years, a couple of moves, before we broke up. Basically, at that point I couldn't continue to pretend that I was ok. I was raped twice by my first boyfriend.
I got into a relationship with Robert right after and just in a habit of pretending I was ok as he cheated, lied, and just did a lot of damage.
I tell that story bc I'm tired of carrying it. And now it's laying in the street. Fuck him and the fake ass paternalistic ass feminism he subscribes to.
And also, THERE AINT NO GREY! Just a lot of them. They center their desires, their will. They can't hear us say no. They block it. Keep applying pressure. Ain't shit grey about that.
So yea,
#Metoo
& sometimes it's your fav. One of the "good" ones. Degree toting, no kids, a lot of followers, the fine one, the one who "gets it." One that can do a lot of performance for yall but not a single meaningful apology for the person who had to suffer for him to "learn"
Thank yall. Black women. Da Gods. Salvation&sanctuary. I love u. the support was so needed as the day began to wear me down. Thank u for bearing witness. To those who can relate to this story, I ache for us. To those wronged by this person, I'm so sorry we have to bond this way
Also, this awful person hit me up today. Screenshots are a mothafucka. 1) this was only 6 years ago, not 10. 2) peep this so called apologized "multiple times" at the end (4 pictured here, 1 more in the next tweet)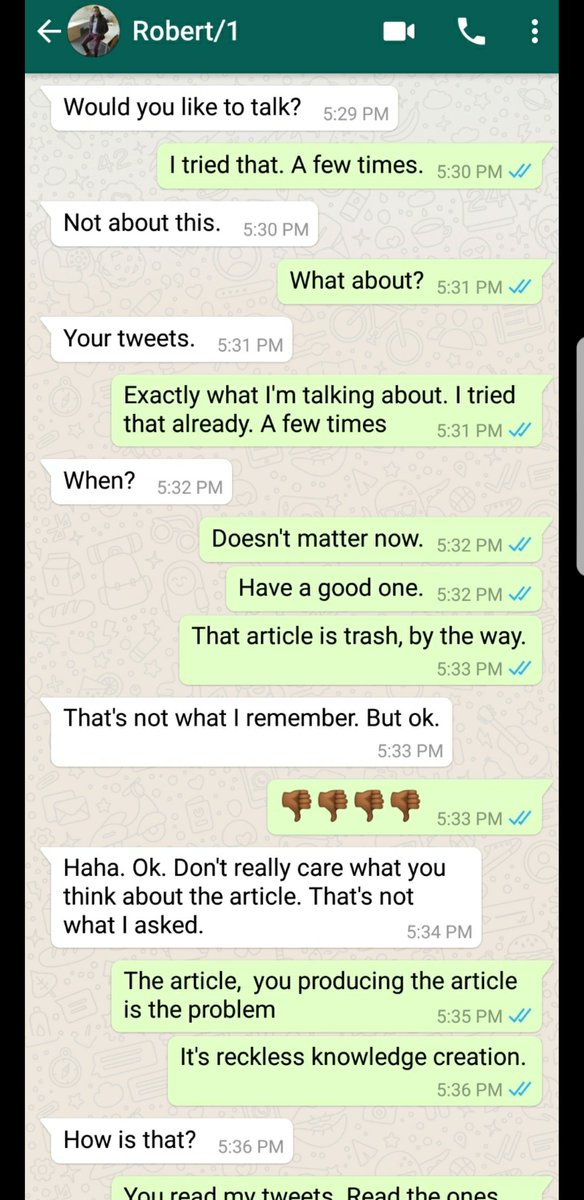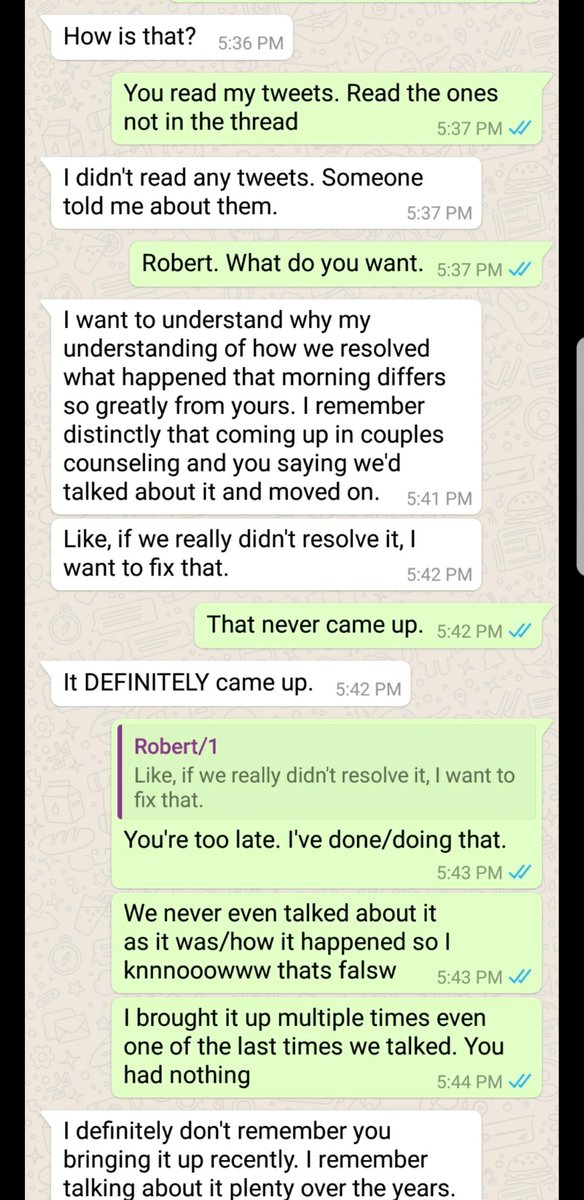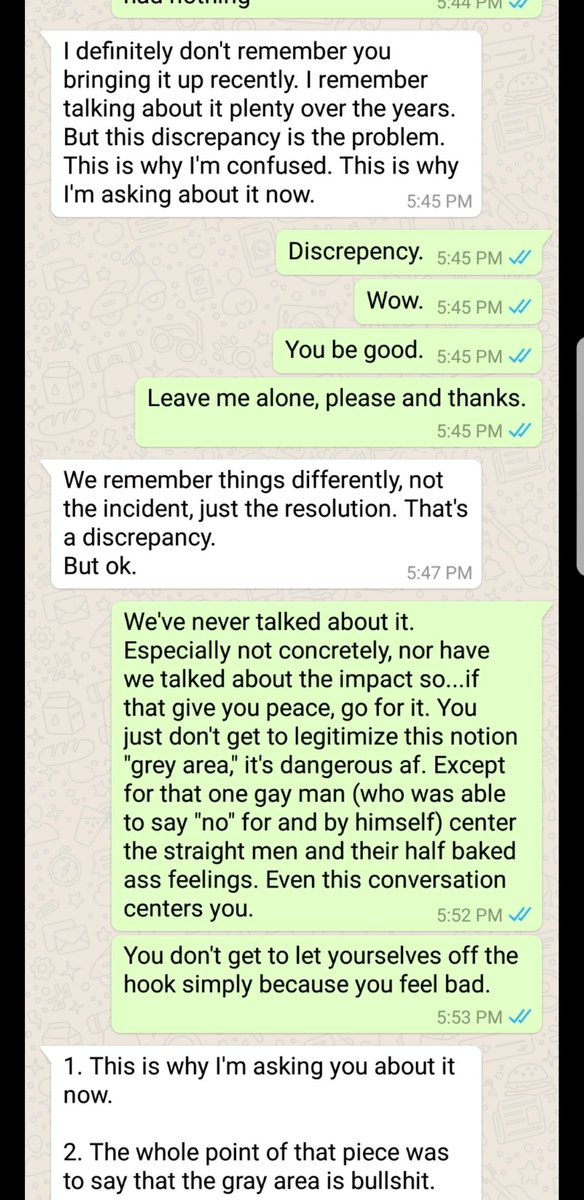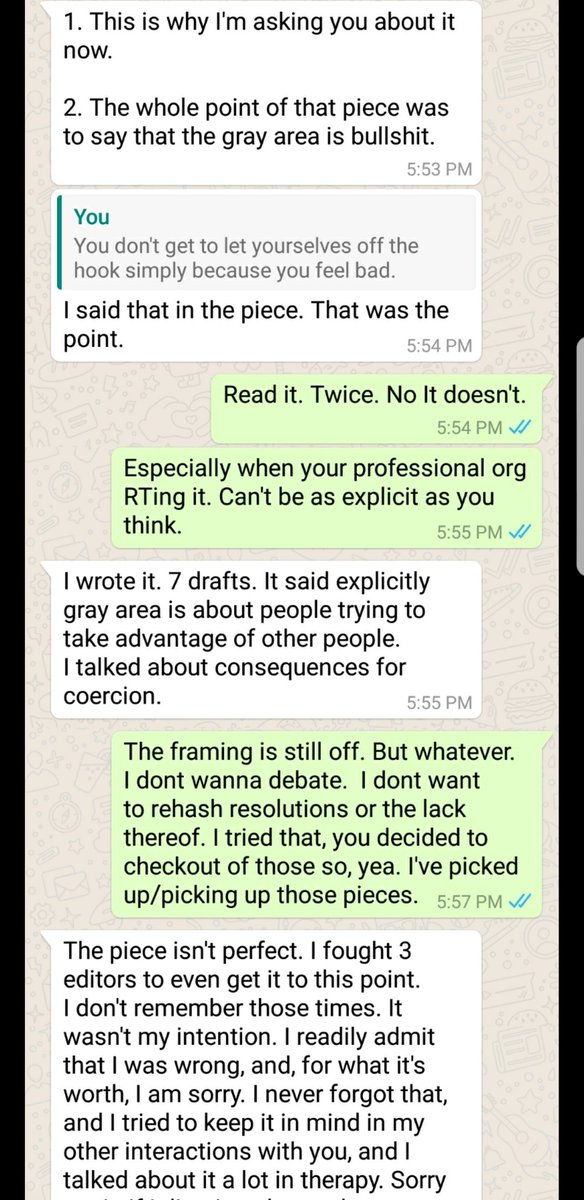 Takeaways: 1) he doesn't disagree it happened 2)the editors
@voxdotcom
should have told him to go to hell, 3) this is all about him, even this so called help to men, 4) he is still arrogant, still trash, and not actually remorseful. 5) tell him dont play with me or dont lie on me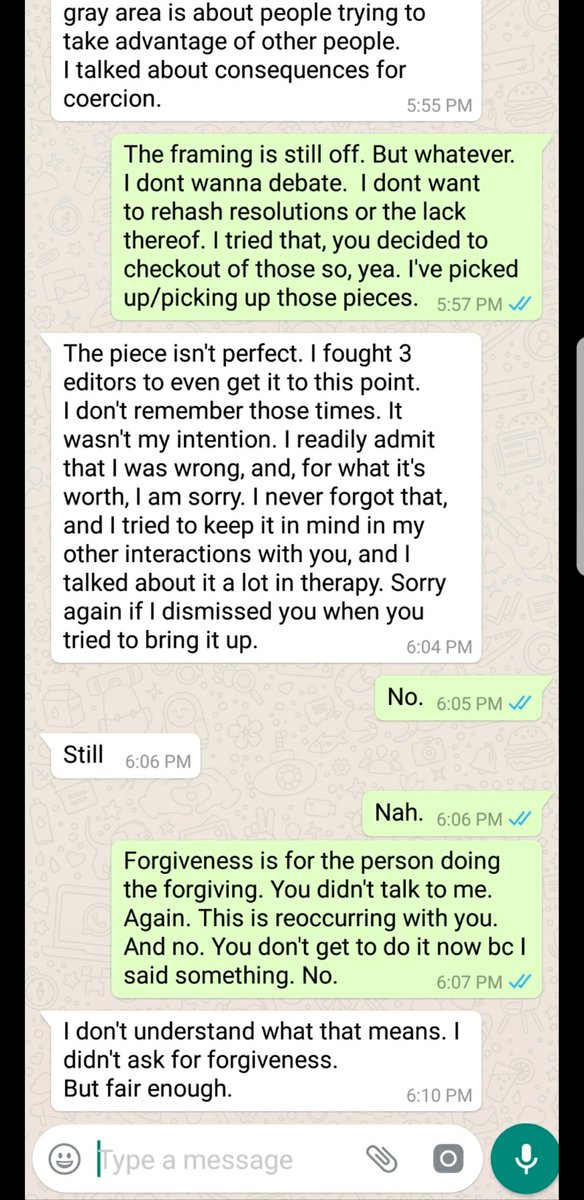 Oh and 6) for all the pick me's who he is currently lying to, I'm not the only one and there are current casualties as in within the last 2 years.. but oh how much de good docktuh done learned! 😒

so good luck, light and safety to you with that.
Update: 4 additional women have come to me with their stories about Robert. This isn't isolated, and not toxicity "from ten years ago"
#Metoo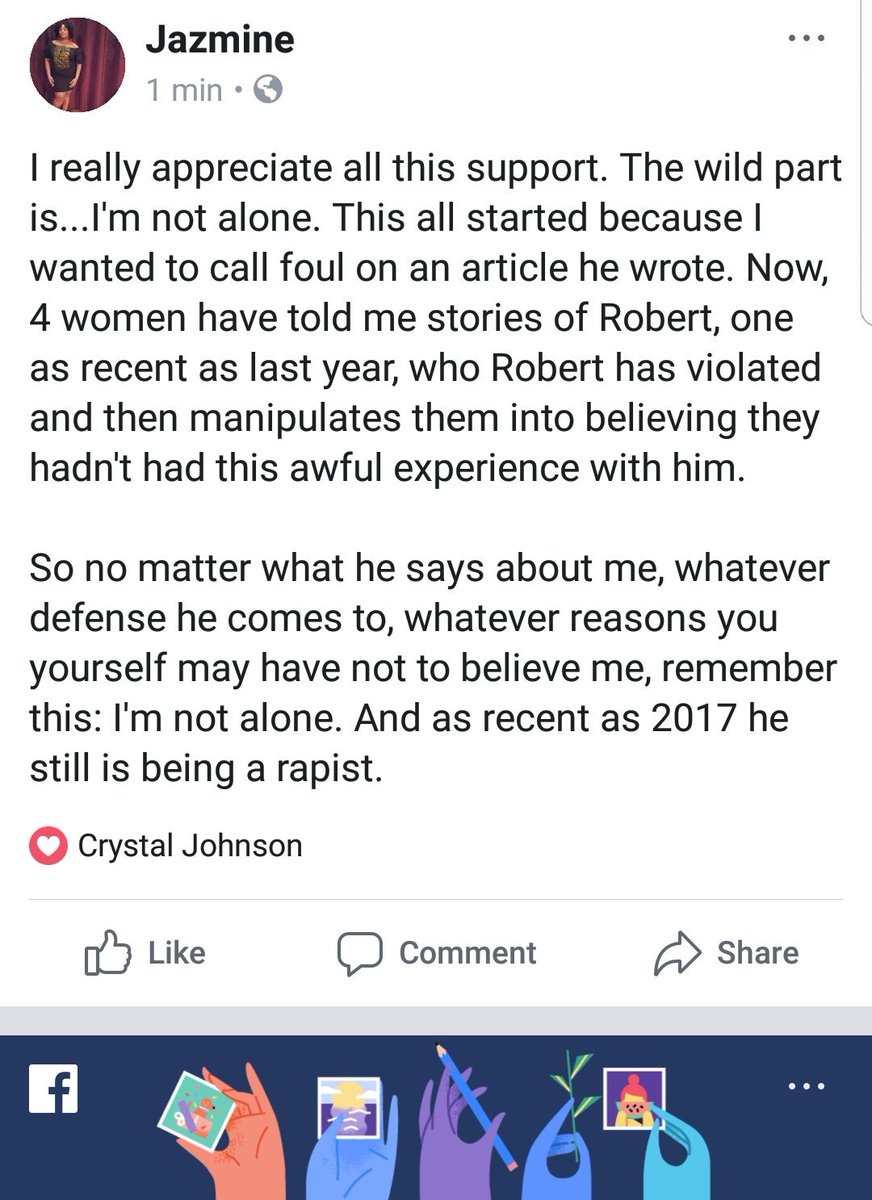 .
@PhuzzieSlippers
is a rapist. I want
@voxdotcom
to know that. I want
@UTAustin
where he is teaching/taught that "Masculinities in America" course. I want
@ASAnews
to know that while they are sharing that toxic article with their members. He's a rapist as recent as 2017. Wow.
Robert Reece claims he has unlearned his 2012 toxicity. In 2017, He did not use a condom w/o consent, then tells his victim, "That's not how I remember it" when she expressed she was not comfortable after & proceeds to tell her she is important and felt "They were getting close"
She shares the following.@UtAuston,
@voxdotcom
(note: her identity is hidden bc she requested anonymity for safety concerns, but wants you to know that Robert has not "learned" much about his toxic behavior since 2012)
#Metoo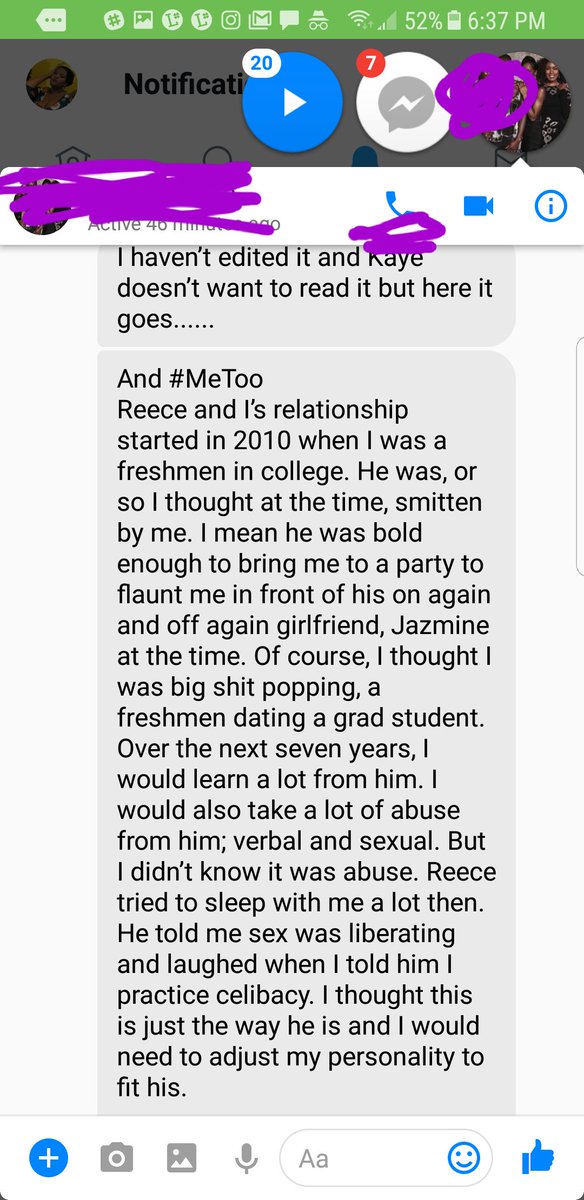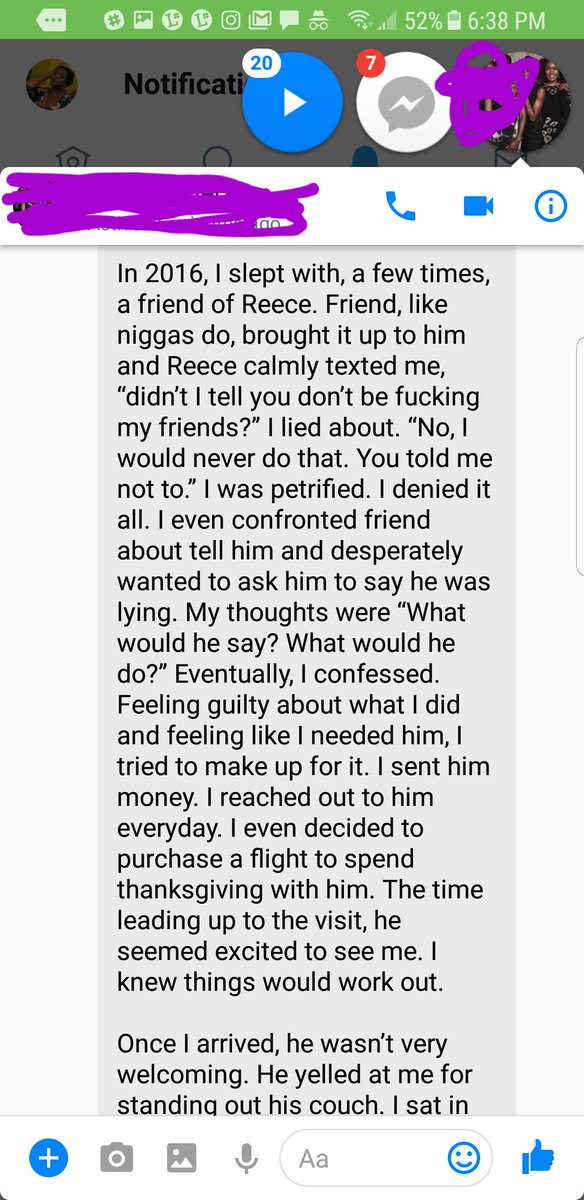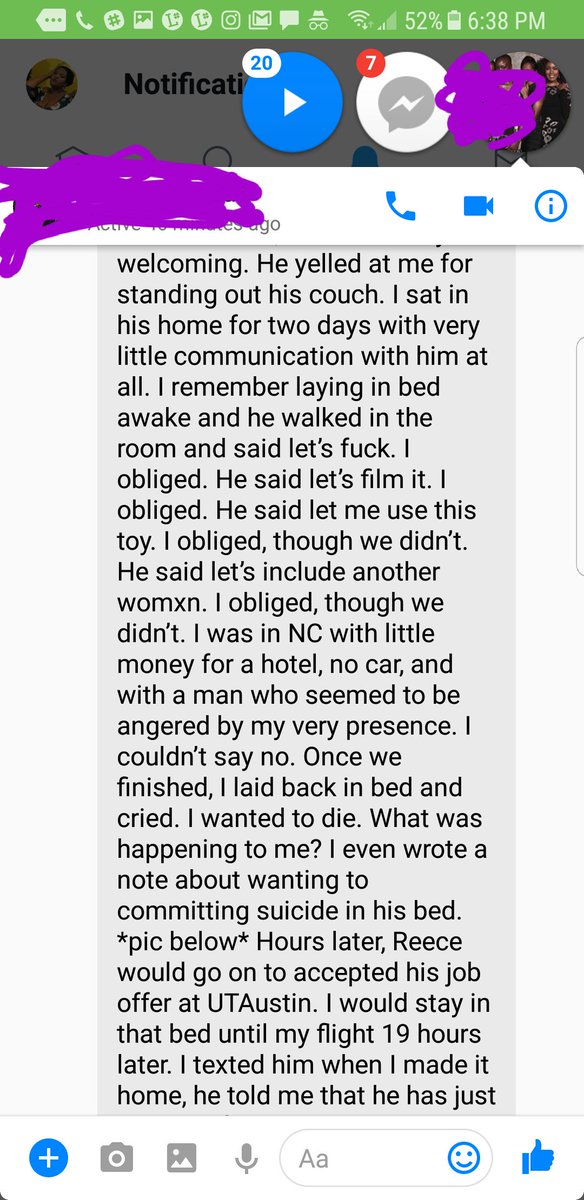 She also provides, the following plane ticket to show the date she arrived, and what she subsequently writes on the 2nd day of her visit to Reece, .
@UTAustin
@voxdotcom
#MeToo


Like my story, Reece uses sex to punish women who are acting in a way he does not approve. In both instances, we were single, being autonomous, but once Reece finds out, we are subject to punishment in the form of sexual abuse
#MeToo
#TheresNoGrey
.
@UTAustin
@voxdotcom
@ASAnews
There is an ongoing practice in the academy that rewards and puts a lot of predatory professors on pedestals, where the lack of protection, let alone accountability, for students or faculty, make a lot of folks silent about the sexual abuse they're inflicting on others.
#Metoo
Not only is Reece benefiting from a system that rewards abusive ppl, he also is engaged in a process that legitimizes his abuse thru his .
@voxdotcom
article that was shared by
@ASAnews
that includes a course he is TEACHING students to legitimize that behavior at
@UTAustin
#Metoo
Don't let him the only thing that Reece has learned through this time is how to create knowledge and legitimacy around his ongoing practice of manipulation, control, and sexual abuse. That's dangerous! This cannot be tolerated or excused.
#MeToo
What hurts most: I only shared my story to dismiss his dangerous article. What this turned into was me finding out that I wasn't alone and this was a haunting pattern. Reece is a predator in nice suits. The extent of his lies and harm have only become clear the last few days
I thought this person was my friend. Only to find out he is a friend to no one and uses abuse tactics to move his own predatory desires. And honestly I'm sure this goes deeper and wider than the 3 of us, .
@ASAnews
@UTAustin
@voxdotcom
#MeToo