In the report
createlondon.org/wp-content/upl…
@OrianBrook
@markrt
& I look at a variety of data to think about why the cultural sector in the UK is so exclusive. We focus on class, with some intersections of gender and ethnicity, but obviously thats not every form of inequality!
First off we show many cultural occupations are marked by significant inequalities of class, gender & ethnicity, pay gaps based on gender and class, and regional inequalities with London as a major problem for inequality in the sector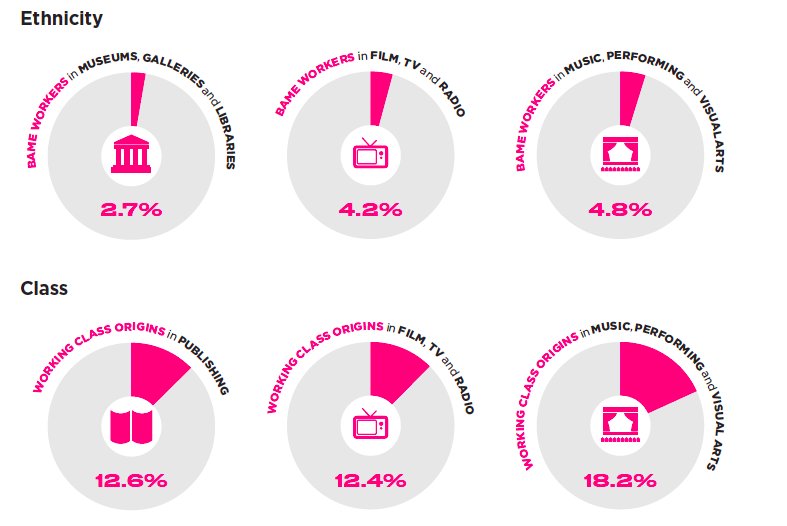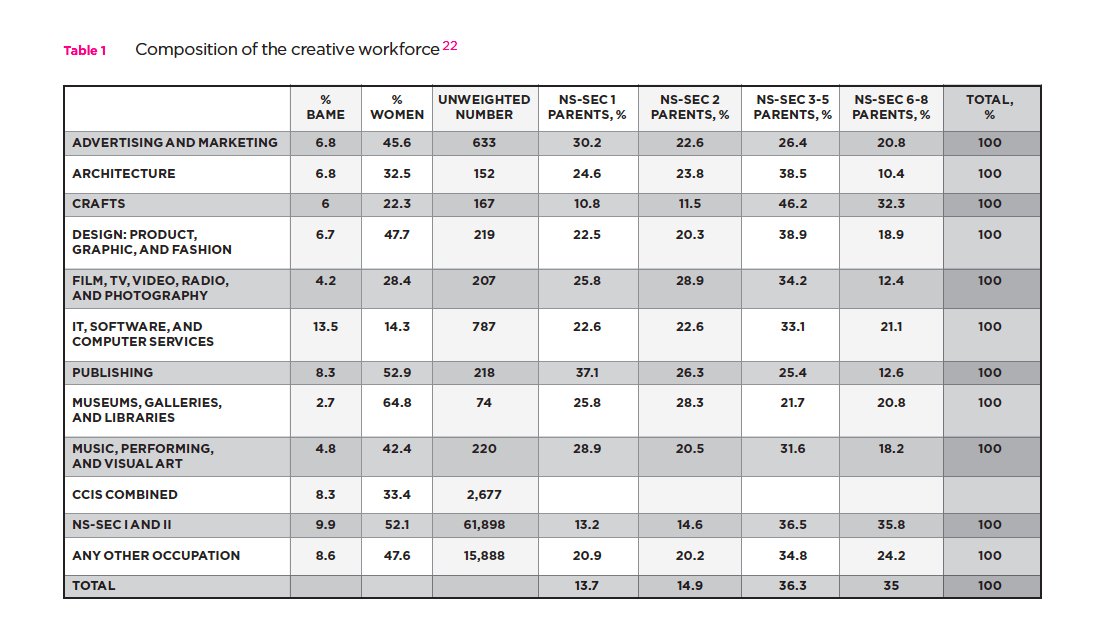 We also look at class issues over time, using data from a linked sample of the census from 1971-2011. This shows there was no 'golden age' for social mobility into creative jobs.
Although absolute social mobility has declined, relative mobility, the chances of working class people making it, has remained stable. Full working paper, with all the maths behind this by
@OrianBrook
@markrt
& me is here
osf.io/preprints/soca…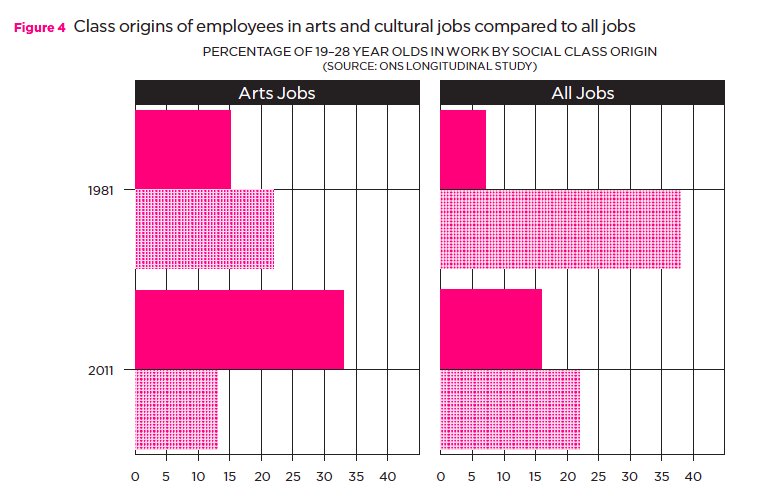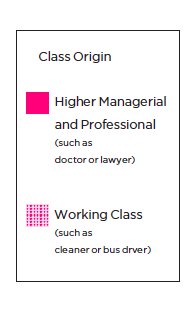 So how can we explain these exclusions? we then look at social capital (who our respondents know); values and attitudes (our respondents attitudes to getting in & getting on, and data on the sector's social attitudes); and cultural consumption
Values- we show cultural workers who were part of the Panic! 2015 survey were all committed (in some form) to the idea the sector is meritocratic, that hard work and talent are key drivers of success. The best paid of our respondents believed most strongly in meritocracy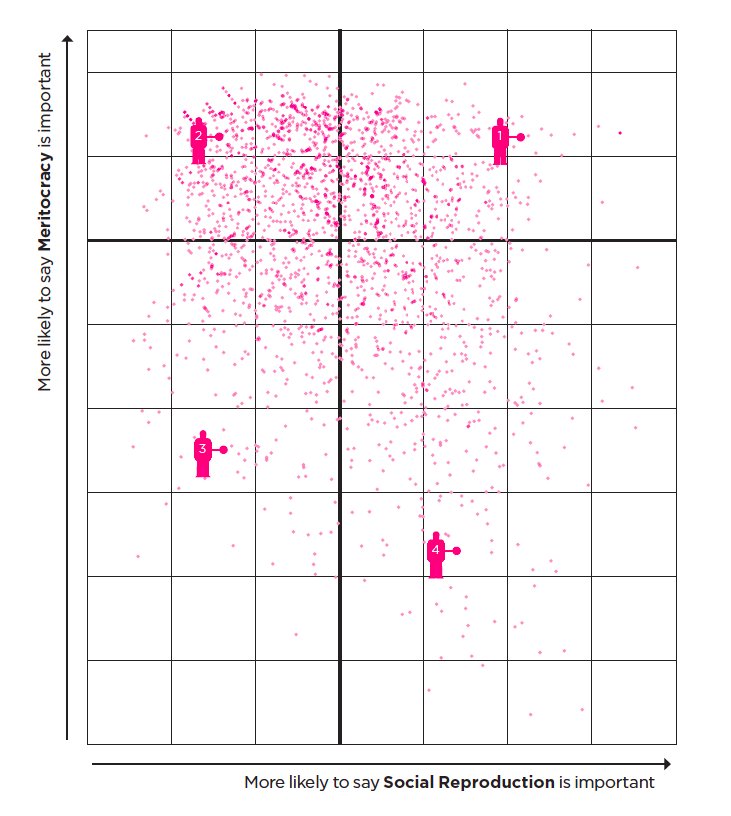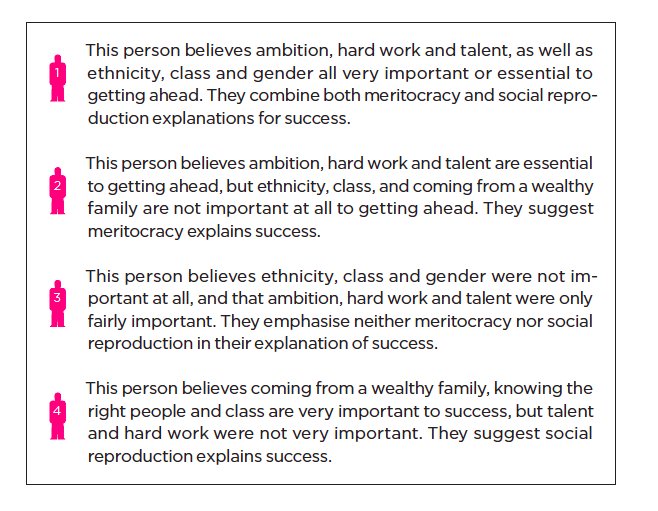 The best paid are (usually!) in the position to make changes in the sector, so our respondents' believe in hard work and talent being the main drivers of success is a worry! Full paper by
@markrt
& me is here
journals.sagepub.com/doi/abs/10.117…
We used the same survey dataset to look at who our cultural workers know, by occupation. We demonstrate they were least likely to report knowing people in traditionally 'working class' occupations, and much more likely to know other cultural workers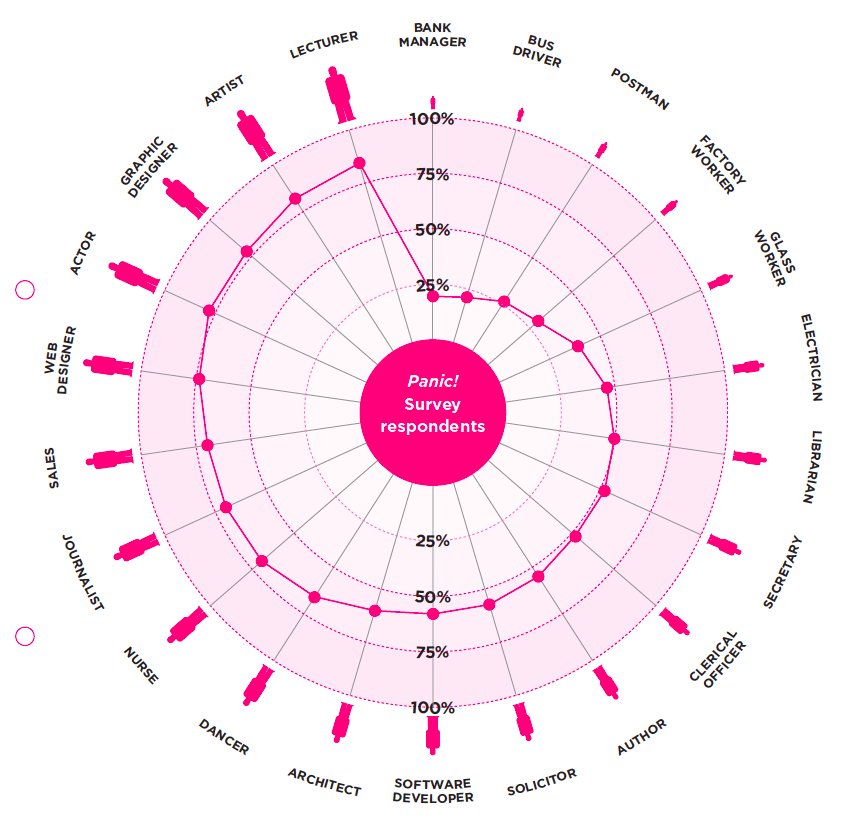 This can be explained as cultural work is highly dependent on networks, knowing the right people in the right creative cluster. But it also suggests a picture of our cultural workers as socially exclusive, particularly in the context of the class exclusions we show from
@ons
data
For most people in England, attending many cultural forms is highly unusual. Not attending is the norm, and many of the 'classical' forms of culture are very very minority pursuits (read more in
@markrt
paper here
eprints.whiterose.ac.uk/102893/27/
)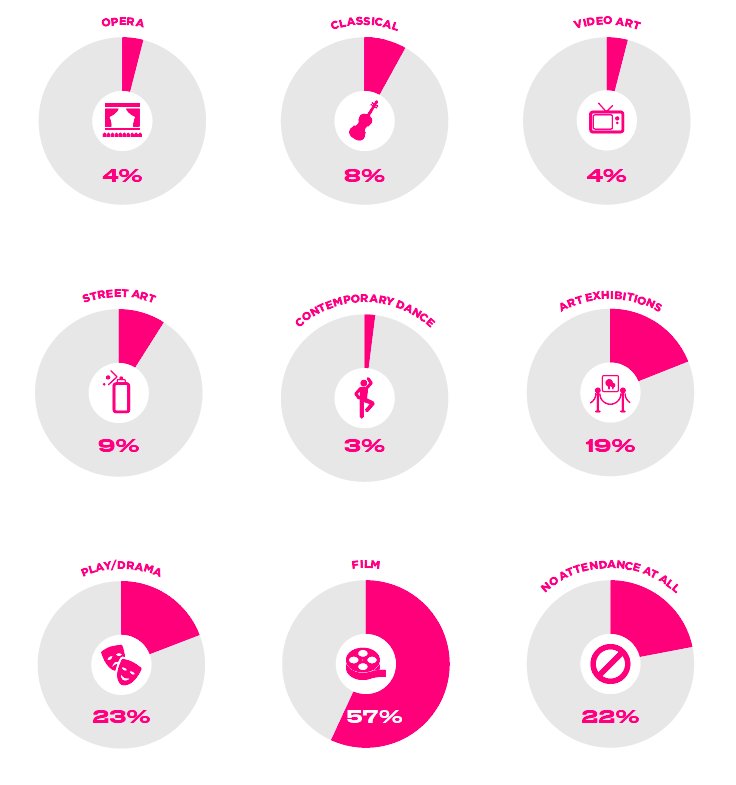 Indeed, the social space clusters the majority of the English population in the 'not' attending categories (right of the picture) with the frequent attended art forms only for a very small minority (left hand side)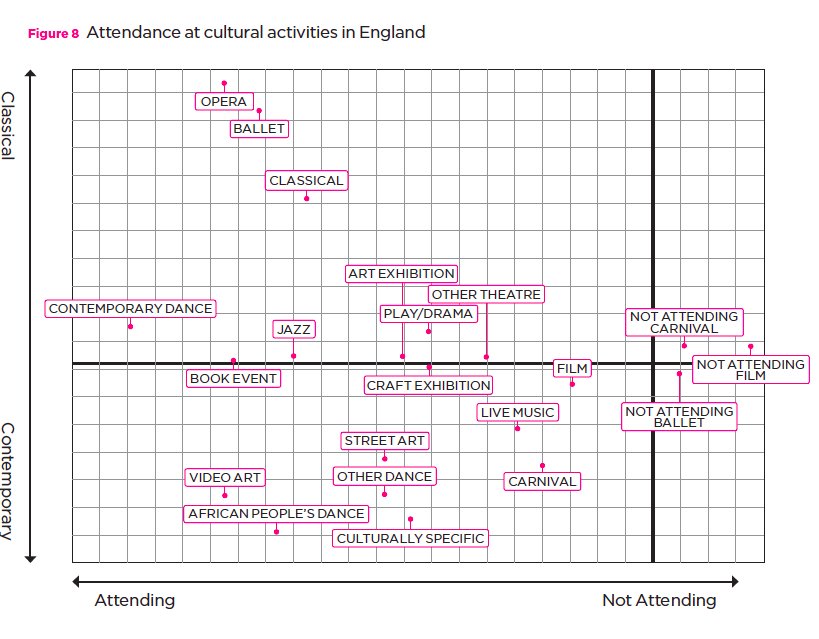 The outliers? People who work in arts & cultural jobs and people who work in media jobs, which is to say- the people who make culture. These jobs are attend 4x as many cultural events as people in working class occupations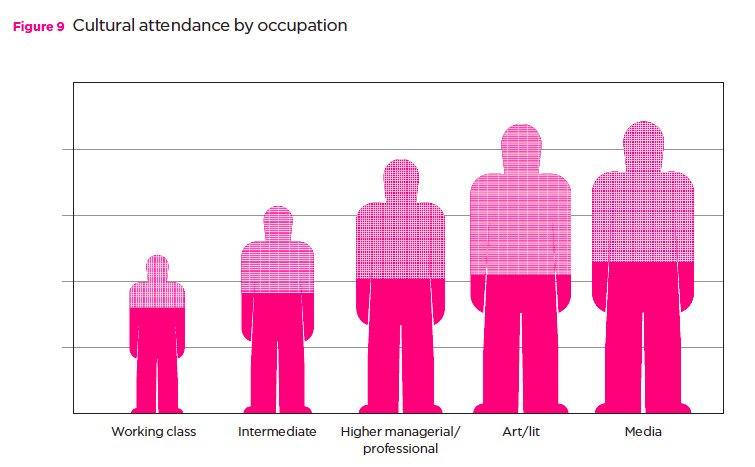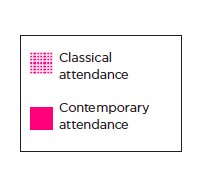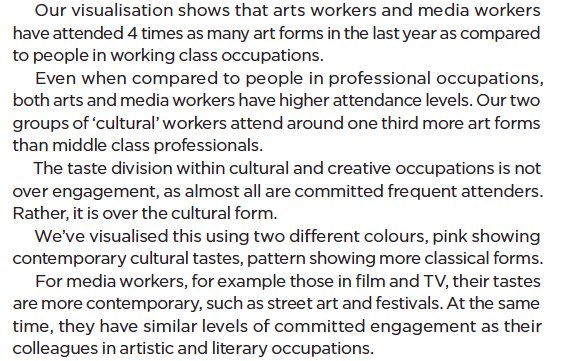 This suggests the sector has a very different level of cultural interest and taste (measured by attendance) than large parts of the population. This is in the context of these sectors having the responsibility to reflect society on stage, screen, on the page and in the exhibition
This might not be a bad thing at all, but its another element of exclusiveness and difference between the cultural sector and the rest of society (Full analysis is with the typesetters of
@sociologyjnl
and will be out v v soon, email me for a copy now)
We also looked as attitudes and values of the sector using
@NatCen
British Social Attitudes data. Here we show cultural occupations as the most left wing and liberal of any set of occupations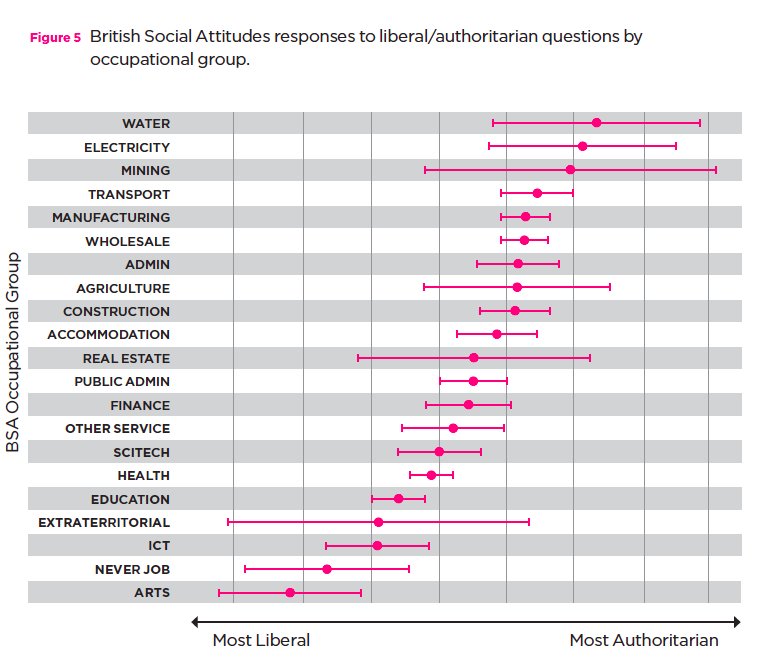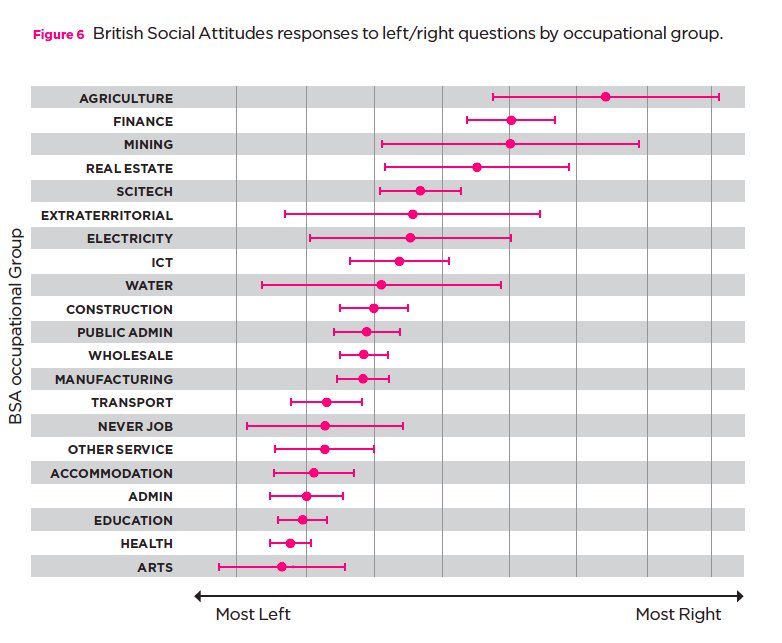 Again, this may not be such a bad thing! But its a problem for the sector that is about representing individuals, communities and the nation via its work. It also raises the question of whether values are an element of excluding people from working in the sector.
Finally(!) we looked at experiences of unpaid work for our Panic! survey and interview respondents. Unpaid work was endemic and dominant, especially for younger participants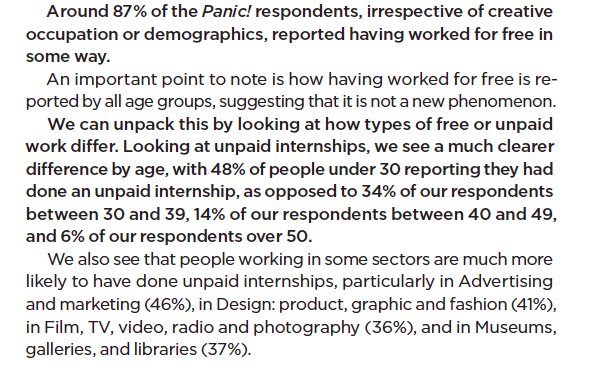 However, age and class nuanced that story. For older creatives who we interviewed unpaid work was either a reflection of their autonomy or about being underpaid for hours worked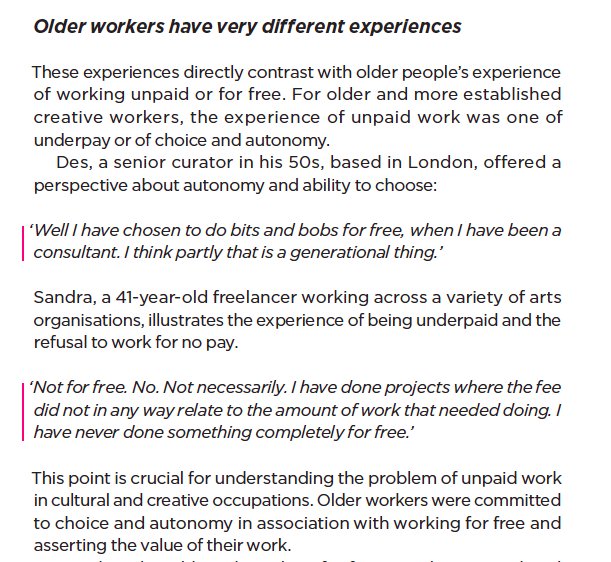 But for younger respondents class was crucial- it determined if unpaid work (experienced by almost all) was part of building a career, or for working class origin participants, was likely to just be exploitation with not even any of the benefits accruing to middle class peers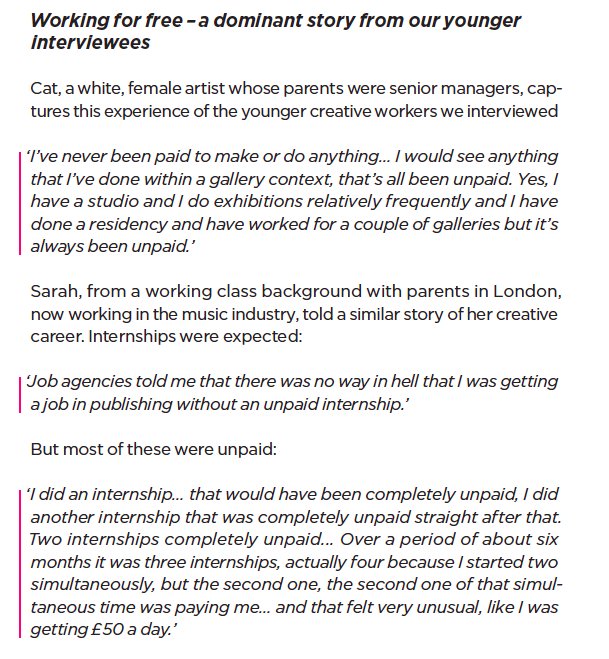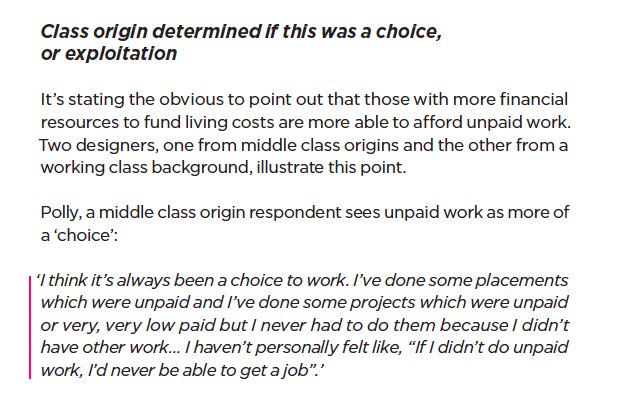 In conclusion? Cultural production is highly exclusive & isnt representative of the rest of the population in terms of class, gender and ethnicity. This exclusiveness links to taste, values, pay, and to social mobility. Surely this needs to change?