#Aadhaar
hearing thread. Rejoinder to resume. Before that the Court is pronouncing a fab judgment.
On whether parliamentary committee reports can be taken judicial notice of as evidence of facts. SC answers in the affirmative.
DYC J reading his concurring judgment....
.....and part of His judgment is the assertion that the constitutionalism in India now is about moving from a culture of authority to a culture of justification. (Recall this exchange also came in the course of Aadhaar hearings when Sr. Gopal Subramanium pointed this out)
Rejoinder hearing resumes. Sr. Counsel Shyam Divan continues his submissions.

Refreshes the Court's memory on Prof. Manindra Agrawal's report and the conclusions he drew from that for the Court.
1.
Surveillance and tracking location and activity.
Points to how CEO's answers to failure rates are evasive. "Their idea of candour is perhaps different from ours," he says.
Refers to a checklist of facts emerging from the record.

Pre-statute position.

100 crore people's biometrics captured without written authority. SD argues that in a republic like ours, basic rule of law demands that there has to be written authority for all exercise of power!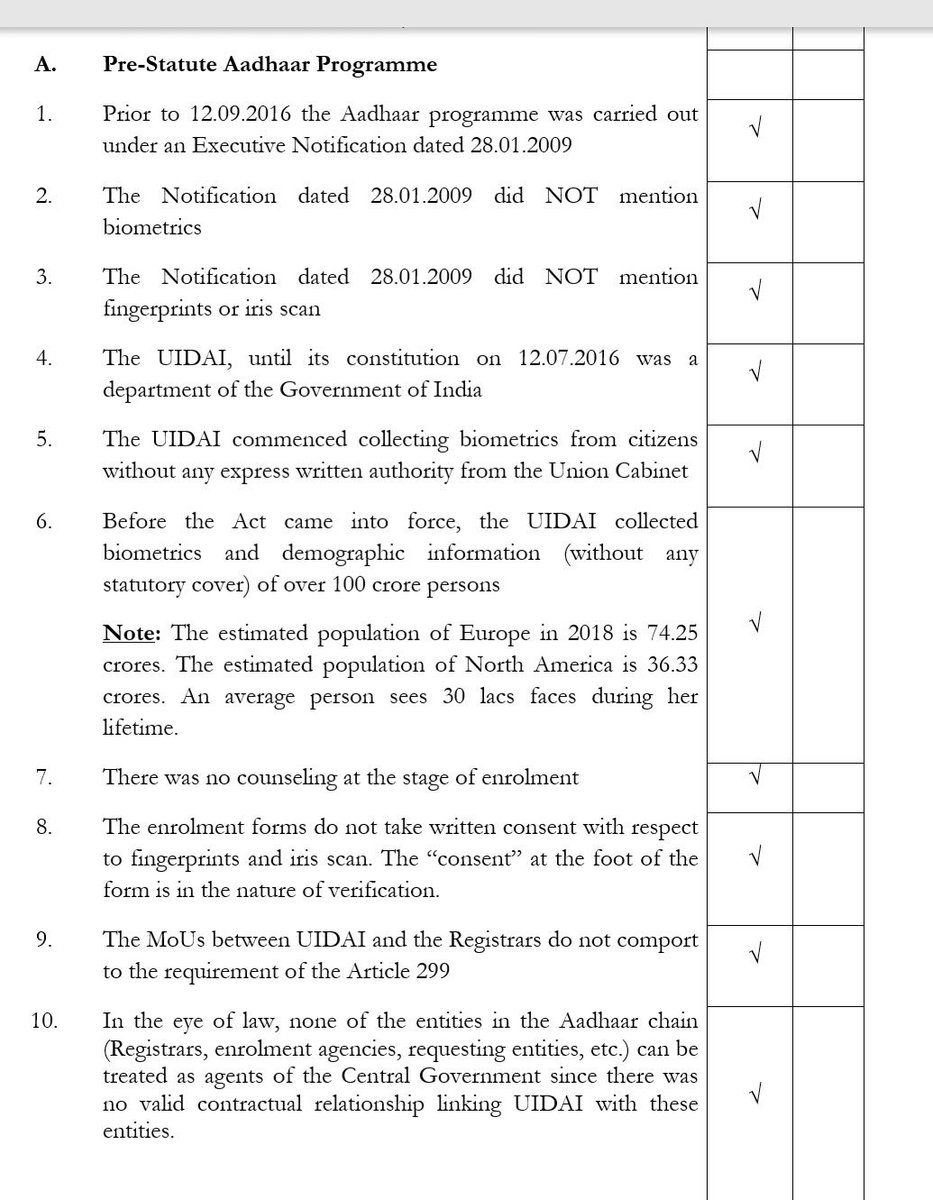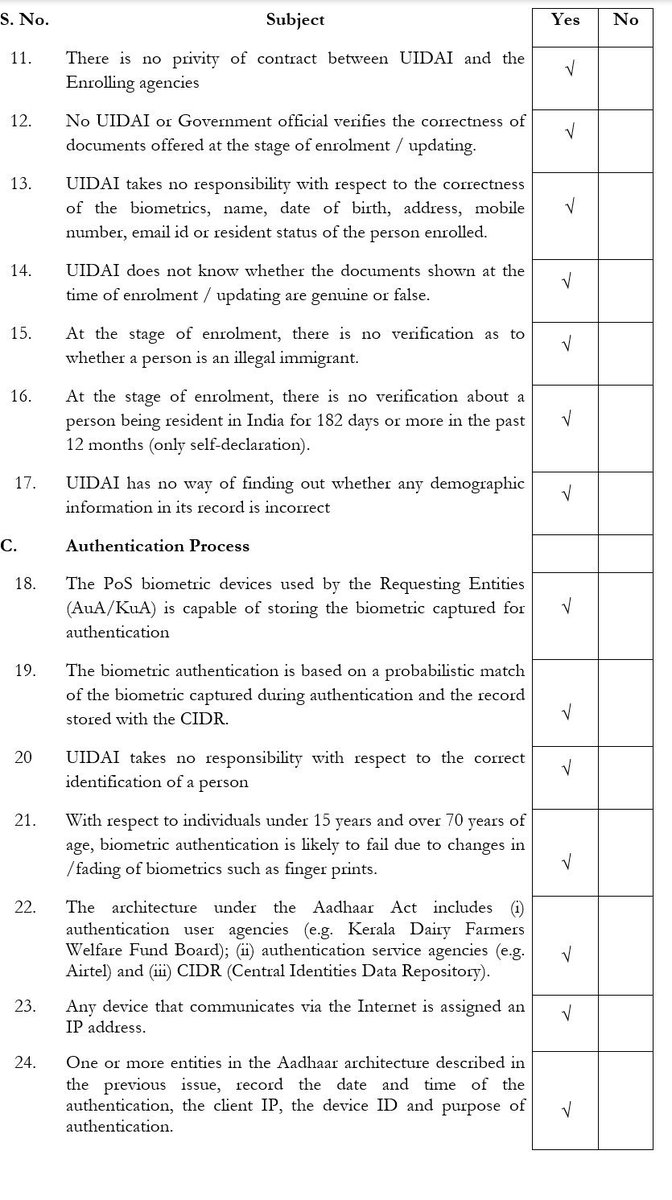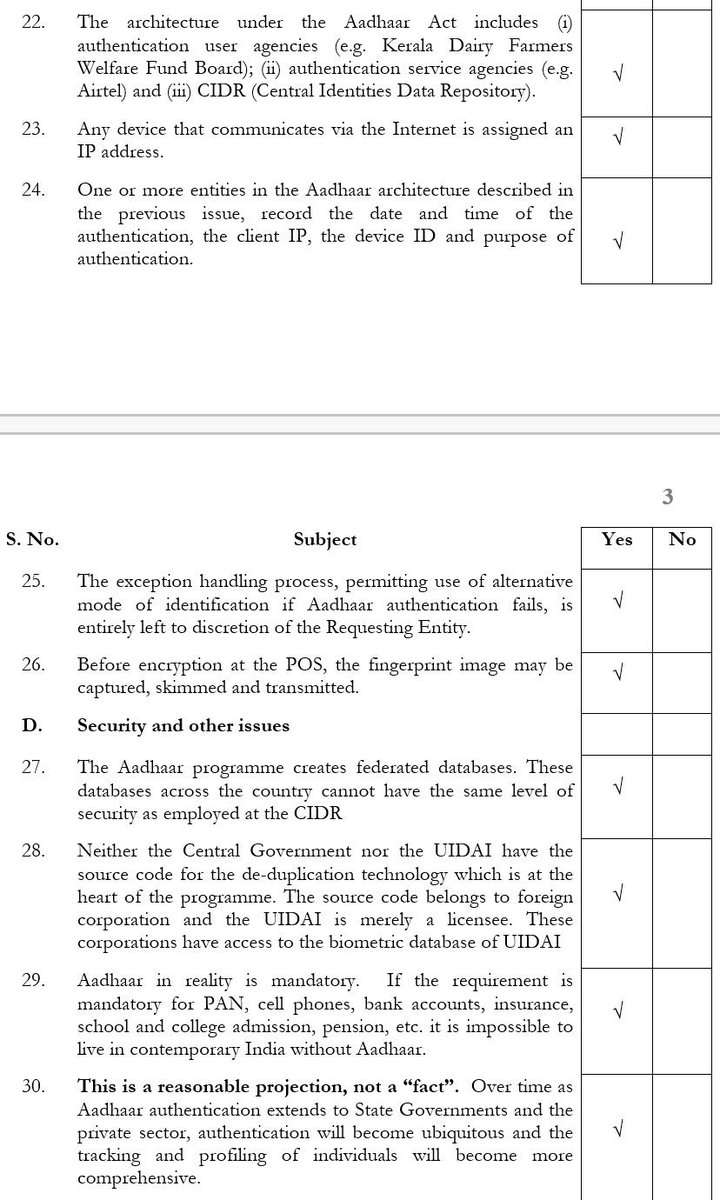 Sd hands over a programmatically randomly generated fictitious authentication history when diffrent one-time, annual, monthly, weekly and daily activities are linked for authentication and the kind of information collected. Entirely based on existing activities linked...
....to Aadhaar.

Now reading the list of AUAs and KUAs and how it is not a limited list as indicated by the Respondents at all.
SD now on A-G's reliance on 2015 ID4D report and how it is merely a sales pitch by conflicted parties with their own commercial interests...including Accenture and the personnel on the committee headed by Nandan Nilekani.

He emphasises how it cannot be any inpartial....
...report that ought to be given any weightage by the Court and more importantly does not have anyone in their committee learned on civil liberties or human rights. (Questioning their credentials in making claims on SDG etc.)
SD now rebutting the arguments on Section 59.
1.
Anyway those actions ultravires 2009 notification can never be saved. Like collecting biometrics.
2.
West Ramnad and Hari singh cases that A-G ans Dwivedi cited have no application in this case given there was no prior law.
2.
All aspects of reasonableness..even as claimed by them..consent, penalties etc did not exist at that time and those are complete injuries for which no defect can cure.
DYC J asks about what to do with data collected prior to 2016 act.
SD says the database must go...because of (a) need to assert the rule of law. Court orders. Parliamentary authority all of them violated by the Government in this case. Most people had been coerced into enrolment. Population of more than Europe and NA combined.
DYC J on authentication: Agrees that vulnerabilities and not being able to biometrically authenticate is a real and present problem and an answer has to be found for Section 7.

Bench rises for lunch.
Bench reassembles for the second session. SD continues.
Hands over a compilation of notification lists under various classes under Section 7.
1.
Dealing with Children - mid day meal, sarva siksha abhiyan.
2.
Dealing with health - TB , abortion services.
3.
Stigma is involved.
Eg. ART medication , bonded labour etc.

And other categories.

Points out how additional secretaries and advisors have signednotification...violating orders of the Court.

Makes a point about how its a retrogression of rights when you make statutory rights conditional.
Sikri J asks about diversion of funds and if SD has any solution. SD suggests any reasonable means of identification should do for all Section 7 schemes.
Quickly runs through his challenge to S7 point.
1.
Cannot create a second class citizenry.
2.
Overall effects of all statutes need to be looked into. With everything. We take it together are an overextension of coercive power of the State.
3.
Alternate identification should..
...be allowed.
4.
Dignity.
5.
How every Section 7 notification is void because of being contrary to 15.10.2015 order.
Next point on Money Bill.
Money Bill is not only a textual 110 point. Constitution has many many defence of Part 3. SC is only is the final citadel. In this case two defences denied including Rajya Sabha review and President having the power to return.

DYC J and Sikri J appreciate that argument.
DYC J refers to his judgment that curtailed ordinance powers under Article 123 and 213.

SD then next comes to fhe demographic data. Rebuts the proposition that there is no reasonable expectation of privacy in it. Gives examples of sensitive info like address name or mobile #.
SD then comes to refreshing the memory on Dr. Goyal's audit reports the malpractices by AUAs. (Recall Union in its affidavit annexed his audit reports).
SD hands over a brief list of features of the Aadhaar programme that makes it constitutionally fatal.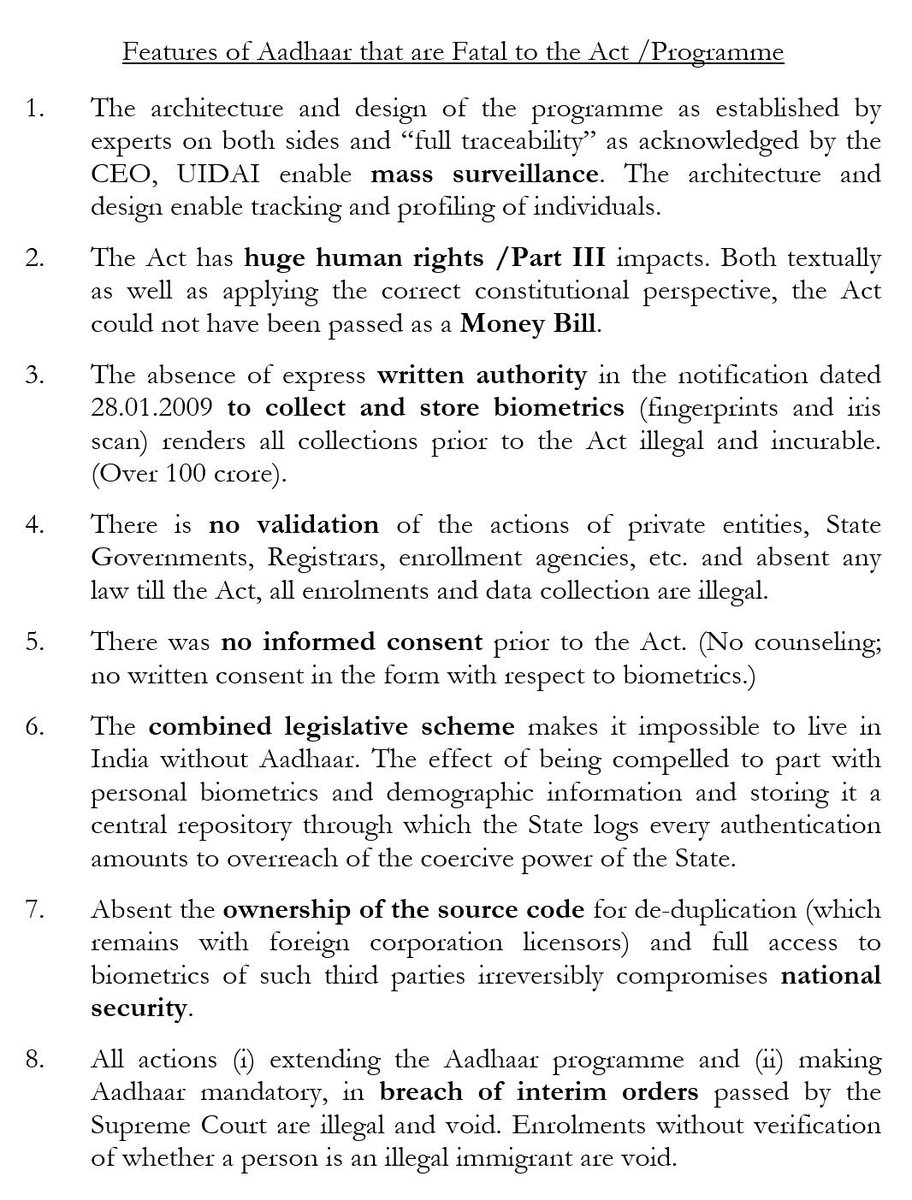 SD then refers to Rakesh Dwivedi's suggestion of vested interests behind petitioners....Google, Visa etc benefitting etc. Reasserts the credentials of the Petitioners before the Court and how every one of them, lawyers, experts who have given affidavits etc have all ....
...worked pro bono out of concern for our Constitution and democracy and completely rebukes the suggestion of Mr. Dwivedi.

SD concludes by citing the preamble and how each word is pregnant with a lot of thought and meaning and that in his view of choice and democracy and not...
...servitude. Reminds the Court that this is not the time to falter. Thanks the Court for the time and hands over the podium to Gopal Subramanium.
GS starts with the argument on how State has not furnished iota of evidence of the identity fraud, which is the only fraud that they even claim to stop, either before or after aadhaar. All their numbers inflated.
GS runs through everything wrong with the Act.
1.
No evidence by State.
2.
Deduplication rejects
3.
Contracts and information control completely ceded.
A special oration on UID being a numbering scheme. First question to ask is whether it empowers or disempowers.
His Section 7 point is the question of whethef the Act empowers and disempowers.

Section 7 disempowers the individual and empowers everyone else. The state. The intermediary and everyone.
Not able to keep pace with him :) suspending tweeting for now. Will put out a summary after 4 pm!