THREAD: I am putting Advocate Seema Sapra's arguments on the
#AadhaarHearings
here because it I find it extremely cohesive and think it very important for everyone to read and discuss. The link to her post is above.
1/n
2/n
#AadhaarHearing
is "framed too narrowly around privacy and there are other more serious concerns about Aadhaar &facts about the Aadhaar biometric identification system that have not been placed before the Supreme Court or are being sidelined by the focus on the privacy right
3/n
The focus on privacy in the
#AadhaarHearings
sidelines the issue "that Aadhaar in its very design and implementation more fundamentally violates the right to identity, to person-hood, to citizenship and consequently the right to life itself."
4/n
Here Seema Sapra WARNS that if
#AadhaarHearing
continues to narrowly focus on
#RightToPrivacy
, Court will just say privacy is a right with restrictions and will let Aadhaar stay by directing government to frame data protection laws.(And we know how good our laws serve us 😕)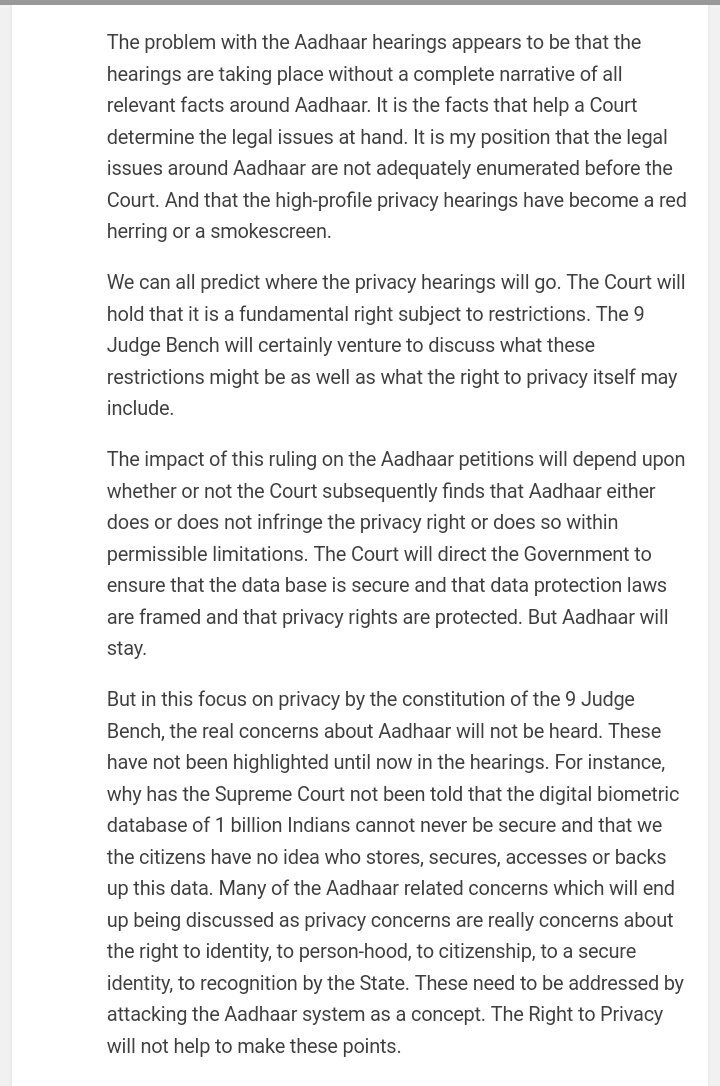 5/n
This sign by a ration shop dealer shows the extent to which
#Aadhaar
has eroded Fundamental
#Humanrights
& Right to Life in India and should be presented before the
#SupremeCourt
for the
#AadhaarHearings
on now.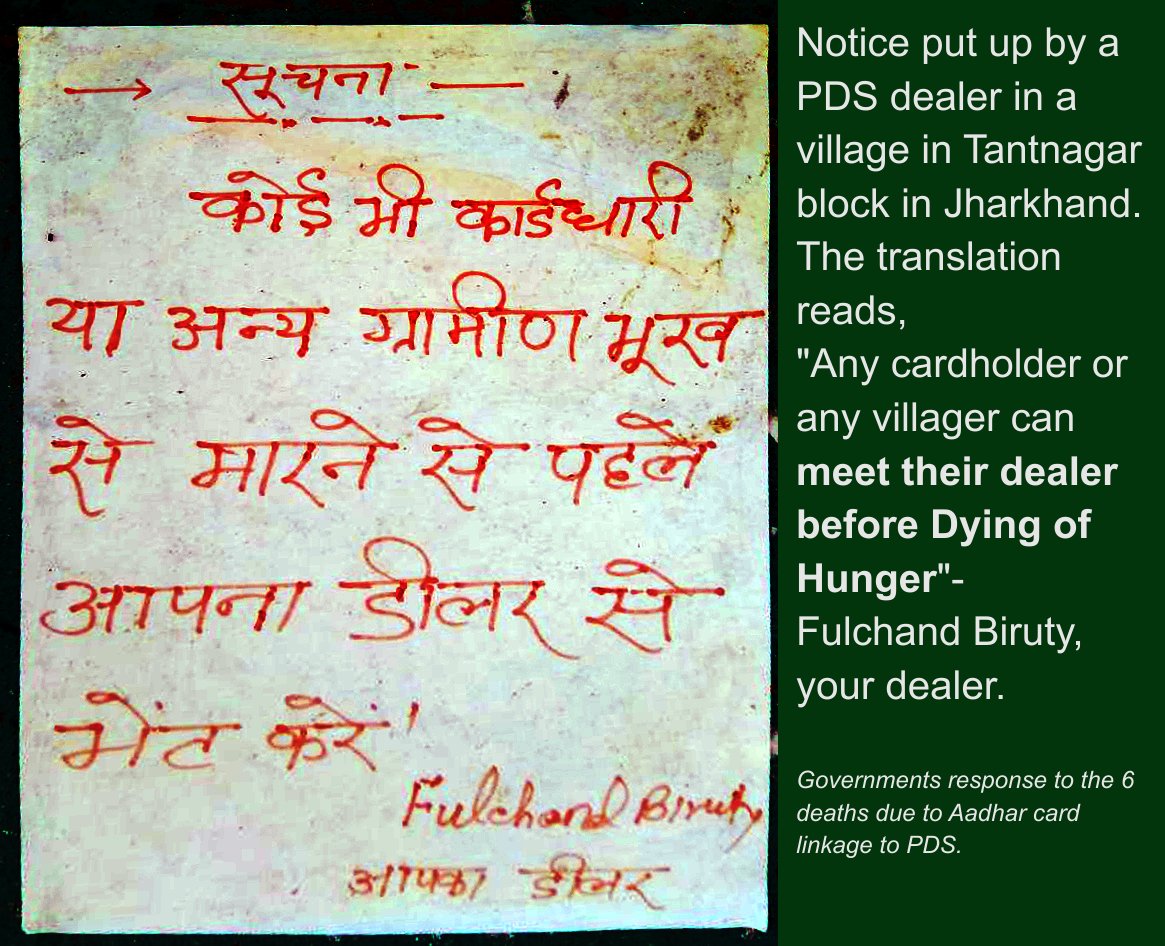 6/n
Returning to the thread on the
#AadhaarHearing
. Here's a response by the Supreme Court Bench that shows how dangerous it is to keep pushing the "Privacy" angle in the Aadhaar hearing. See the argument on top in this thread.
m.timesofindia.com/india/even-dho…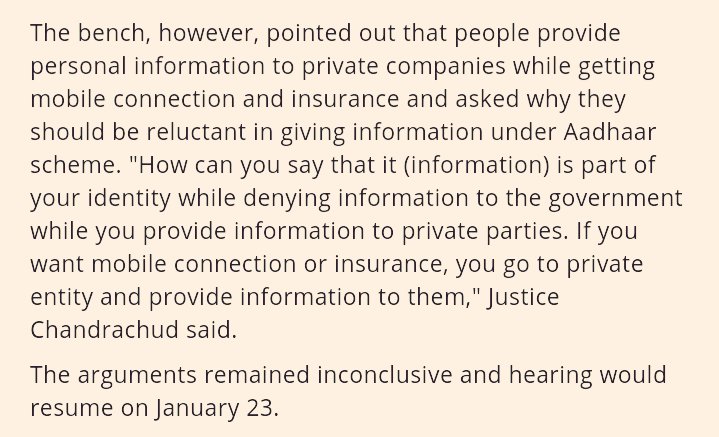 7/n
Shyam Divan's arguments on 21Jan for the
#AadhaarHearings
are focused on Right to Privacy which is a very grey area and gives the Court ample space to argue for "improvement" & continuation of the Aadhaar. See the thread.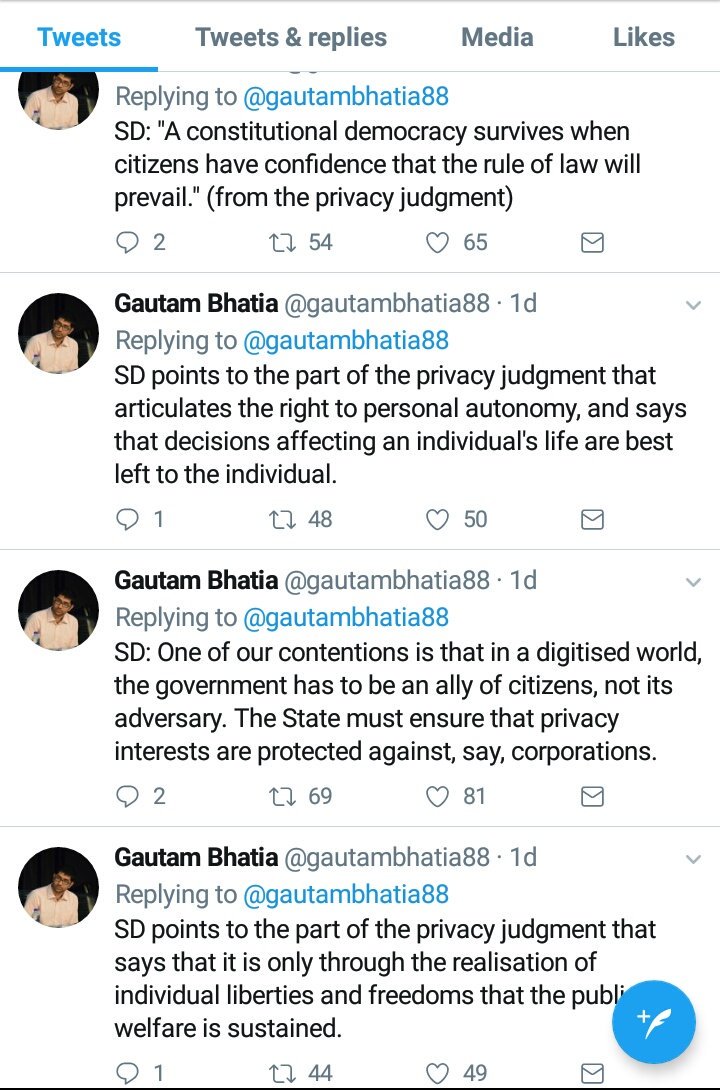 8/n. Today, 23Jan Shyam Divan's arguments in the Aadhaar case continue to focus on
#RightToPrivacy
. But the fact is people deprived of food & dying of starvation is not about Privacy & Choice. It is about the right to food & the Fundamental
#RightToLife
which Privacy arg. ignores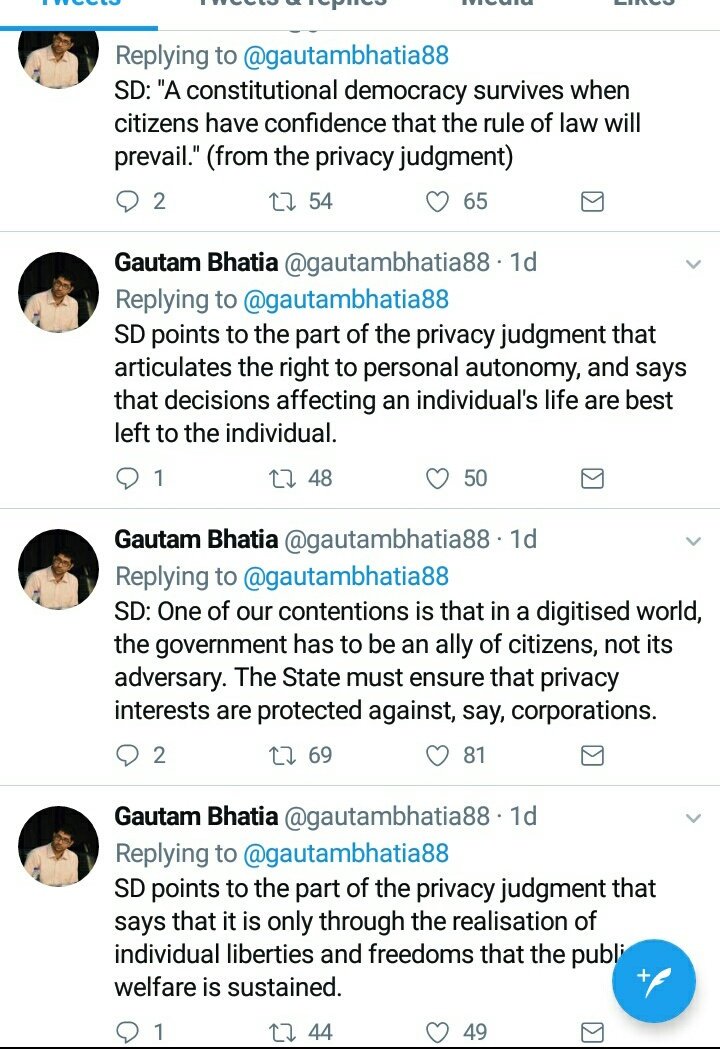 9/n
Even with the
#RightToPrivacy
argument4
#Aadhaar
it's unclear why SD did not press with the right to life angle. Eg below is not just about civilrights, but the fact thousands have been declared digitally dead & stripped of all means to live. Their very existence is Denied!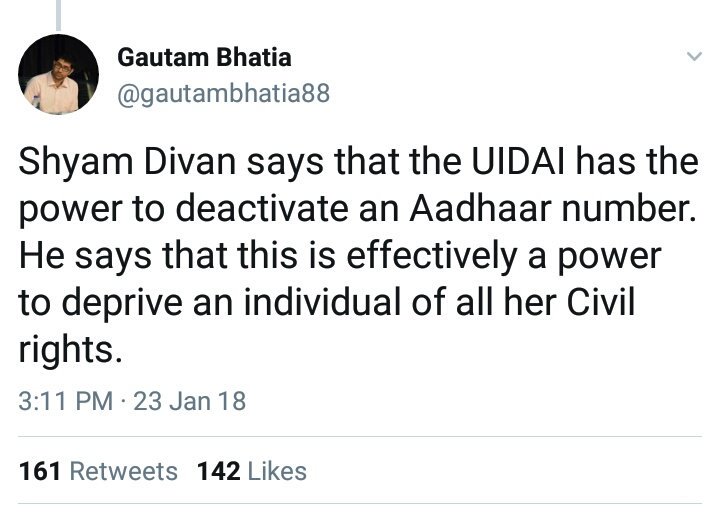 10/n
If SD had instead said Aadhaar HAS been used to declare people dead and strip them of their right to exist, there's no way the Court could Constitutionally justify the
#Aadhaar
. This below is what the issue is
11/n
The Supreme Court's job is to test the Constitutionality of the Aadhaar Act. Does it violate the existing FUNDAMENTAL rights guaranteed by the Constitution which the Court is obliged to uphold? SD's arguments skirt these basic Rights & focus on right to Privacy which is grey
12/n
This is from 2013 when Supreme Court upheld Aadhaar as a violation of citizens Rights, the PIL by Justice Puttaswamy focused on Art 14 & 21 - Right to Equality & Life respectively. SD knows No Court can stay Aadhaar if it is a threat to RIght To Life!
tehelka.com/2013/09/aadhar…
13/n
#AadhaarHearing
. Another eg of danger of using "Privacy" as an argument. In this exchange below, SD argues leaked data which SC will just say make law for. But why not focus on those pension exclusions? Court itself is accountable to Constitution 2 uphold Fundamental Rights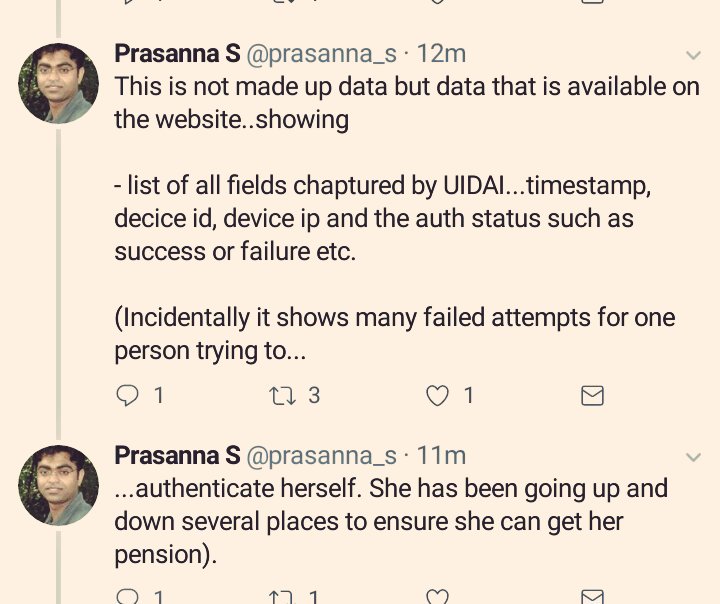 14/n. Will the Supreme Court answer these questions about Aadhaar which are VERY important? Or are they just rhetorical for courtroom drama? Will the petitioners list these questions for the judges so we can seek the answers in the final judgement - hopefully is not a secret doc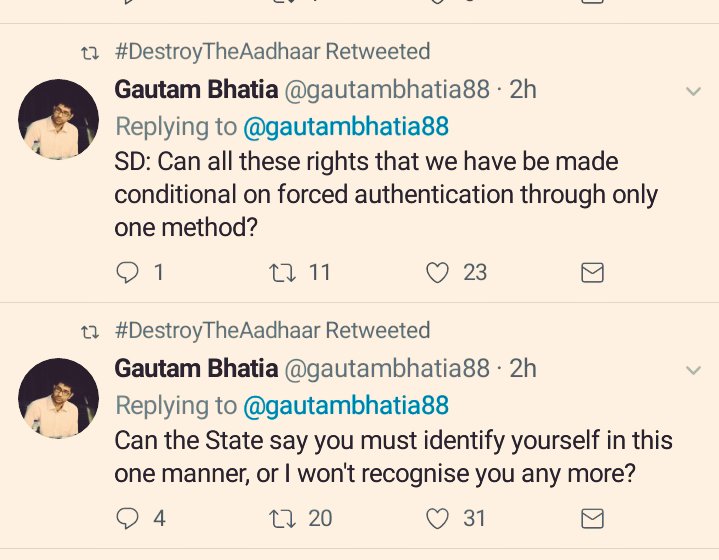 15/n
The
#AadhaarHearing
should be focusing on the Constitutionality of the
#AadhaarAct
. As it violates MOST Fundamental rights under the Constitution, the SC is legally obliged to strike it down under Article 14. Focus on privacy allows the SC to sidestep this obligation.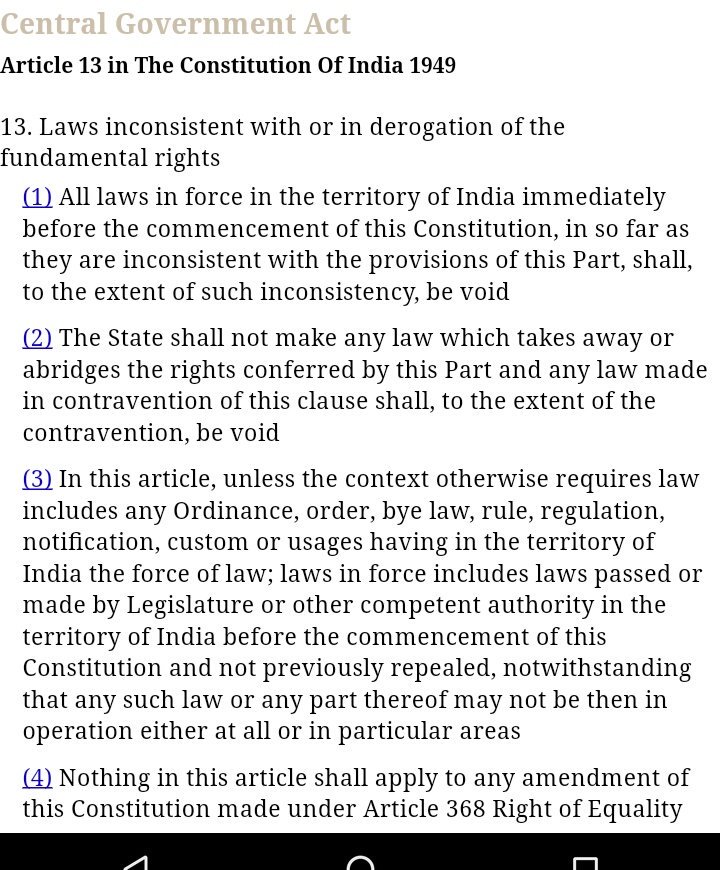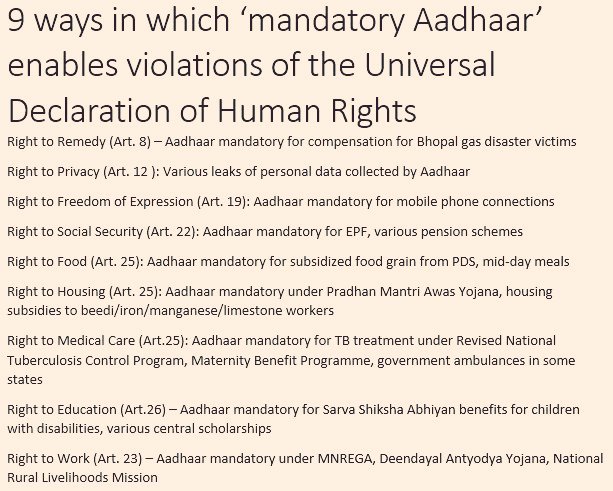 Sorry, that should be "strike it down under Article 13" - defined in the left pic.
16/n. Indians need to know that data pertaining to Aadhaar based violation of people's basic right to FOOD & PENSION which govt claims as savings has been put before the Supreme Court. Still why do judges claim "savings" citing wrong info in IMF paper?
17/n
Gopal Subramanian at the
#AadhaarHearing
makes powerful arguments on how Aadhaar is Unconstitutional & violates Fundamental
#HumanRights
. So why this call for extending Aadhaar linking deadline? Why not to
#DestroyTheAadhaar
? 🤔