Justice Ginsburg taking the stage soon at
@ColumbiaLaw
for an event celebrating the 25th anniversary of her SCOTUS investiture. I'll be tweeting.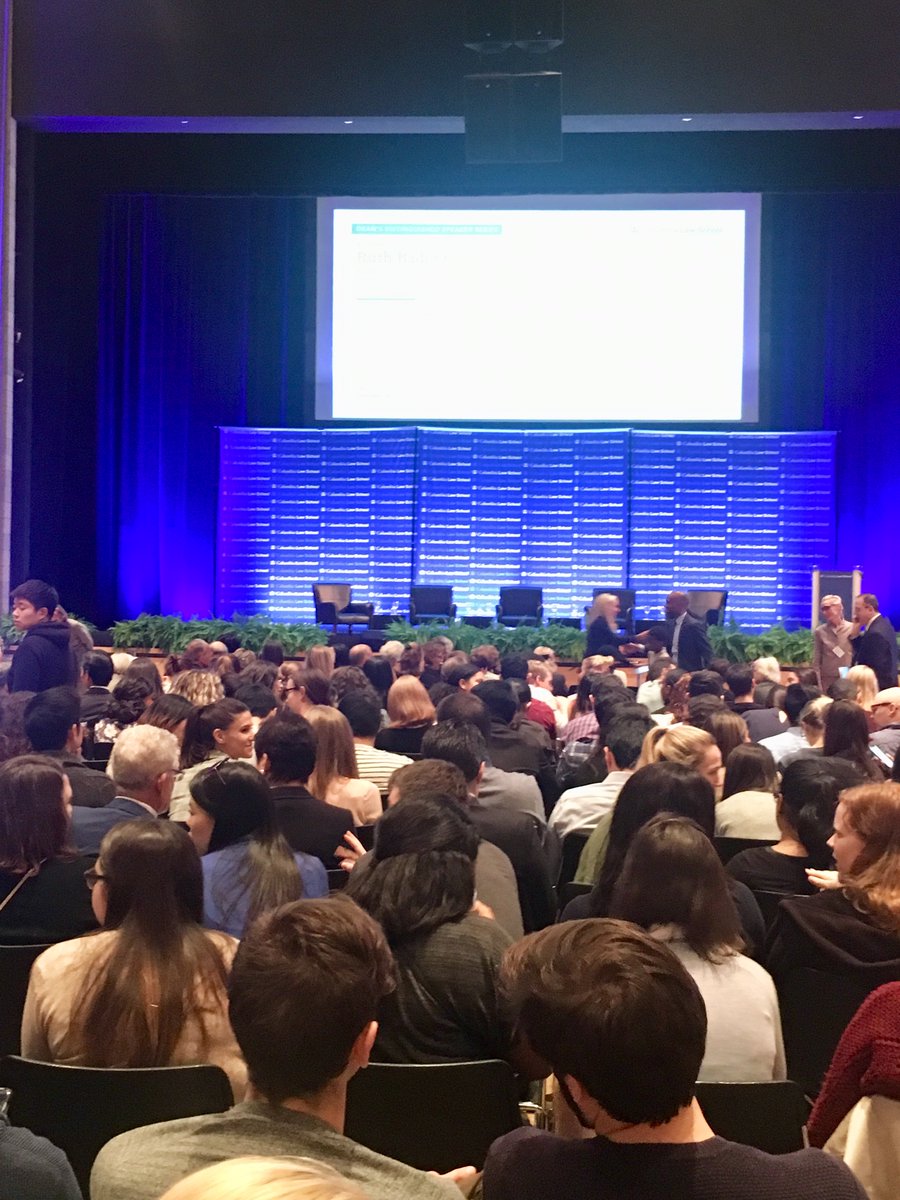 The discussion will focus on impact litigation as an approach to policy change.
Dean of
@ColumbiaLaw
Gillian Lester: When you graduated from law school, did you expect you'd become a trailblazer for gender equality?
RBG: "It wasn't in my wildest dreams."
RBG: "When I finished law school, it was pre-Title VII. There wasn't even an Equal Pay Act." But in the 1970s, when there were these tools -- plus Title XI -- it was time to break "gender barriers that were pervasive".
Advice to law students: "Don't try to do things alone. Get together with people of like mind."
RBG discussing case involving TIAA-CREF where women received smaller monthly retirement pay because women "live longer and eat less".
On her SCOTUS confirmation hearing: the judiciary committee had a lot to go on. "I was on the DC circuit for 13 years."
Panel assembling now for discussion with RBG: Lee Gelernt (ACLU) and three
@ColumbiaLaw
profs: Olatunde Johnson, Gillian Metzger, Nancy Northrup.
RBG, quick on the draw, corrects Metzger when she says Reed v. Reed was about a couple in Oregon. "Boise, Idaho", she shot back.
A gender-equality case RBG didn't take when working at the ACLU: woman denied access to armored tank division of military. "It was too soon."
correction: Nancy Northrup is CEO & pres of the Center for Reproductive Rights
Northrup: what's the right case to bring, and when, for women's reproductive rights? "Taking things step by step" is crucial.
Northrup: "Our biggest challenge is that we are still dealing with sexism in American life."
Other challenge is jurisprudential: pregnancy & reproduction discrimination is not discrimination on the basis of sex.
Gelernt (ACLU): working on family separation policy, brought national class-action suit in San Diego.
RBG: proper stages of changing the law are (in this order) (1) public information, (2) legislation, (3) litigation. Essential to educate the public about injustices & inequalities before bringing lawsuits.
Olatunde Johnson: question today remains what's the right time to bring a case; chipping away at precedents (anti-sodomy laws, same-sex marriage strategy).
Johnson: courts can't create all the rights and protections that we care about.
Metzger: yes, but big decisions can structure/push further social movement progress
RBG recalls Ledbetter dissent: "now the ball is in Congress's court", she wrote, to fix pay discrimination against women. Then Congress did so - first piece of legislation
@BarackObama
signed
RBG: Justice Brennan suggested using state constitutions to establish what he thought should've been established under the federal constitution.
Johnson: yes, educational equity has been litigated under state constitutions in 1980s and 1990s. Another countervailing trend: state legislation that curtails certain rights.
Metzger: impact litigation isn't just for liberals anymore. Since Goldwater or so, it's been a conservative method too.
RBG: amicus briefs are proliferating, with many pro-business groups urging social change toward their interests
RBG: litigation imitation is a "compliment" but some of it is "worrisome". "Think of the way the First Amendment was used in the last term", she said, then references Janus and Becerra cases on public-sector unions and notices in pro-life "crisis pregnancy centers".
[RBG was referring to two major wins for conservatives this spring. Janus v AFSCME said freedom of speech prevents unions from charging agency fees to non-members; NIFLA v Becerra said CA couldn't ask pro-life centers to post notices re state-subsidized family planning.]
.
@leegelernt
, speaking to law students: don't get caught up in chasing media blitz around big cases. There aren't so many of those. You can make a huge difference for one plaintiff in smaller cases. Take those.
RBG, to law students: Pursue a career in which you help people. That will be a lot more rewarding than just taking a job to "turn a profit."
RBG: remember our constitution is powerfully hard to amend.
Metzger: many critiques of impact litigation as anti-majoritarian look too much at the litigation alone. Need to broaden the picture.
RBG, on case most difficult to decide: "Not a single case. The category of case that gives me the most anxiety is death-penalty cases."
RBG: "If I were a queen, there would be no death penalty."
RBG: Most capital defendants have "abysmal" representation at trial stage, but it gets better in the appellate stages.
RBG: If the defendants had that quality of lawyering at the trial stage, "there would be no death sentences."
RBG: Biggest surprise while at SCOTUS: Rehnquist joining the majority in the VMI male-only admissions case
Q from a 1L: Do you remember the first time you were called on?"

RBG: Very first day of class in civil procedure. A young man gave a brilliant answer and volunteered a few more times. That was Tony Lewis. Decided she wouldn't be quiet from that day forward.
Thus concludes Justice GInsburg's 90-minute discussion at
@ColumbiaLaw
. But the notorious octogenarian isn't done for the day. She's heading over to the Columbia Journalism School for a Q&A on
@RBGmovie
, the documentary film.
On Monday, she'll meet with her seven SCOTUS colleagues for the first time since the end of June for their annual "long conference", where they'll pick more cases to hear for the term beginning October 1st. [end thread]