#Nigeria
the Budget Office put out 2017 fiscal accounts which showed that FY deficit came in at NGN3.8tr (3.3% of nom GDP) and above the 3% fiscal responsibility act. As usual revenues missed thanks to usual over-optimistic non-oil rev assumptions and higher JV payments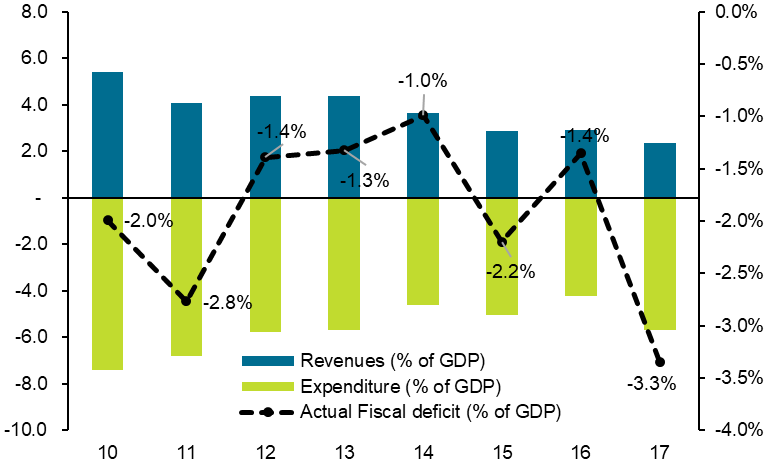 But interestingly, capex spending came in a record NGN1.44tr (1.3% of GDP and around 66% of target) with overall budget execution at 87% suggesting some credibility in implementation despite the costs driven by higher drawdowns by Works, Power and Housing
Debt service/revenues printed at 69% (adjusted for sinking fund payments to retire debt 60%) but up from the 47% in 2016. Overall debt tracked higher due to increasingly more expensive borrowings over the last three years - a derivative of CBN tightening.
Though oil revenues look set to provide support, the current track of trying to push capex spending over NGN1tr is unsustainable as it will require a larger NGN devaluation to work as revenues seem to have hit a brickwall (without PIGB no FIDs, and non-oil is a long term game)
Nigeria needs a new plan: one which involves less fiscal involvement in capex and opening up new sectors to growth. ST is to pass PIGB to get FIDs up and running. medium term is to open up new growth sectors (logistics, agro-allied manufacturing and utilities) to private capital
We need to restructure our banking sector: this whole game of using an ignorance arbitrage to fund high yield position on govt securities needs to go. Interest rates need to come down and the defacto NGN stability policy of the CBN needs to go.
We need a finance minister to rationalise govt spending and shift growth to the private sector. We need a CBN governor ready to restructure the banking system away from T-bills yield speculation. In 2021-22 another oil shock is coming. We need to be ready. brace yourselves