tonight is the first charlottesville city council meeting under this new arrangement. it's a confusing choice.
the meeting, which predictably hasn't started yet, can be watched live here


city communications director brian wheeler is in paige rice's old seat tonight. gonna be a busy man if he's supposed to do both jobs...


it's domestic violence awareness month. if you need help in the charlottesville area, call the shelter for help in emergency at 434·293·8509
shelterforhelpinemergency.org
some good news on board & commission appointments! a few names i recognize headed to the library board, human rights commission, and others.
there is still an opening for the city civilian rep to the jail boa
charlottesville.org/departments-an…
I69R
they started to move onto the consent agenda... but as i predicted, they aren't totally prepared for the agenda change they've made. a member of the public loudly announced he's actually here to speak on one of the matters of the consent agenda.
a member of the public has some concerns about brian wheeler's temporary assumption of paige rice's former position.
he's also raised the issue of maurice jones' severance package & al thomas' continued collection of a salary from the city.
nikuyah says brian wheeler does NOT intend to apply for a permanent appointment to paige's now-vacated job of council chief of staff.
new city attorney john blair is working to ensure council meeting minutes are up to date & posted going forward.
the speaker is now having a heated argument with mayor walker about the july 2nd vote about former city manager maurice jones' contract.
and now we are moving on to the consent agenda. never a dull moment 🙃
mostly just moving some money around & approving brian wheeler as the interim clerk of council.
kathy has "just one comment," as alwa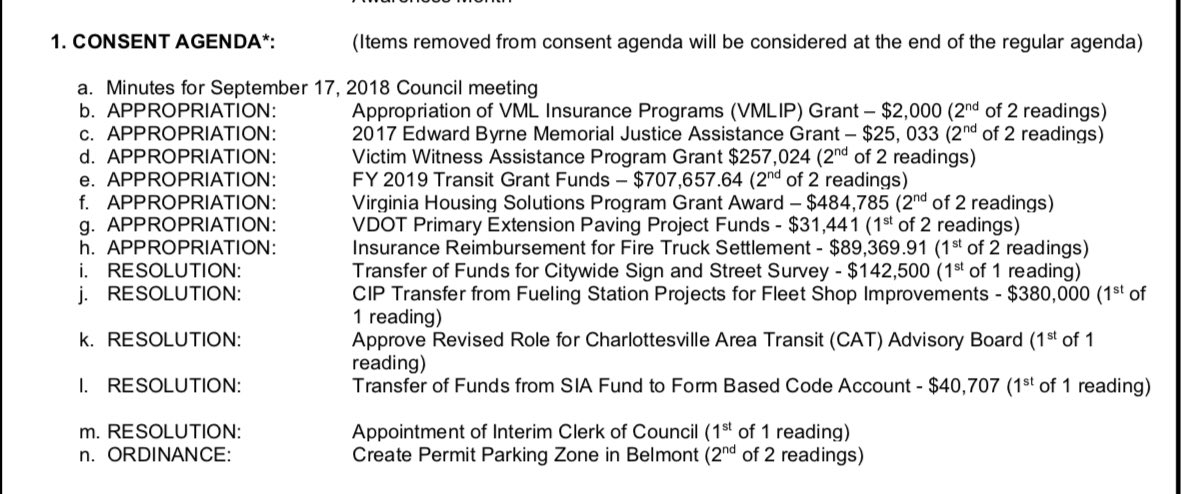 M7Kb
we're all out of order tonight. the consent agenda passed unanimously & now we're doubling back about a proclamation that will actually be read at the NEXT meeting.
and NOW public comment.
whoops, nope! first we're gonna hear from interim city manager mike murphy in response to last meeting's matters by the public.
murphy sounds even more sedate than usual, which is quite a bar to slide under.
murphy says "there's not really a responsive record" to tanesha's request but they are interested in helping her with this research

most of the responses from murphy are to questions asked by councilors... not issues raised by members of the public.
murphy says he met with the director of region ten today. "this may be more appropriately dealt with in a work session." he says region 10 is "willing" & "eager" to talk about diversity.
looking forward to that meetin V8jx
wes asks murphy what it would take to get the sankofa center reopened here. murphy gives a long non-answer.
"the chances that charlottesville is going to recruit a psychiatrist of a particular demography is highly unlikely." murphy thinks hiring a black psychiatrist is not worth pursuing.
wes says the same conversation about hiring is often had about black educators. murphy says more people become educators than psychiatrists and the road to becoming a psychiatrist is very long & difficult. is he saying black people can't/don't become doctors?
city attorney john blair says "aesthetics" aren't sufficient to find a property a blight. they'd have to find a structural deficiency that presents a danger to public health and safety.


a danger to the public like debris falling on neighboring businesses? because that happened two years ago.
nbc29.com/story/30976446…
kathy says after the incident in early 2016, the property owner did some "blight mitigation"
ok NOW we're starting public comment. jeff fogel is up first.
the police department policy is that they'll respond to complaints within 45 days. rejected complaints must be accompanied by a reason why they were rejected. jeff says neither of these things are being done.
after a VERY embarrassingly racist presentation on statistics about our police department's stop & frisk figures... they overhauled their system & no longer collect information about race.
city attorney john blair tried to catch mike murphy's eye, giving him a grim nod. the lawyer is giving him permission to respond to jeff, i guess.
kathy galvin makes a comment in support of finding out more about the stop & frisk numbers. and now we've moved on to the next speaker without hearing a response to jeff from blair or murphy.
a uva student speaking now about the lack of streetlights on grady. current policy requires property owners to consent to new pedestrian lighting — the area she's talking about is mostly renters. many of the property owners in question don't even live here.
she also asks why there are no police call boxes downtown.
kathy galvin is confused - she says she thought the lighting study was accomplishing the things this speaker is asking for.
(with the amount of sexual assault in the news & given it's domestic violence awareness month, i just want to point out that most assaults are committed by someone you know, not a stranger jumping out of a dark alley — BUT a woman was assaulted on that stretch of road recently)
they hope to talk to UVA about a joint venture to get more lighting in those areas mostly populated by students.
how much did UVA spend on those new security cameras? surely streetlights are cheaper.
mary carey at the mic - she asks galvin what she means when she talked about "resurrecting" the 2nd street project.
"you're not doing anything for the people who are keeping this city going. you're not paying them enough."
"y'all gotta start takin' care of the city. you gotta start taking care of the low income people, too."
ms carey recalls the time the city congratulated workers for clearing snow at UVA... when children in cville city schools couldn't access their bus stops in the snow.
several speakers tonight offering powerful, emotional support for the habitat program. (there's a resolution tonight on funding for the program)
this speaker shared, among other things, an event this saturday — folks are walking from the jefferson school to monticello for an event called "raising the humanity of the enslaved"
facebook.com/events/2282149…
next up is ms katrina. she is a member of the police civilian review board & has her own open complaint against the police department.
ms katrina says the new police chief has called her a liar. that seems awfully unprofessional.
"i don't have no bad news today - i've heard enough of it," ms gloria at the mic just sharing her appreciation of mayor walker. she's got her nikuyah campaign shirt & button on and is presenting nikuyah with flowers ❤️💚🖤
someone from JABA thanking the city for helping fund the insurance counseling clinic they run. they help folks select the correct medicare plan. (though i can't help but groan a bit that the government needs to fund programs to help people access government programs)
nancy, as ever, knocking it out of the park. with her "i support nikuyah walker" sign in hand, she gives
@hatefreeacps
a shoutout for getting the city & county school boards working together and highlights a parking issue in her neighborhood.
she hopes to see housing strategies geared toward stability for renters on the agenda for thursday's city/county joint meeting, particularly a renters emergency fund in the county.
ms rosia up now.
"mr mike," she says, pointing at a distracted mike murphy, "there's been so many complains about your police chief."
"when is the city gonna take accountability for the police?"
she brings up a recent incident in which the father of sage smith, who has been missing since 2012, asked a detective about his child's case... which somehow escalated into the officer shoving him & him being arrested.
old white lady says she doesn't think one community being served necessarily takes away from anyone else... but fails to see that the communities being served are invariably the same (wealthier, whiter) ones.
it's great that they've been so accommodating about allowing folks to finish their thought when their time ends in the middle of a statement... but this lady just got lost. they should've cut that off.
oh lord, if only. we're still on public comment. i expect we'll have a recess when this wraps up soon...

kathy says there seems to be a real thirst for information on how the process works (re: local govt, public hearings, neighborhood associations, etc - the things the previous speaker was confused about)
honestly, i agree.
kathy wants to bring back the quarterly meetings between the city manager & the neighborhood associations and something called the neighborhood leadership institute.
signer reminding folks that neighborhood associations vary widely & there is no formal structure for them. they have "no legal structure at all." some are very active, others aren't.
a community member who has spent some time lately protesting kavanaugh in DC (still wearing the wristband he got when he was arrested) approaches the mic to say "we believe survivors"
walt also says the police department's shift in data collection re: stop & frisk is a serious problem. if what jeff said is true, they are intentionally obfuscating the truth.
he encourages council to declare the lack of effective public engagement a crisis. he says council's job is to shape the approach to public engagement & "at the top of the ladder is empowerment of citizens" - NOT to gaslight us.
wes tells walt he's hesitant to make promises like "5000 affordable units by 2023," an example walt proposed, because he doesn't want the city to promise things it can't deliver.
next speaker reminds us of the imminent global climate disaster. (we're doomed)
next speaker spoke at the last meeting about our local jail's ICE cooperation policy

she raises a valid point about wes' proposed compromise to the issue of the ICE notification policy... undocumented people CANNOT GET drivers licenses here, so what's the point of including "driving with a suspended license" in this weak compromise?

wes says he's interested in a conversation with the commonwealths attorney about how undocumented folks might obtain ID or even driver's licenses.
mike murphy says maybe council could get some information together (which the speaker says she's already sent) and include it in their legislative packet — the issue of drivers licenses is not a local one.
john blair: responding to the speaker's comment at the last meeting about sanctuary cities - there have been 7 bills in the last 3 legislative sessions; three passed but were vetoed. (by our democratic governors)
john blair says there was a confidential settlement agreement about an "employment dispute" re: former police chief al thomas' continuing to collect a salary after his resignation.
that concludes matters by the public. we'll have a brief recess before the rest of the agenda.
remember the last meeting? it ended at 9:17. that was amazing.
we are back in session. first up: a public hearing on rezoning a property on carlton ave.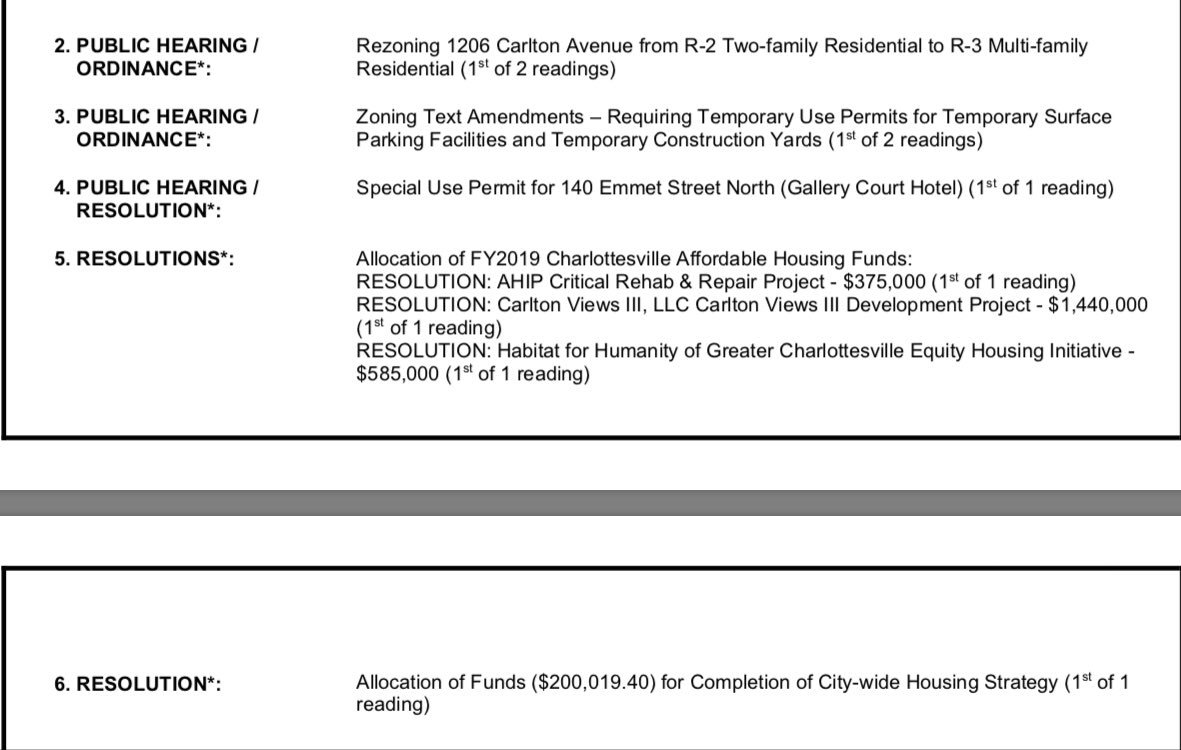 the currently vacant property is zoned for a 2-family dwelling. the proposed rezoning would allow a 6-unit building to be built.
the planning commission has recommended a denial for this request. they're worried about lack of parking (7 spots for 6 units) and height (though the plan is for a height of 35 feet which is actually allowed under the current R-2 zoning anyway)
without rezoning, two market rate units would be built. with rezoning, if the application for the special use permit is approved, they'll build 6 units (one of which will be affordable).
it's powerpoint time, y'all.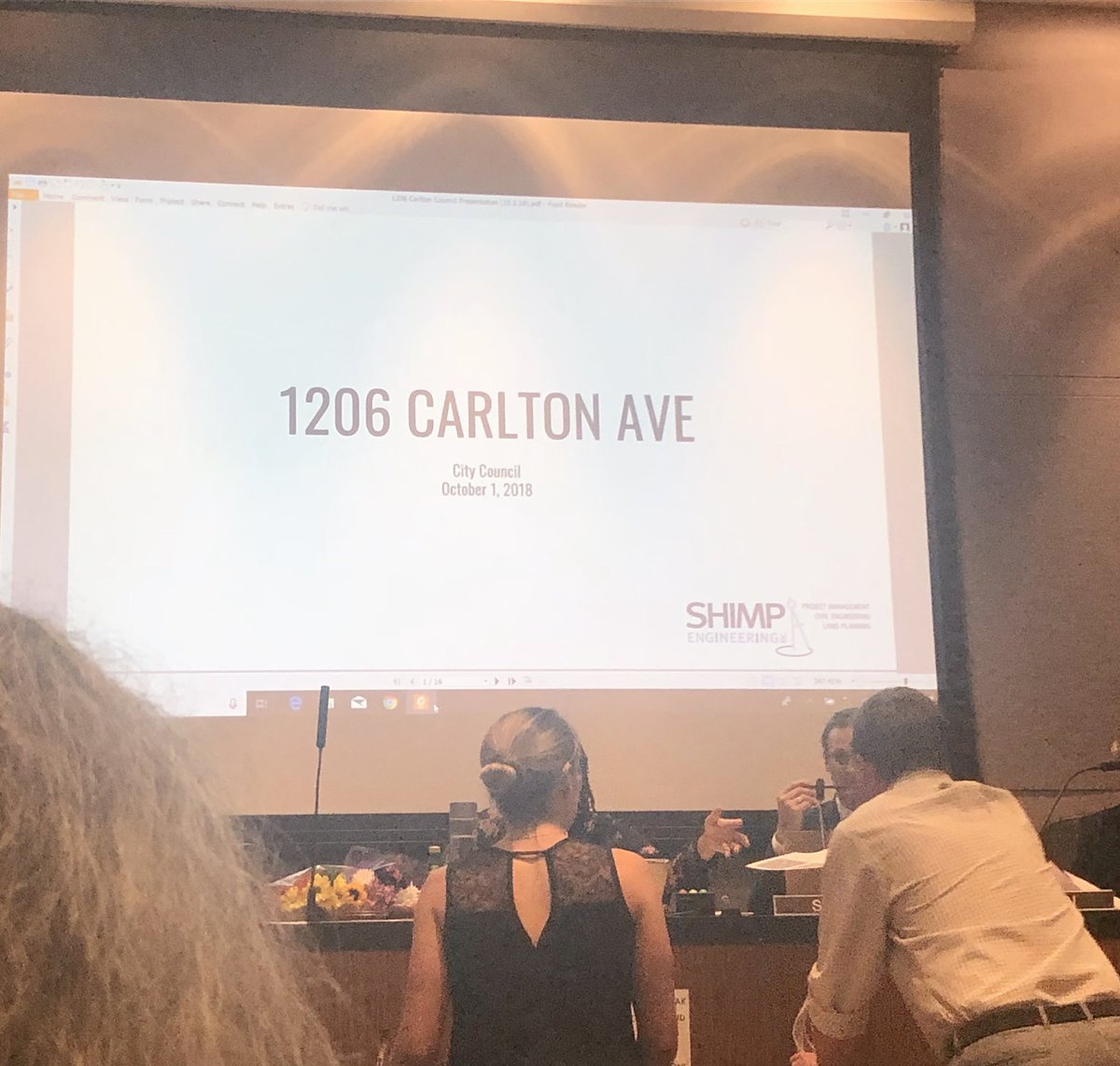 apparently applicants for rezoning have to notify all property owners within 500 feet. that's a lot of people in that neighborhood, damn.
under the current zoning for the property, they could technically already build "two units" but make them 4BR suite-style apartments — so the concerns about density & parking are mostly irrelevant? it's also right next to a 6 unit apartment building.
for those of you playing along at home, the live feed is now here:

the developer says the 80% AMI unit will rent for $1460 for a 2BR. he runs a small housing complex in nelson county where two BRs rent for $750. this city is out of control.
a very old man who lives nearby is worried about the effects this would have on parking in the neighborhood. again, even if this isn't approved, they can build *the same number of bedrooms* and wouldn't be required to build ANY offstreet parking.
he is right, though, about the lack of sidewalks in that area. not sure what that has to do with anything though.
next speaker (
@rory096
, who was appointed to the planning commission earlier in tonight's meeting) is in favor of the rezoning & the project generally.
john blair says this could go on the next meeting's consent agenda. heather says she wouldn't be comfortable voting on it as part of the consent agenda. wes says he'd like to hear more from the developer about lowering the AMI on the affordable unit.
kathy is losing her cool.
kathy says the parking situation in belmont is "a tragic condition."
"this is a reflection of our failure to do long range visioning and planning."
kathy always gets a little heated about VISION.
it's past her bedtime.
nikuyah asks "when do we decide to plan long term?" and "what they are proposing is something we are saying is needed." she acknowledges "there's nothing affordable" about it, but it is something there is a need for.
sorry, kathy said "vision plan" too many times and i spaced out. the odds of this ending in time for me to go to the grocery store before it closes at midnight are rapidly decreasing.
ok something about construction equipment not being parked on the street something something sorry. it's going on the consent agenda for the next meeting. now onto the special use permit for additional height for the hotel on emmet.
if they show the same powerpoint i watched back in march i'm gonna have a tantrum

the property owner started by thanking his friends and family for believing in him. buddy, you're showing a powerpoint about a hotel, not accepting an award.
i'd like to introduce a motion to outlaw the term "boutique hotel"
the architect described the project as "some parking with some rooms on top of it."
i think i've spent too much time quietly paying attention today. like kathy, i've hit my limit. describing a hotel as "some parking with some rooms on top of it" just fucking broke me.
ok they're saying the hotel won't affect traffic... but let's be real: how are people even going to GET OUT OF THE PARKING LOT? that traffic light is frequently backed up past the exit from the lambeth apartments.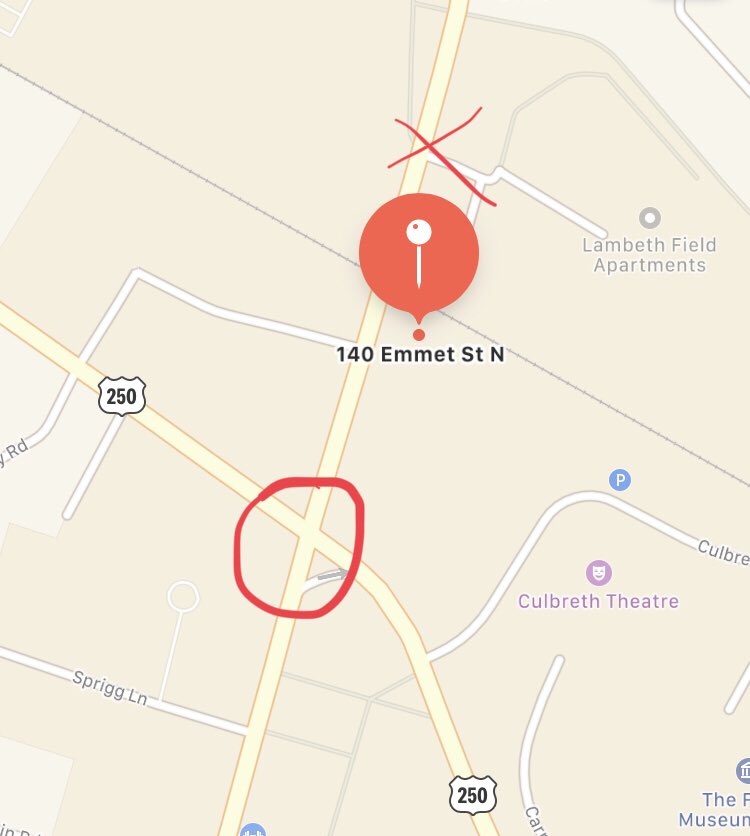 i'm not saying this is any reason not to rebuild (there was a hotel there until it burned down two years ago), but don't LIE TO ME, mr powerpoint.
a woman is giving a public comment arguing against the special use permit for additional height. she says an 80ft hotel will obstruct views, add to traffic, and doesn't fit with the neighborhood.
the next public commenter explains that 80ft is "really high" and contextualizes this for us by saying at a height of 80ft he can coast for one mile in a hang glider. incredibly relatable content.
"if you're believing what the patels are telling you about traffic, i've got a bridge to sell you," says the next commenter.
lololol shut up & sit down with your shock about "incivility"
is this your first meeting?
i'm gonna apply for a special use permit to bulldoze this lady's house
wow this guy says the SUP is "not only unappealing but downright harmful"
i honestly don't care about this hotel either way but these whiny neighborhood association people aren't winning me over.
we've been talking about this hotel for half an hour.
these people keep explaining which numbers are big. 80ft is 33% more than 60ft and 33 is "a huge number."

i died and this is purgatory.
oh man. big drama. one member of the neighborhood association is here to speak IN FAVOR!!! of the special use permit. there was an audible exclamation of "WHAT????!" from the anti-hotel crowd.
one of these neighborhood association folks HISSED at
@rory096
for pointing out that we have allowed similar projects in poorer neighborhoods - we're seeing opposition here from wealthy people organized by former mayor bitsy waters.
ok 45 minutes is entirely too long for this agenda item and we're still in the public hearing.
this guy thinks this project would strip away "the funkiness, the idiosyncrasies" of our city.
neighborhood associations are full of the most insufferable fucking dorks.
galvin moves to adopt the SUP, with the conditions outlined by the planning commission. she's not getting a second. wes says "i'm not in favor." heather says she wants to talk about it, but without a second there can't be discussion.
after a long pause, nikuyah seconds.
kathy galvin has been speaking for four solid minutes and it's felt exactly as long as the entire previous hour we've spent talking about this hotel.
she's right though - they are replacing a hotel with a hotel. and it's not even directly adjacent to these people's neighborhood. i really can't understand why they're so upset.
nikuyah says she supports the project, citing the fact that it's an independent business owner & creates jobs. wes, who has voiced opposition, sighs and says "ok" to nikuyah's arguments in favor.
signer says in the rules & procedures for meetings, they are supposed to finish at 11:00pm. nikuyah says "can we talk about this after?" but he runs right over her to keep making his point.
the special use permit for the hotel on emmet carries 4-1. the enormous contingent of neighborhood association folks immediately & loudly gets up to leave. nikuyah calls a 5 min recess before the last two agenda ite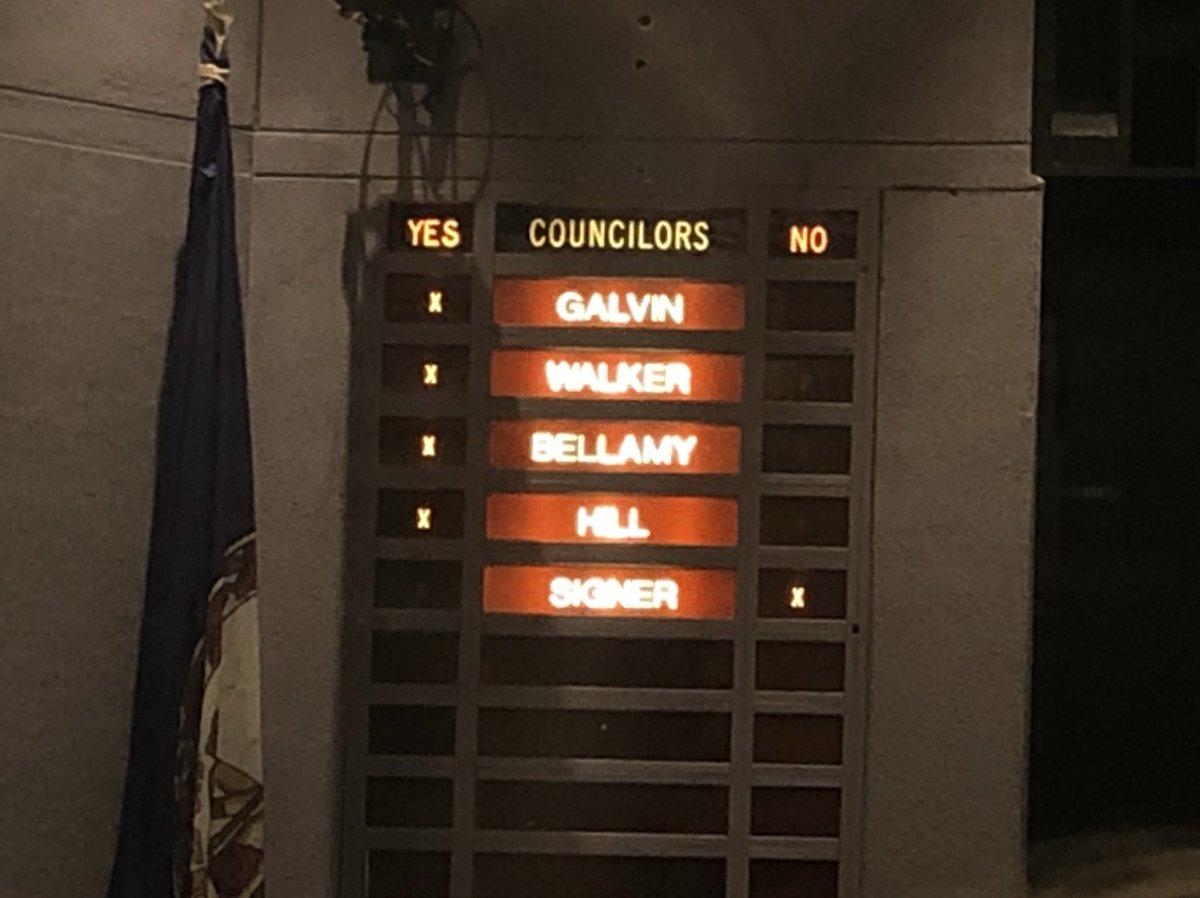 Rncj
just heard heather tell another person in the gallery that they're "shooting for midnight" - hopefully the last two items move quickly. they're resolutions, not public hearings, so we won't have an entire neighborhood association weighing in.
alright, last two items. we can do this. let's get out of here by midnight!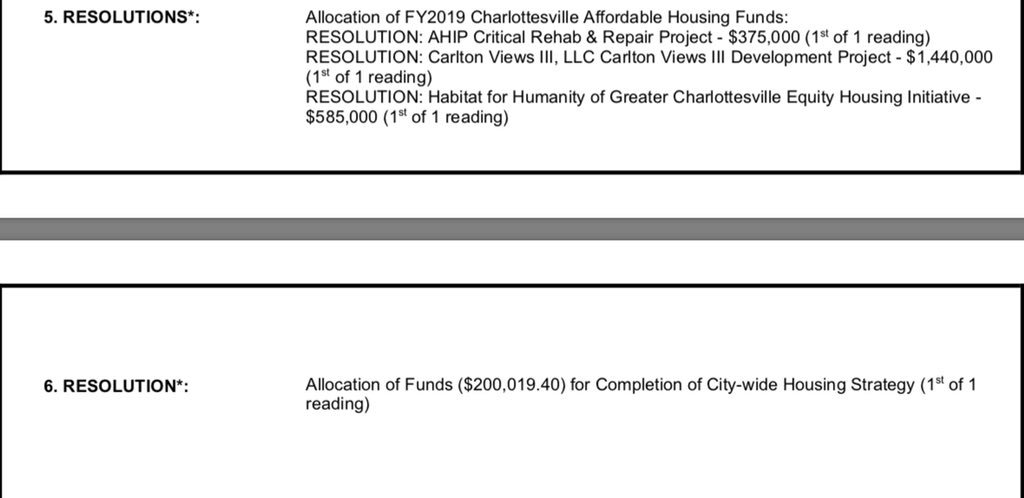 nikuyah raises some concerns that had been brought to her about quality issues at carlton views. the presenting staffer says "things are being fixed" but that residents have issues with the property manager. wes says he went there today & "folks aren't happy"
"it wasn't good, nor did i like what i saw," says wes about his visit to carlton views today. they're about to vote on allocating $1.44mil to that project.
"i'm not sure what we *can* do because we don't own the property," says the staff member about the concerns councilors are expressing about the project.
there cannot possibly be any flavor left in the piece of gum signer has been chewing for hours.
the three allocations in this agenda item were all voted on separately. wes & nikuyah voted against the first two (passed 3-2), the third passed unanimously.
wes was hesitant to vote on the carlton views allocation — blair is going to explore options for oversight & repor


SI0cJdfz
last agenda item: allocation of $200k for completion of the housing strategy plan.
update: gonna have to go real far outta my way to kroger, which is always open.


allocation of the $200k for the housing plan carries 3-2.
now on to "other business." (it is 12:15am - can't our other business be going home?)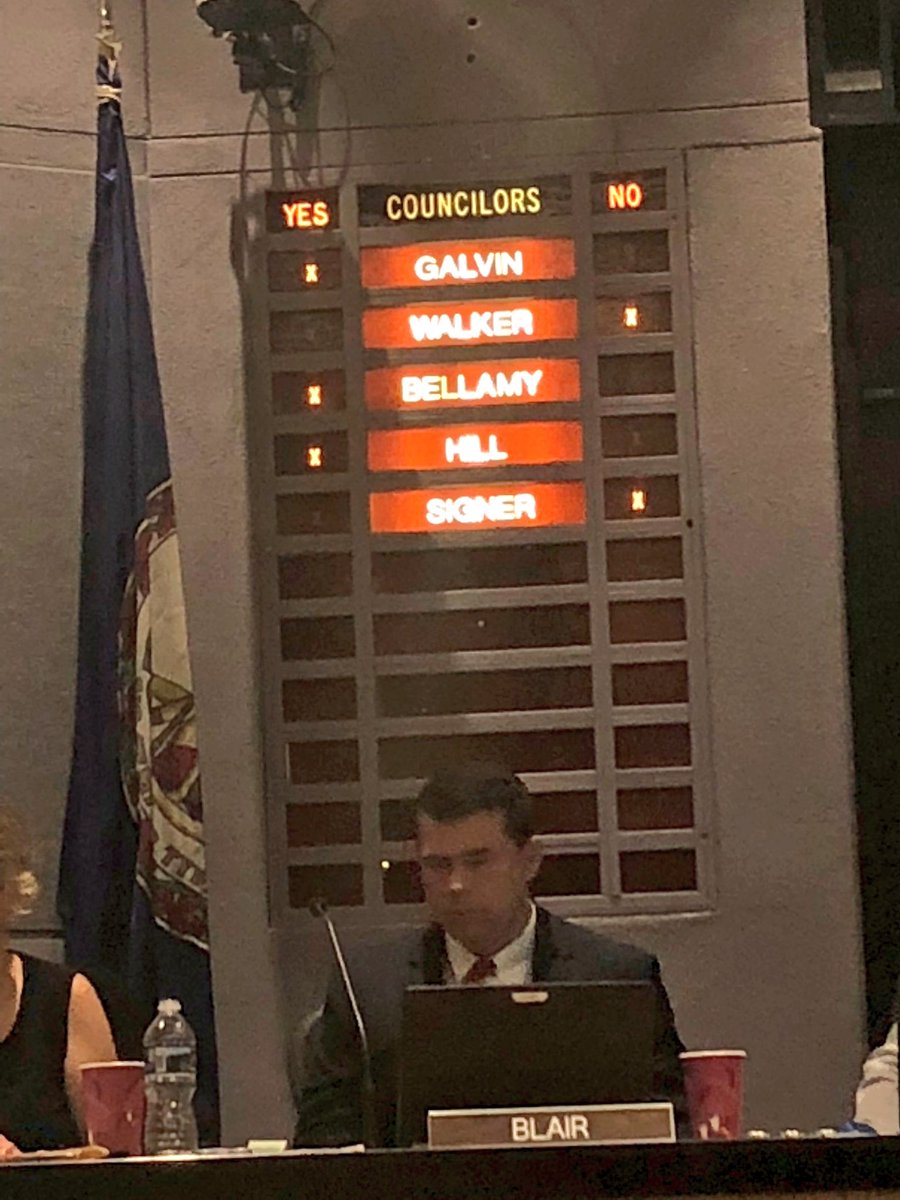 it's after midnight and i spaced out a little bit but are they hunting for a loophole to create a budget review committee that isn't public or FOIA-able?
if more than two councilors we present or if it's a board appointed by the public body, then it's a public meeting. they're talking about an "informal group" containing only 2 councilors & "people" appointed by... ??? someone other than council.
heather says they'd agreed earlier in the night that if the meeting went on last midnight they wouldn't go back into closed session afterward. they'll pick up their closed session on wednesday.
after covering these meetings for years,
@seantubbs
is making what i think he said is his first public comment?!
meeting adjourned. when will i learn to just stop trying to guess how long a meeting will be?