The issues brought to the fore by the California chief prison psychiatrist's incredibly damning report on prisoners' mental health treatment, for which the state has been accountable to a federal court since the 1990s, is really, really something. (1)
wgal.com/article/horrif…
To oversimplify Golding's report, he makes at least three major accusations against CA corrections department.
First: A lot of deceptive methods that add up to the department grossly overstating its data on things like timely patient care. E.g., (3)
rbgg.sharefile.com/share/view/s88…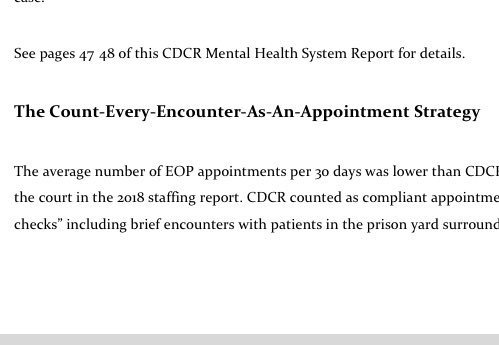 People first became aware of the existence of Golding's report, according to reporting, when Golding himself leaked it to the federal court overseeing California's progress on 10/3. Jerry Brown's office immediately tried to block his testimony. (6)
sacbee.com/news/state/cal…
California also sought to delay the release of the report (presumably for at least a very long time) so that it could do its own internal investigation. The judge rejected this, and allowed a lightly redacted (for patient privacy) version to be released 10/31.
(7)
The judge also orrdered the corrections department not to retaliate against any other potential whistleblowers, which was necessary because it appears they absolutely did just that to one psychiatrist who spoke out against their practices (8)
sacbee.com/news/local/cri…


Interlude: why California prisoner's mental health treatment has been under federal oversight since 1995: Their conditions were so awful that courts found they violated prisoners' Eight Amendment rights (9)
cdcr.ca.gov/DHCS/SMHP_Cole…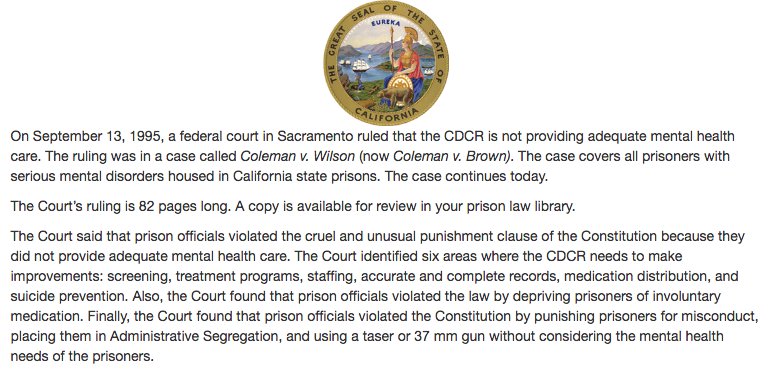 Then, in 2011, Supreme Court upheld a three-judge panel's ruling that to be Eighth Amendment-compliant, California had to reduce its prison population to (only) 137.5% of capacity. That's in addition to the remedial orders from the 1995 settlement. (10)
en.wikipedia.org/wiki/Brown_v._…
California defied the order, and essentially tried to declare the problem solved without doing most of the work demanded of the court. They failed. It didn't make Jerry Brown look good. More importantly, it didn't make Kamala Harris look good. (11)
theatlantic.com/national/archi…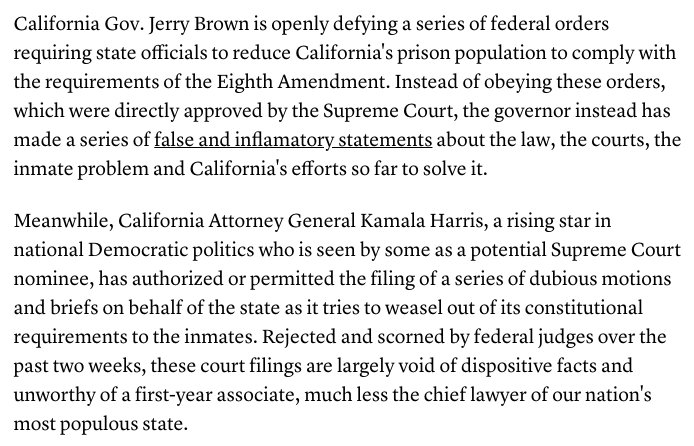 Back to present: among the ways the report matters is that a return of the system to state control had been seen as likely, and CA quite nearly had a plan approved to reduce the number of system psychiatrists by 20%. That is now off the table. (13)
sacbee.com/news/state/cal…


Lastly: the gruesome eyeball story. All the news stories are seizing on the gruesome eyeball story, and it's indeed gruesome. One of the casualties, Golding says, of not having enough psychiatrists. Which the state wanted to cut by 20%. Oh boy. (end)
sacbee.com/news/state/cal…