0/
Thread: Learnings from
@RonConway
at
@_TheFamily
😇
👉 Insights from the "Godfather of Silicon Valley": How Ron started? What
@svangel
looks for in a founder/in a startup? What is good angel investment?
That was a hell of a meetup 🎉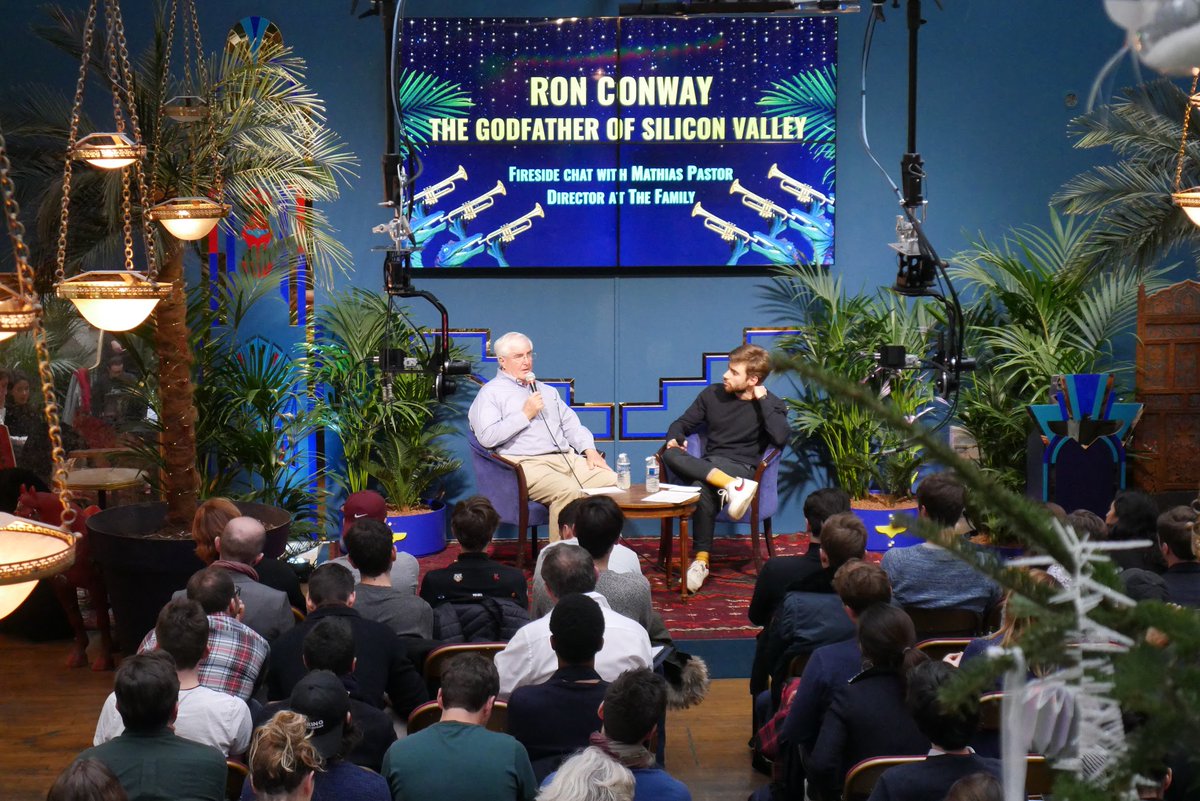 1/
In 1994,
@svangel
decided to only invest in Internet startups, Netscape wasn't even here, there were only 100 companies back then. They stayed focus, didn't get distracted and it's why they had success for such a long time. 💻
2/
They invest in people first, the idea second. Whenever they talk to a founder, they think about the traits.
@RonConway
believes it's genetic. It's a gene and you can't lose it. Once a founder, always a founder. 🧬
3/
It takes leadership, passion, determination. 🔥
Procrastination is the devil you need to take decisions fast. Keep in mind your team is as smart as you, if there is an issue fix it as quickly as you can. Focus is essential, but you have to be able to change if it's necessary.
4/
Example of focus: Mark Zuckerberg was very focus on growth and user experience. It was the only two things he cared about. 📈
He didn't want to talk to the press. He never wanted to get distracted. He was only showing charts of growth of the company.
5/
Starting a company is the hardest thing ever. It takes your heart and soul, it's 24/7: Determination is key. Leading by example is something an investor can help. Getting funded is a badge of honour. 🎖️
When you get money, you feel even more obligated to work 24/7.
6/
@svangel
see 100 opportunities per week. Three people manage the dealflow. Their biggest asset by far is the network, lot of the dealflow comes from this.
Their strength: They can help you getting relationships with any people from big companies they have in their portfolio.
7/
In the early days, they were pickers. Overtime, they expended the team.
@RonConway
spent a lot of time teaching the team picking companies, stopped doing it & focused on giving high level advice. They do not mix picking and advising startups. 🚀
8/
They do not take board seats, they are always advocates for startups. Valuations today are lofty, with lots of sloppy money. Investors today have no value, just dollars. It's good to see founders getting money, but not by the right people, with not enough value & advice. 💸
9/
A good angel investor is someone who invests because he loves founders and wants to help them fix problems. Getting money is not the main goal. It's not about money but being advocates for startups. 💁‍♂️