Two awards and recognitions on Monday. One is for
@RichmondPolice
Captain Michael Snawder. Another is for the Richmond 34.
#RVACouncil
🧜🏻‍♀️

Two people signed up for citizen comment period. If you want to speak on ANYTHING your heart desires, you have until 12PM on Monday to sign up with the city clerk's office. Their number is 646-7955. Be prepared to give your name, topic, and district.
#RVACouncil
🧜🏻‍♀️


CONSENT AGENDA‼️‼️‼️
Remember this means these items will get voted on all at once because they are deemed non-controversial. If you want to speak in favor/against then you line up when all of consent agenda is lumped together.
#RVACouncil
🧜🏻‍♀️
#ICYMI
: SUP = special use permit
- SUP for 1204 N 30th for up to four 2-family dwellings
- SUP for 1301 N 30th for first floor commercial space and 2 apartments on 2nd floor
#RVACouncil
🧜🏻‍♀️
-SUP for 1802 Semmes Ave to become up to 111 single family attached dwellings
- rezone 1809 & 1815 E Franklin and 6 & 14 N 19th from M1 to B5. Logic for change is in screenshot here.
#RVACouncil
🧜🏻‍♀️


- transfer ~$45K to RPS budget for school crossing guards program
- transfer ~$516K to adjust employee salaries to the new city minimum
- accept $50K for enhanced behavior health service treatments through court program
#RVACouncil
🧜🏻‍♀️
- accept ~$46K for sheriff's budget for staff recruitment & crisis intervention training
- accept ~$24K for fire dept. equipment
- authorize acq. of 1617 Brook Rd for city's parking enterprise
- sell land at 1900 Cool Ln & 2011 Mechanicsville Trnpke to VA Supportive Housing
- increase the thresholds for maximum incomes, net worth, and exemption % for elderly and disabled persons tax relief as follows:
$50K ➡️ $60K income max
$200K ➡️ $350K net worth max
Exemption % in chart below.
#RVACouncil
🧜🏻‍♀️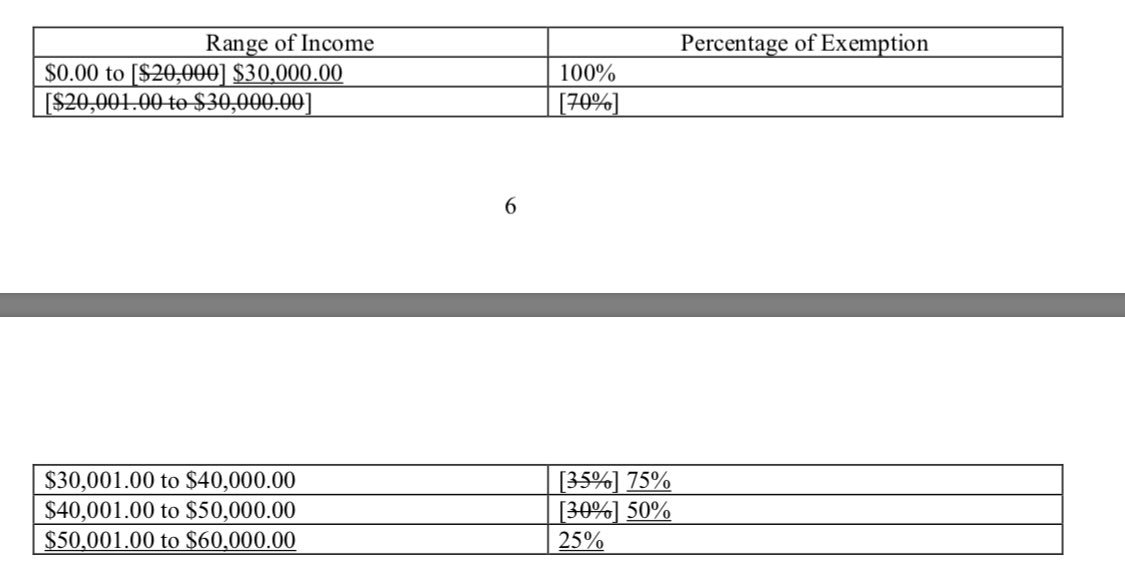 - request
#RVAMayor
include $150K in his budget for consulting services for matters
#RVACouncil
deems worthy. Background is that their existing budget is $20K.
This reads as broader than just for the coliseum project.
#RVACouncil
🧜🏻‍♀️


Alright that was the end of the consent agenda.
Now begins the REGULAR AGENDA‼️
These items will be called for public comment individually.
#RVACouncil
🧜🏻‍♀️
- a resolution to initiate an amendment to the city's zoning ordinance. The amendment would require that all Certificates of Zoning Compliance and Zoning Confirmation letters be reviewed by the city attorney
#RVACouncil
🧜🏻‍♀️
- request CAO direct the Director of Planning and Development Review to develop a process for preparing school impact statements for new developments in the city
#RVACouncil
🧜🏻‍♀️
Welp. There you have it folks. That is everything that is currently on Monday's
#RVACouncil
agenda that has not been continued.
As always, here's directions to the parking lot that is free during council meetings. 🧜🏻‍♀️