the police civilian review board meeting hasn't started yet, but nearly everyone here in the audience is a cop. way more than usual. weird vibe.
meeting is finally underway, a bit late. first up, public comment.
walt says he was really disappointed to read about the last meeting. (i missed it, but it was a hot one! the attorney for the police union got into a verbal altercation with a board member)
dailyprogress.com/news/local/cit…
walt thanks the board for their work & says the pushback they're getting from the southern states police benevolent association means they're doing their job right.
and that concludes public comment. now on to board organization. they had not to this point selected any official chair or other positions, but had been using a system of rotating chairs & notetakers. board member sarah says they should get some stability moving forwa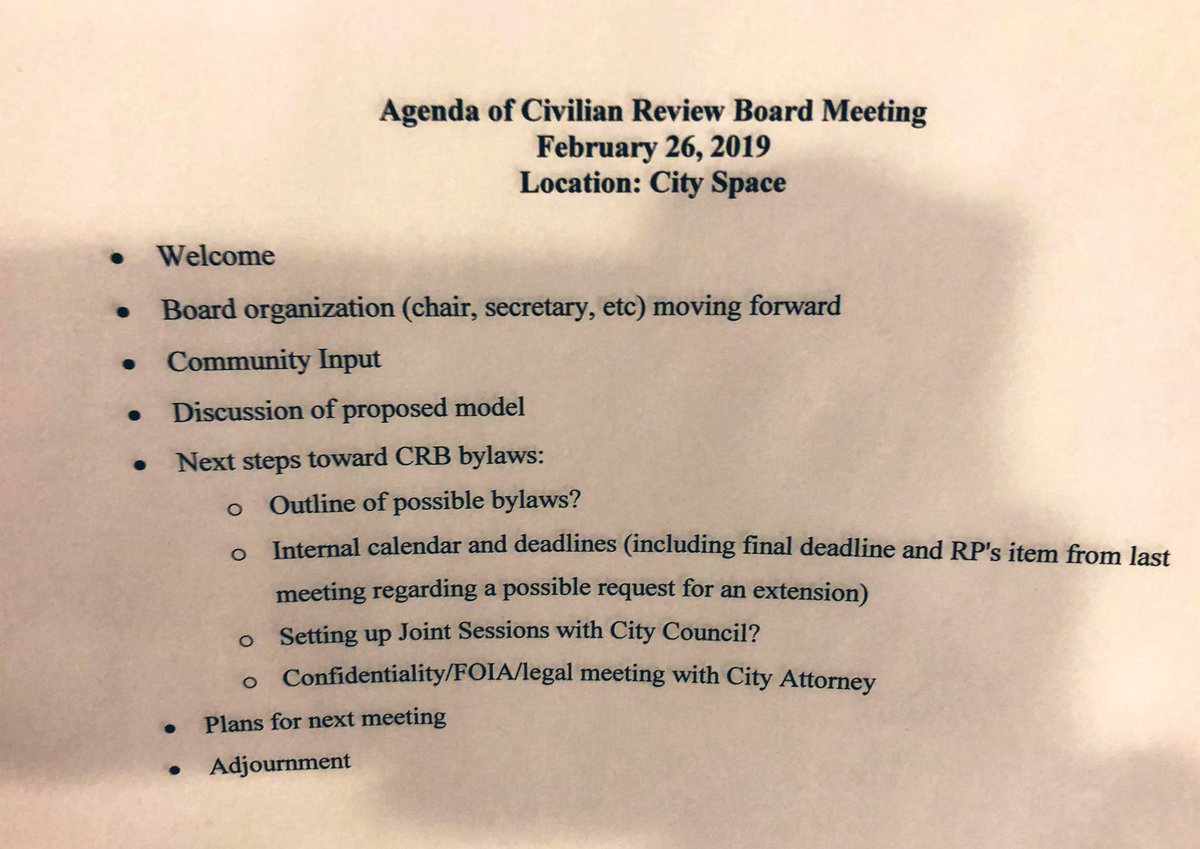 X89s
board member josh says he's happy to be the official note taker, noting that it isn't just for FOIA compliance, it's important for them to have a record to look back on. no one is scrambling to be the note taker, so it looks like it'll be josh.
sarah says she's been the one responding to emails to the board & is happy to be the one to continue to handle the board's communications. josh asks if that includes press inquiries, which they seem to agree it would.
ms rosia will chair the meetings from here on out. ms katrina will handle food for their meetings. still no mention of a treasurer.
kinda bummed i missed their all day training with the national association for civilian oversight of law enforcement last friday! serves me right for missing the last meeting.
sarah is providing a brief overview of the work they've done so far - research & community engagement, and how that lead to the proposal they're presenting tonight.
"everybody has a stake in it being done well," she says. it should be "powerful, robust, and fair"
even the least robust model involves a significant investment from the city in terms of staff support.
the proposed model has 3 arms:
the review of complaints arm would have broad authority to review complaints about police. they could possibly refer cases to mediation or back for additional investigation.
members would sign confidentiality agreements to access personnel information.
the city manager would be able to compel production of materials needed. recommendations would be made to the city manager with deadlines for response.
both other similar bodies in VA have this in their bylaws)
the policy and auditing arm would audit & report on all complaints. all use of force incidents & officer involved deaths would be monitored.
sarah says this area of work would really benefit from a full-time professional paid member of city staff.
sarah says one of the things they've heard in their work so far is that complaints are not currently being responded to in the appropriate timeframe. this arm of the board would receive regular updates about complaints - when they're filed, responded to, appealed, etc.
one of the ideas they got out of their NACOLE training is a random audit - randomly selected complaints would be looked into to see if they were being handled appropriately.
the third arm of the proposal is outreach and engagement. they would engage in robust and frequent community engagement, including quarterly facilitated meetings with CPD on data like stop & frisk, complaints, and use of force.
this is all just a proposal but damn i'd love to go to that meeting! we'd need a hell of a professional facilitator, though.
ms gloria asks how many people the final board would have. josh says maybe 3 people in each of the 3 arms, so 9. sarah says many boards have ex officio members or members who are members of city government.
guillermo says they should focus on what work they want to do & then figure out how many people it will take to do those jobs.
sarah says maybe they should start drafting under the assumption that there will be a paid staff member. (which is a common but expensive arrangement)
she points out that it's cheaper to pay for good police oversight than a lawsuit. josh says based on the NACOLE training, "if they're not willing to pony up" for a paid staff member, it's indicative that the city isn't really committed to police oversight.
"they're not prepared to tell us how much money" they're willing to allocate until a clearer ask is made, sarah says (which she acknowledges is reasonable). but we find ourselves again in a tricky spot of not being able to move without answers, but no answers until we move.
do they write bylaws that depend on a paid staff member without any indication from the city that a staff position is possible?
sarah clarifies for gloria that the paid staff member would work for the city, not be a member of the board. the woman who did the NACOLE training is a paid police auditor for a city with a civilian review board.
guillermo says fairfax has an office & a board and the two are separate. this makes sense - the city has city planners who don't sit on the planning commission. an office of human rights and a human rights commission.
former city commonwealth's attorney dave chapman has a question from the audience. this board has always been really flexible about audience participation outside of public comment.
he seems to be suggesting by way of question that they not write such a detailed procedural manual in their first pass at bylaws. things like investigating officer involved deaths are very complicated and involve many agencies, take a long time, etc.
(i forget sometimes that people outside the local area read these meeting minutes. which is very weird! but if you're wondering, "commonwealth's attorney" is what we call the local prosecutor in virginia)
there seems to be division on the board about whether they should be writing a bare bones document or a deep dive into policy. it seems like if they keep getting lost in the weeds, they'll never actually finish & become a functional body.
guillermo says "we're putting together the first board, not the final board." he says they should put a structure in place to let the board begin its work, but it will continue to evolve as they do the work.
chapman emphasizes that they should establish a basic framework but not get too deep into the weeds.
one of the things chapman had issue with was the idea of random auditing - that doesn't seem necessary given the low volume of complaints in this very small department.
now on to the calendar. chief brackney will be giving a presentation at their next (3/12) meeting. they're also proposing a MONTHLY joint session with city council. i can't imagine council will be pleased about this request.
i actually love a detailed list of meetings that stretches months into the future 💕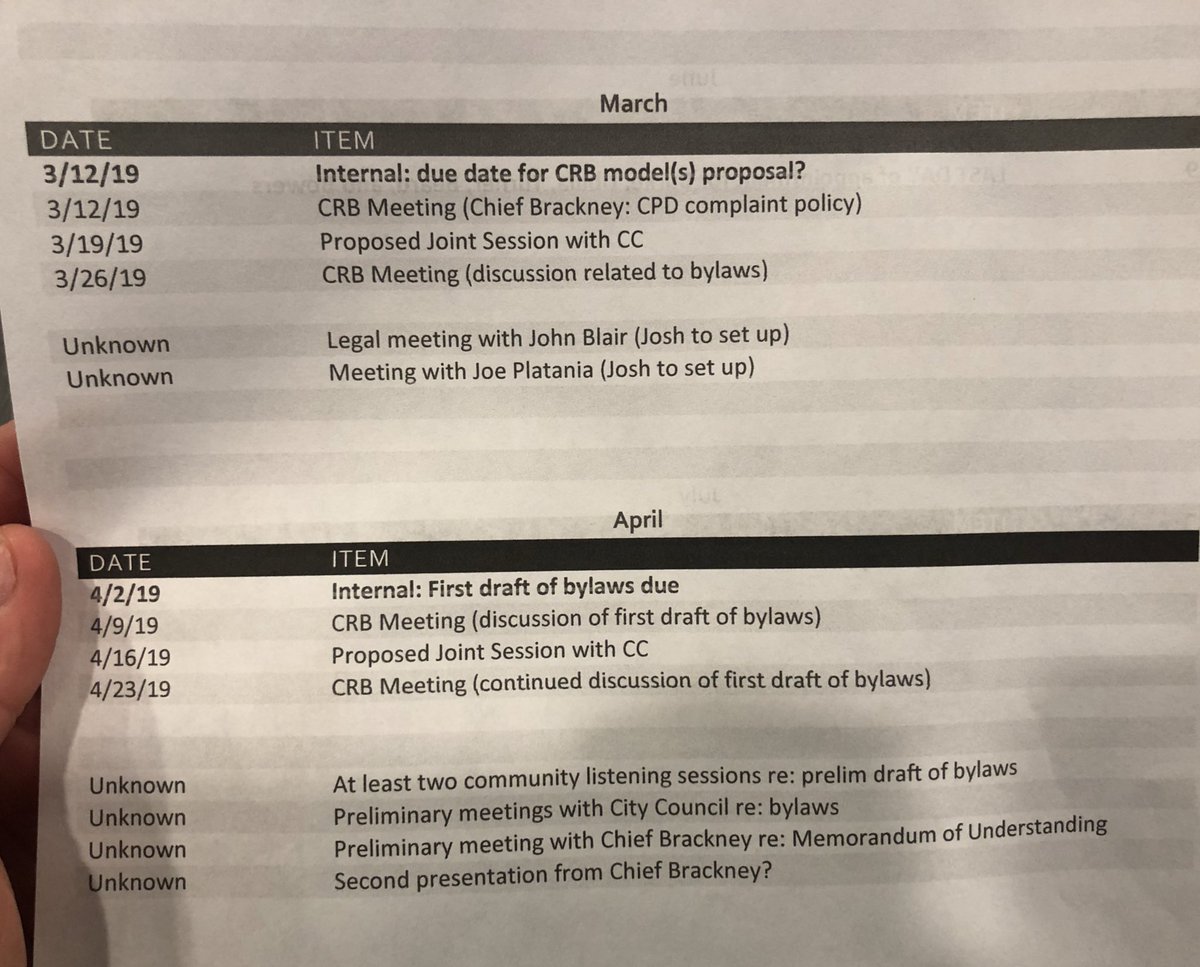 on the topic of requesting an extension for their bylaws, guillermo asks if they think they can finish on time. josh says "i think we can try" and things are starting to move forward. "deadlines work."
sarah suggests they officially update the city. there had been a misconception after the media incorrectly reported they would be asking for a one year extension.

guillermo: we are not currently asking for one, but reserve the right to request one later if something changes.
ms rosia asks when they should start the community engagement. sarah asks if it would make sense to wait until there were bylaws to show people. general agreement. that would put it starting in april.
when the board first got underway, they were clear they did not want a city councilor at all of their meetings. now that they've gotten this far, they have more to talk about with council & want to have some joint sessions with council.
guillermo was proposing joint sessions as an alternative to inviting councilors to the board's regular meetings, but other board members seem resistant to the idea of adding another meeting to their own schedules.
your charming audience surrogate has offered some insight into the availability of city councilors in march - the first date they suggested is the day of a budget work session, wes teaches a class on tuesday nights...
budget season is a tough time to get councilors to a meeting.
guillermo is going to suggest the 2nd or 4th wednesday in march for a joint session with council. if budget season is too much, they may have to wait until april to meet with council.
josh is updating the board on a meeting he & another board member had with city attorney john blair. they discussed the ability of the board to seek outside counsel & their ability to go into closed session.
"it's gonna be tricky," he says to draft bylaws both with an emphasis on transparency while also keeping things confidential that should be confidential. sounds like a lot of the questions they had for the city attorney were about matters related to that.
re: outside counsel - the city attorney would have to sign off on this before they did it. this has to do with the city's insurance. they could only go to an outside attorney if the city attorney agreed there was a conflict of interest.
sarah says fairfax's board is composed of over 50% attorneys but the city also appointed outside counsel for the board. (sometimes i think there are too many lawyers)
next meeting: chief brackney told the board her presentation will last around 20 minutes.
not clear what else is on the agenda, but it'll be in the basement conference room in city hall

with that, this meeting is adjourned.