NEW: Robert Khuzami, the senior federal prosecutor at SDNY who led the case against former Trump fixer, Michael Cohen, is stepping down. Recall, Trump directed then acting-AG Whitaker to appoint a Trump ally at SDNY to run the Cohen investigation.
#Maddow
nyti.ms/2UOhpNq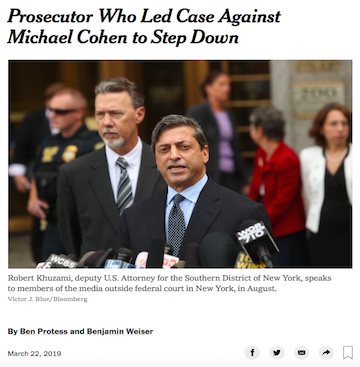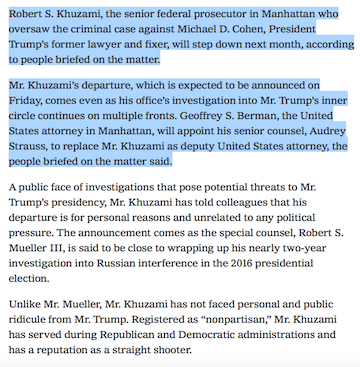 Dec 2018: Trump pressed his then-acting AG Whitaker on why more wasn't being done to control prosecutors in the SDNY who brought the Michael Cohen charges, suggesting they were going rogue.
#Maddow
Trump raised the idea with his acting AG Matt Whitaker of installing a perceived loyalist atop SDNY's widening inquiry.
#Maddow
Nadler on Whitaker's misleading testimony to Congress: While he was acting AG, Whitaker was involved in conversations with Trump about the scope of SDNY's investigation into Michael Cohen and about whether to fire one or more US attorneys.
#Maddow
SDNY US attorney Geoffrey Berman will appoint his senior counsel, Audrey Strauss, to replace Khuzami as deputy US attorney. Strauss will assume oversight of any remaining aspects of the Cohen investigation that were subject to Berman's recusal.
#Maddow
This seems promising: SDNY's new No. 2 Audrey Strauss, who will take over the Michael Cohen case, went toe-to-toe against another Trump attorney, Roy Cohn, in a 1977 appeal of a Gambino racketeering case and won.
#Maddow