Been mulling the if, when & how of impeachment? Me too. The why was never in question.
Amidst the fog, I was looking for clarity on the issue and got it today w/ Mueller's clear-as-day statement: Felony obstruction charges weren't brought against Trump b/c of DOJ guidelines.
1/
First, I wholesale reject the "guideline" that a sitting POTUS can't be indicted while in office. On its face, that defies the basic principle that no one is above the law.
A question of that importance re: the Executive should not be left to unnamed lawyers IN the Executive!
2/
Trump famously said he could shoot a person on 5th Ave and get away w/ it. Were he actually to do that, you mean to tell me the only remedy available would be to begin impeachment hearings just to wait while, months later, Lindsey Graham tap dances around reality? Ridiculous.
3/
By upholding this dubious standard without so much as even a hearing as to its validity, we are openly inviting Trump & all future execs to break the law. They're being told that, instead of being held to a higher standard in their great position of power, a POTUS should be...
4/
held to a LOWER standard – or, to be precise, an entirely different justice system. I'm not a lawyer but I call bullshit.
Prosecutors have great discretion as to whether to bring charges. (Ask POC.) But in the case of a POTUS, prosecutors suddenly have none? Makes zero sense.
5/
Impeachment, we've been told a million times, is an inherently political process. The definition of "high crimes & misdemeanors" is left entirely to Congress to decide at any given time. But the Constitution doesn't say impeachment is the ONLY recourse for a POTUS' misconduct.
6/
It seems pretty clear to me that impeachment was intended as an HR remedy, not a criminal justice one. Deciding whether or not to remove an exec from office should not preclude that individual ALSO being held accountable TO THE LAW by the same standards as you or I.
7/
So where's that leave us?
If you want to answer the HR question – Should Shitty Exec A keep his job? – sure, we have the discretion of either impeachment or waiting until the next election. Calculate and pundificate all you want on that one.
But what if you want JUSTICE?
8/
What if you believe upholding the rule of law and making Individual 1 account for his crimes is not just a little important but a whole lotta important?
Well then, thanks to never adjudicated "DOJ guidelines", impeachment hearings are no longer an option but an imperative.
9/
Hearings will compel Mueller to testify. And McGahn, Jr, precious Hope Hicks, and all the rest. Yes, it will be the political spectacle from hell but I guess Law & Order is no longer just a TV show... but the new TV reality we're all trapped in because "guidelines."
10/
In our new reality, justice is decided on ratings, "performances" and whose tweet was the sickest burn. We're not gonna get justice by tsk-tsking the public to
#ReadTheReport
b/c most of us are waiting for the movie to come out and just hoping HBO doesn't fuck up the ending.
11/
Impeachment hearings are our best shot of letting the truth speak for itself – w/o Sarah Sanders there to tell us up is down or Kellyanne to proclaim that none of it matters or Bill Barr to summarize it into murky nothingness.
Just the facts ma'am. So very long overdue.
13/
And there's nothing to say impeachment hearings must be limited to topics raised by the Mueller Report. In fact, doing so is capitulating to Trump's framing of his legitimacy entirely on collusion/no collusion.
Our collective HR dept has evidence that goes way beyond that.
14/
Fact: Our democracy is under attack and the Commander-in-Chief refuses to acknowledge it, let alone defend us. Impeachable.
Fact: The chief executive abuses his office to threaten political opponents and shield allies from justice w/ abuse of his pardon powers. Impeachable.
15/
So let's put it on the table & decide: Are we a nation of laws or DOJ guidelines?
You're worried about what the GOP will decide in the Senate?
Honestly, should we ever make a decision on whether to do the right thing based on how GOP senators will respond? Mitch, please.
17/
GOP senators will either come to their senses (doubtful) or be shamed by their constituents (possible). Regardless, they'll be forced to publicly make their argument as to whether the law applies to a POTUS.
This will be THEIR trial every bit as much as it will be Trump's.
18/
And win or lose, we will have stood up for our system of gov't – which isn't just the right thing to do but the only way of convincing people that you deserve to govern.
Stand for something. Law. Justice. Freedom. Democracy. Am I crazy to think those are winning themes?? 19/
If there's a public consensus on anything, it's that our system is a mess, one shaky, leaky boat in dire need of reform.
Terrified that '20 issues will be overshadowed by impeachment? Then make democratic REFORMS to avoid this bloody hell YOUR ISSUE.
Cause guess what?
20/
We're not getting M4A or GND unless we address this problem that's much bigger than Trump and DOJ guidelines.
Voter rights. Secure elections. Electoral college. Lobbying reform. All of it.
Winning a rhetorical argument = useless until we fix the system that gets shit done.
21/
If the perpetual reappearance of shady shills like Barr, Manafort & Stone mean anything, it's this: Corruption is our preexisting condition.
Want to expose that?
#ImpeachDonaldTrumpNOW
All the "both sides" BS will be laid bare by who's standing up for America & who is not. 22/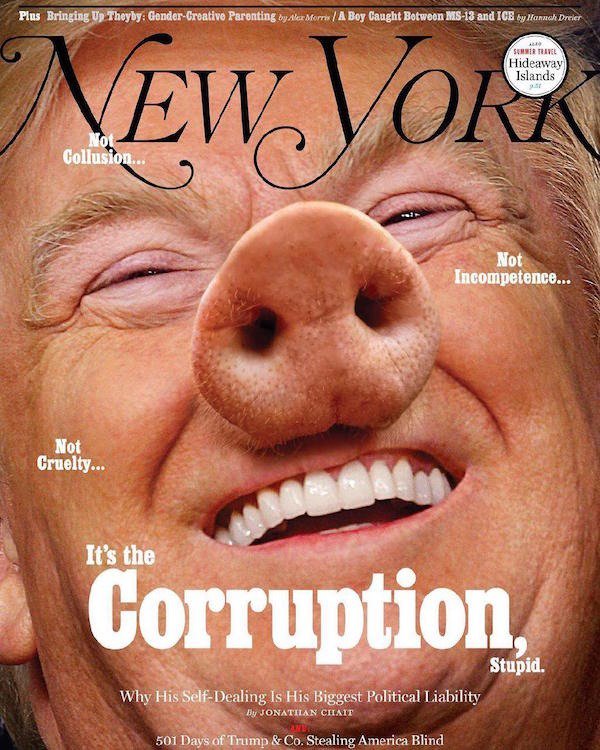 Our system of gov't has never been perfect and requires constant vigilance. But it's also never been under more concerted attack – from outside and within.
This is our "you're either with us or against us moment."
I'm with America. How about you?
#ImpeachDonaldTrumpNOW
/END