First of all, what is it? The exact mechanism is unknown. What we do know is that there is calcium in the arterioles of the skin, with arterial thrombosis. This interruption of blood flow causes painful ulcers and retiform purpura. Remember this?



2/
"But wait," you say, "you've previously taught us that retiform purpura is a common pathway that could mean a variety of things!"

Yes! The differential dx for this is anything that may block blood flow, mainly vasculitis and vasculopathy. So, how exactly do you make the dx?

4/
It's really a combo of all the above. While skin bx is the gold standard, it's not perfect. As such, we often have to take other factors into account. Patients who are at high risk include those with ESRD on HD. Other RFs include hyperpara, warfarin, obesity, female sex, etc.
5/
And remember that calciphylaxis can happen in patients who AREN'T on HD & DON'T have ESRD/CKD! These "non-uremic" cases have been reported with liver disease, diabetes, hypercoagulability, cancer, etc. Check out this paper from a peer
@dermhospitalist
:
jamanetwork.com/journals/jamad…

6/
While labs should be checked (and special attention paid to Ca and Phos), that's not what clinches the dx. Additionally, radiographic studies (like bone scintigraphy or plain radiographs looking for calcium) have been studied, but aren't perfect.
7/
Let's talk bx: Patients hate it because of pain, & you have to go deep to get fat to get a sample with the diagnostic findings. There's some controversy, as you need calcium stippling arterioles +/- thrombosis, & vasculopaths may have Ca2+ there! But it's the best we have!
8/
And here's the big problem - calciphylaxis is deadly. Because it's such a rare disease, we don't have great estimates, but these patients are at an unbelievably high risk of sepsis! That's why impeccable wound care is needed.
#dermatologists
& great
#nursing
care is critical!

9/
Mid-tweetorial recap:

✔️Calciphylaxis is from impaired blood flow in skin arterioles +/- thrombosis
✔️It's crazy painful & terrible for patients
✔️Evaluation includes RFs (mainly ESRD on HD), skin bx, labs, & ruling out other causes
✔️Mortality is high, largely from sepsis
10/
Not only is this dx terrible, but the incidence is increasing! This was demonstrated in a study led by
@sagarnigs
at
#MGH
. As per the photo, the main jump in incidence was a coding change, but it continues to trend up even afterward.
PC for #3 and 10:
ncbi.nlm.nih.gov/pmc/articles/P…
11/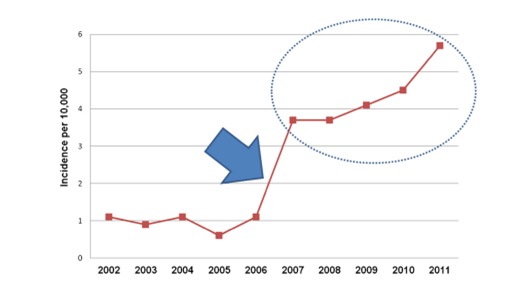 So please say we have good treatments, right?! Sadly, we don't have a perfect answer. The main treatment we rely on is sodium thiosulfate, but even that carries high risks of metabolic acidosis, QTc prologation, N/V, etc. So partnering with
#nephrology
is important!

12/
Other adjunctive measures are important too, like using low calcium dialysates, cinacalcet, decreasing phos & calcium intake, & I'm going to stress wound care & vigilance for infection yet again! Also, patients on warfarin should stop and be switched to other anticoagulants.
13/
Other therapies include bisphosphonates, debridement (we try to avoid it here, but some people like it), initiation of anticoagulation, hyperbaric O2, & even injected or topical sodium thiosulfate (especially for those that can't handle the infusion)!
jamanetwork.com/journals/jamad…

14/
Here's the most important take away: Expert care w/ impeccable wound care, vigilance for infection, & medical management, can help reverse things. It's not an easy road, but I've definitely seen patients turn around with all the above. It's a real multidisciplinary endeavor!
15/
So final recap:
✔️Calciphylaxis treatments require multidisciplinary collaboration.
✔️Patients can improve, but it takes time and dedication.
✔️Vigilance for infection, excellent wound care are pillars for treatment.
✔️Involve
#dermatology
and
#nephrology
early!

16/
Thanks for joining! Hopefully this was helpful?
If you liked it, & want to discuss this field more, consider joining
#dermjc
and
#nephjc
in August for a joint discussion on calciphylaxis! Would love to see more collaboration here on
#medtwitter
!
@DermatologyJC
17/17