2/

The first ? we usually ask: "What is the level of the split?" That helps to distinguish between the
#pemphigus
group of diseases where the desmosome is involved in the epidermis, and the
#pemphigoid
group where the hemi-desmosome is involved at the basement membrane zone.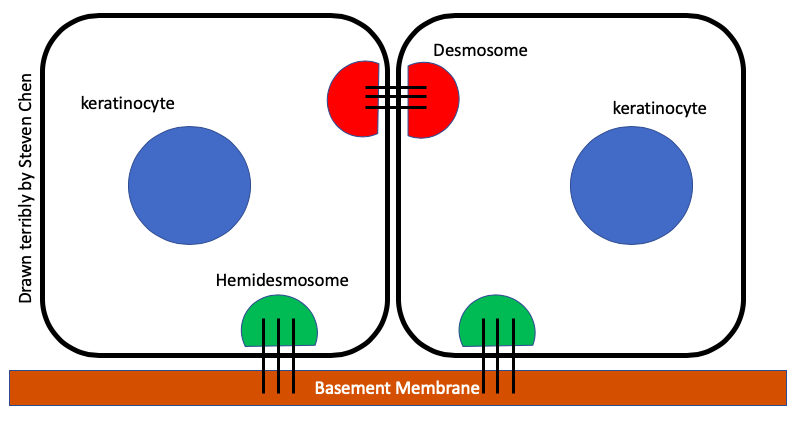 4/
The caveat is that over time, any bulla will start to droop and look flaccid. Also, any vesicle or bulla that lasts long enough will also fill with pus! We can use other clues to help us make the diagnosis, like checking for a Nikolsky. How do you check for Nikolsky again?
5/
A positive Nikolsky means you rubbed next to a blister and made a new one! The related "indirect Nikolsky" is pushing down on a blister & making it spread bigger (aka Asboe-Hansen sign). However, not everything that has a positive NIkolsky is pemphigus! What other dz has it?
7/
For the most part, every blistering disorder has an Ag that is targeted by some Ab. The common ones:
Bullous Pemphigoid (BP): BPAg1 & BPAg2
Pemphigus Vulgaris (PV): Desmoglein (Dsg) 3 +/- 1
Pemphigus Foliaceous: Dsg 1 only
If you're going into
#derm
, you'll need to know more!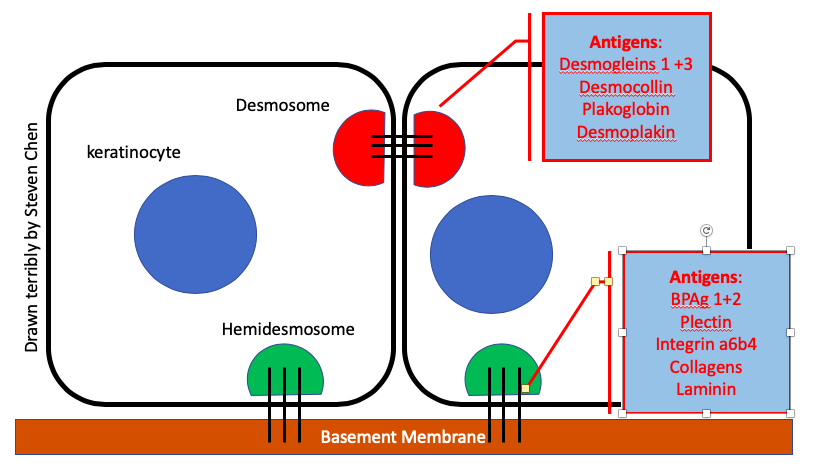 8/

Ask about & examine the oropharynx & other mucosal sites. Although we classically think of PV with this, a recent
@JAMADerm
paper showed >17% of BP pts also have it, & was associated with more aggressive dz phenotype! A thorough ROS is important!
jamanetwork.com/journals/jamad…
9/

If pts have mucosal dz, it is important to be extra careful w/ counseling. Certain foods can be really difficult to eat, pts lose weight, & often require more aggressive therapy. If mucosal dz is all they have, partnering with other specialists is crucial (eg: ENT, ophtho).
12/
Now, we can also check for antibodies that target Dsg 1/3, as well as those that target BPAg1/2, directly from the blood. This is another piece of the puzzle in deciding how to treat your patient. There are some data to link titers to disease course.
jamanetwork.com/journals/jamad…
13/

The tx of these diseases is complicated and often requires subspecialty care;
#Dermatologists
should be involved. The tx can range from anti-inflammatory (eg: tetracycline abx + niacinamide), or infusions (eg: rituximab)! R/b/a need to be discussed frankly with the patient.
14/

Since so many of our treatments are immunosuppressive, it's important to screen patients for certain diseases, like hepatitis and TB, so that we don't inadvertently cause reactivation. Patients also need to know about their suppressed immunity so counseling is a big part!
15/

It's important to remember that not all cases are idiopathic. Some are drug-induced, & some can be paraneoplastic. Before embarking on a treatment plan, be sure to ask about new medications, dose changes, & make sure cancer screening is considered.
jaad.org/article/S0190-…
16/To Recap:
- Autoimmune blistering dzs occur when antibodies attack the "glue" that holds the skin together.
- The exam is critical for diagnosis. Biopsies and blood work help confirm.
- Be sure to consider possible triggers before treatment.
- Involve a
#dermatologist
to help!
17/17
Thanks for joining me! Remember there is a ton more to say about these diseases. If you're interested (and a
#medstudent
), you should think about joining us in
#derm
! These patients can be very sick, and being able to provide the care they need is unbelievably rewarding!