1 of
10/
Trump has made amazing progress getting China to cut its tariffs.
Except, China is only cutting its tariffs toward everyone else. This is an underappreciated way that Americans are losing out from Trump's trade war.
My latest
piie.com/blogs/trade-in…
2 of
10/
With help from
@EvaYZhang
&
@Jung_Euijin
, I gathered some new data and crunched the numbers.
China's TARIFFS...
...on US exports?
• UP from 8% to 20.7% (its retaliation on $110 billion)
...on rest of world?
• DOWN from 8% to 6.7% (China opens up to everyone else)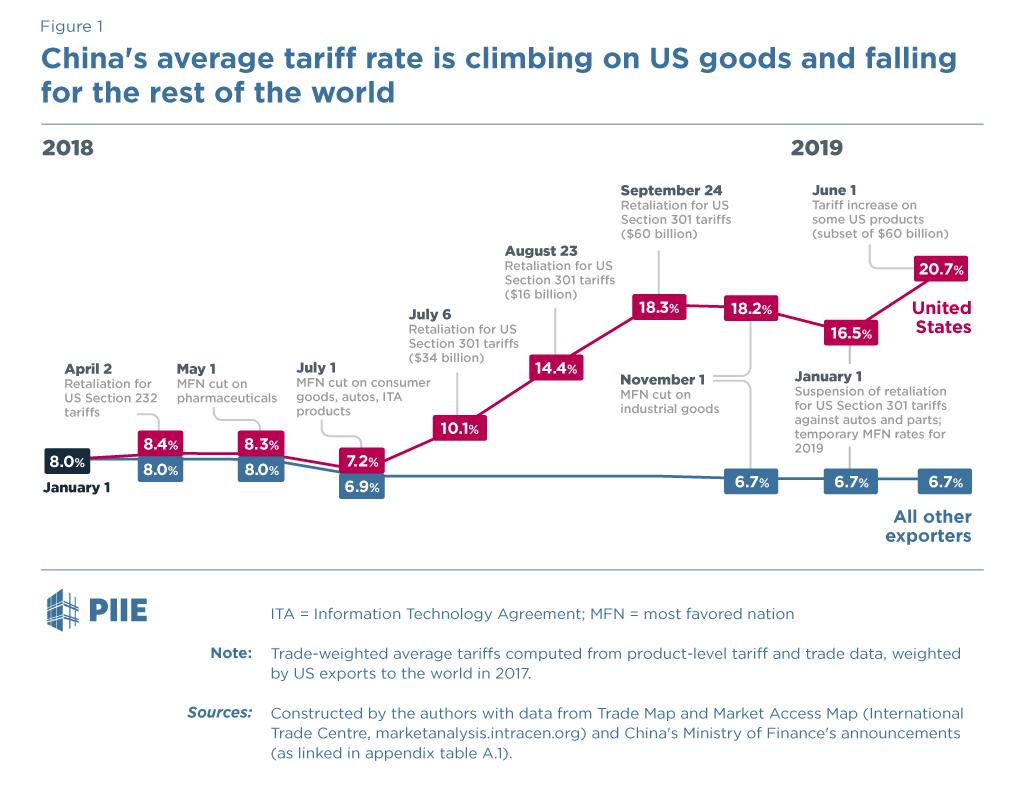 4 of
10/
Take LOBSTER:
• China imposes 25% retaliatory tariff on US lobster
➡️ US lobster exports fall by 70%
• China cuts tariff on Canadian lobster by 8 percentage points
➡️ Canadian lobster exports to China nearly double
5 of
10/
Take PACIFIC SALMON:
• China imposes retaliatory tariff on US salmon, American salmon exports fall.
• China cuts tariff on Japanese salmon by 3 percentage points and fills the gap with fish from Japan
6 of
10/
And then there is the SOYBEAN story...
• China retaliated with 25% tariffs, US soybean exports plummet
• China did not need to cut its 3% soybean tariff toward Brazil or Argentina to shift its consumption toward those countries
tradetalkspodcast.com/podcast/73-soy…
8 of
10/
Turns out, there are LOTS of ways to lose a trade war
China choosing to be EVEN NICER to everyone else is one more way to make Americans suffer economically because of President Trump's actions
This was predictable. (And it hints of the 1930s)
piie.com/commentary/op-…
9 of
10/
China's tariff escalation of June 1 is because Trump
• increased tariffs from 10% to 25% on $200 bn of imports from China.
• is having public hearings (June 17) to impose new 25% tariffs on $300 bn of imports (clothing, shoes, toys, iPhones)
piie.com/blogs/trade-in…
10 of
10/
How did we get here?
For the full recap, check out (and bookmark!!!) our
"Trump's Trade War Timeline: An Up-to-Date Guide"
with the very great
@MelinaKolb
PS Thanks to William Melancon
@PIIE
for amazing help with data viz
[ends]
piie.com/blogs/trade-in…
PPS. Tweet typo (sorry)
• China cuts tariff on Canadian lobster by 3 percentage points
(not 8 percentage points)