"We are in tears about this as you can imagine," a Wombat Awareness Organisation spokesperson wrote on Facebook.

"This shouldn't be legal, but it is. We have to do something about this"

"It is baby season so this slaughter will kill mothers and their babies."
"Across Australia, there are thought to be only 60,000 to 130,000 southern hairy-nosed wombats in the wild with ongoing threats including mange, habitat destruction, drought and culling"
#wombat
"Yorke Peninsula traditional owner Quentin Agius told Yahoo News Australia that the cull permit has upset the community and alleges that the Point Pearce Aboriginal Mission was not consulted by ALT or government before the cull permit was issued"
"Hairy-nosed wombats are known to have extensive burrow networks, and the animal's complex social system has been incorporated into local Indigenous storylines"
stop the killing

"As carers work to rehabilitate native animals, many are becoming increasingly frustrated by government issued permits allowing for ongoing culls"
Wombat cull approved by SA Govt following request from local Aboriginal land trust but traditional owner and Adjahdura/Narungga and Ngadjuri elder Quenten Agius "has expressed serious concerns about the plan to cull up to 200 local wombats"
abc.net.au/news/2020-03-0…
Wildlife researcher Mike Swinbourne said there was "absolutely no justification" for the killing

"if you're talking about culling 200, you're talking about 30 per cent of the entire population"

"you would decimate the population on the peninsula, and you could not justify that"
this is not on
"The planned killing of an entire Yorke Peninsula colony of 200 wombats has caused alarm in the environmental and Indigenous communities"
#wombats
adelaidenow.com.au/news/south-aus…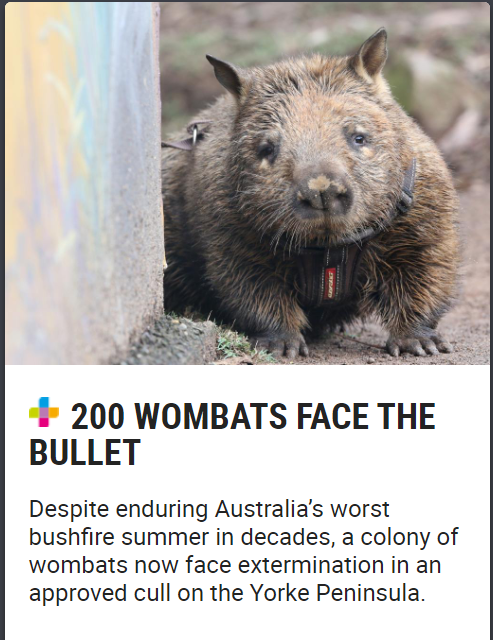 'Mr Agius said the community was angry the animals would be killed only because as stated in the application they were damaging the farmer's equipment when he "runs them over" while doing his work'
"The brutality has disgusted our community,'' Mr Agius said.
"The community has not been consulted so I am speaking out as a Traditional Owner for those with no voice, and the community residents"
#wombats
"We are connected to these animals, they feature in our cultural knowledge of evolution. Like us, these animals have lived on the land for thousands of years and we need everyone's help to protect them from genocide. It must be stopped before it happens" - Quenten Agius