1/n
A while back, there was some discussion on whether
#COVID19
patients could get 're-infected'. The consensus opinion back then seemed that there were a few cases of those who had not fully recovered. Once you've got the antibodies, amirite? Only....
#Reinfection
.
3/n
To read that above article, click the A inside a rotating 'circle' in the symbols on the upper right-hand side of the page. You will get a drop-down set of symbols, as shown in the screencap below; choose your favored translation from that.
news.v.daum.net/v/202004061435…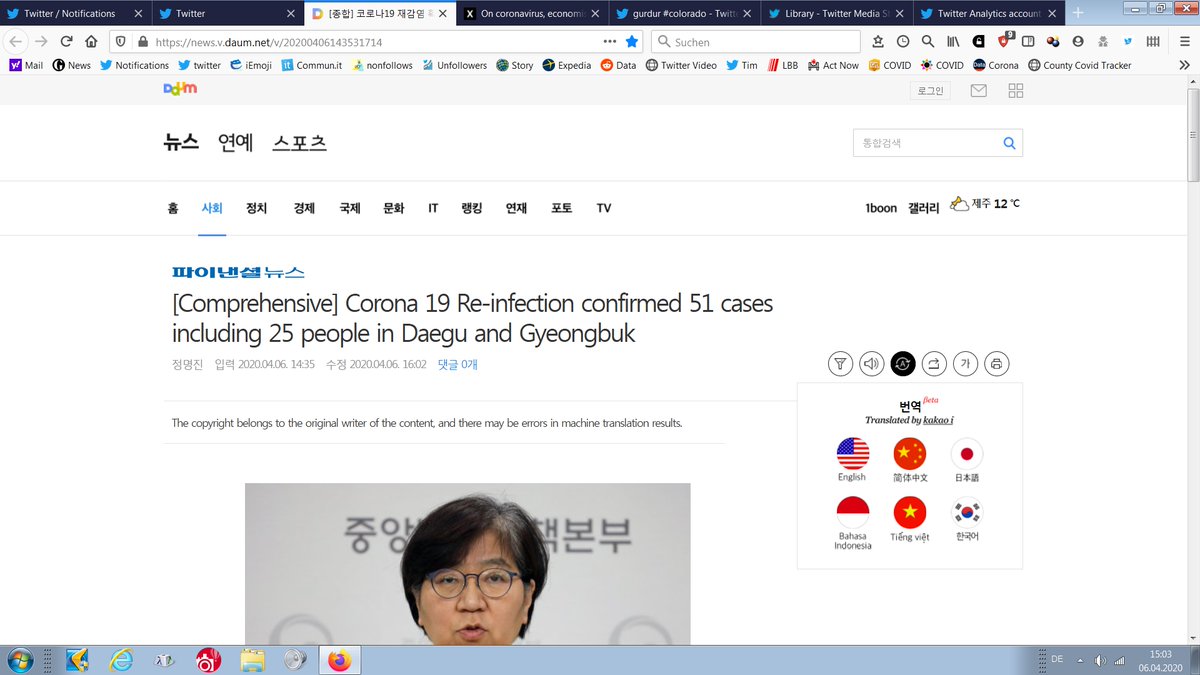 5/n
This is NOT a case of, somebody ran a hasty test and whoa got a false negative, or anything like that.
7/n
The
#COVID19
#reinfection
rate is extremely low, but nonetheless very troublesome as a question. I recommend
#ff
following
@gracehwang1970
on this question, and of course, send her all best wishes for her work.
8/n
So what's actually happening with
#COVID19
#reinfection
in those few (51) cases? It doesn't look like it's a matter of the virus hiding out in nerve cells; it's not like as if it was like shingles (herpes zoster). It's not like as if COVID19 was a genuinely biphasic disease.
9/n
No and yes, and half-yes. You get one specific strain of the flu, survive, you're safe from that specific strain for a long, long while. USUALLY. But see:
ncbi.nlm.nih.gov/pubmed/3941288
11/n
Other viruses, well. Depends. On acquired: some cross-immunity, some specific immunity, some time-limited immunity. If a person survives actual rabies, can they be re-infected many years later? Probably not, but we have no idea, since so few survive.
12/12 Bottom line: we really don't yet understand any of the whole
#coronavirus
family of viruses well. Various members of that family are ubiquitous, and cause a lot of trouble to farmers (pigs, calves & so on). But we're still in the dark on so many questions.
Well, that's the nightmare at the back of all our minds, no? BUT: I don't think it's true. That report says nothing about the 51 cases being more seriously ill than their last time, no sudden deaths. Ask
@gracehwang1970
, but it doesn't look too bad.
On the heels of the above, a report: "surprisingly low levels of
#Covid19
antibodies in a number of people discharged from hospital" were found. "In some cases, antibodies could not be detected at all."
#Reinfection
risks? How did they recover initially??
scmp.com/news/china/sci…
no, I think we must bar testing problems, because that's exactly what they would look for in the first place. Raises the question; is an innate-immune-system response happening, so they recover, but no adaptive-immune response?
#Immunology
.
cc.
@rckiser
and so I appeal to the experts,
@DrMay5
,
@JimenaBalli
, everybody, please help make sense of all the above. Question, as far as I can see, is; is adaptive-immune response actually handicapped in a significant fraction of
#COVID19
survivors by the
#SARSCoV2
virus itself?
Newspaper article on the low-antibodies problem (which relates to the
#reinfection
risk). "This is classical respiratory-virus shenanigans. The reason many of them circulate yearly is because of [their] inability to induce protective immunity"
smh.com.au/national/scien…
By the way, by way of self-praise, you heard about this all first from me on April 06 (top tweet). @/DrEricDing only got onto this on April 08. Just sayin' <*preen, preen*>