Reader, I married him.


TO BE PERFECTLY HONEST, I would accept as a gift from the universe an entire site dedicated to analyzing CRJ…from almost anyone else.
the new "welcome to my twisted mind"


Max…Max, honey…we could already tell


I dunno if there's an Official Rainbow Position on this, but I feel like unless you're queer you DON'T get to say "the gays"? Am I wrong?


Literally the entire site is some straight guy suddenly paying attention to a girl and then telling the rest of us what she's Really Saying
Time for a deep dive™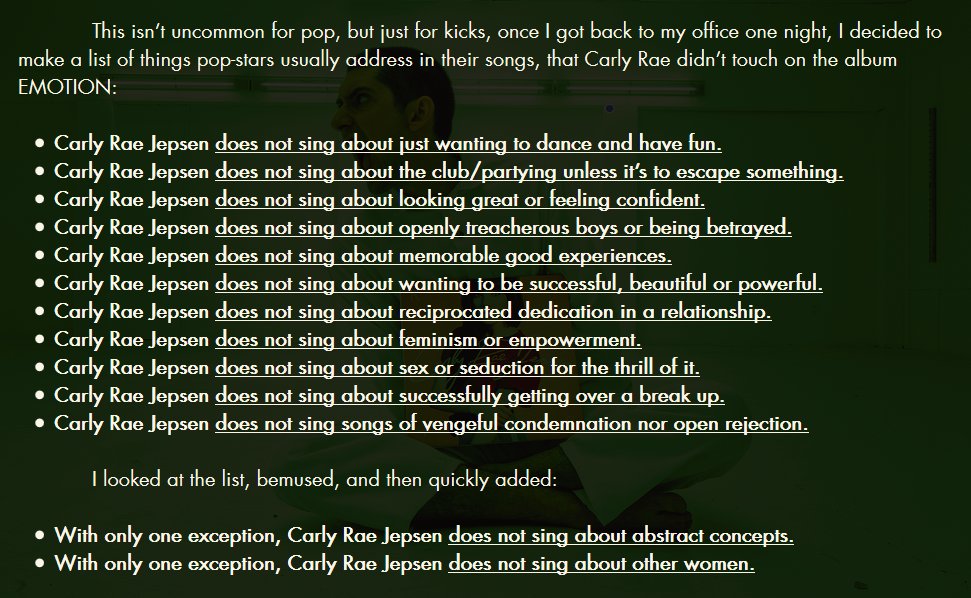 He is walking us, in excruciating detail, through his entire process of arriving at his conclusions. Like, "and then I made THIS list!"
It's like he thinks this is math and he's gonna be docked for not showing ALL his work.
It's a fucking saxophone, Max.


This has killed me. I am dead. In my obituary, put the cause of death as "Max Landis very eloquently not knowing what a saxophone is".
Son of noted director John Landis, Max is spending millions of words telling us what not-straight-men figured out from the first sax note.
Then why did it take you so long to notice, and why are you still talking?


He says it's not subtle and then goes on to provide the level of analysis normally associated with Ulysses, the Bible, or Lemonade.
Make up your mind, Max. Is it obvious, or is it hieratically obtuse?
I know this is very much personal preference, but I think "Run Away With Me", with its saxophone, is far sexier.


"Warm Blood" is actually fairly disturbing to me.
Okay, he's not WRONG, but I don't think I ever see the "and songwriters" thing when talking about male artists.


Max, buckwheat honey, the sugar lump to my Earl Grey, you know you don't have to focus on each song in turn, right? You can pull quotes?


He honestly seems to think that if he's gonna convince us, he has to go line-by-line, instead of putting forth a thesis and supporting it.
The dame's case seemed unsolvable, but I had two C-notes in my safe telling me that wasn't a choice. I reached for the bourbon.


All the clues I needed to solve the case. This went all the way to the top. Also the Venetian blinds made the light look like morality.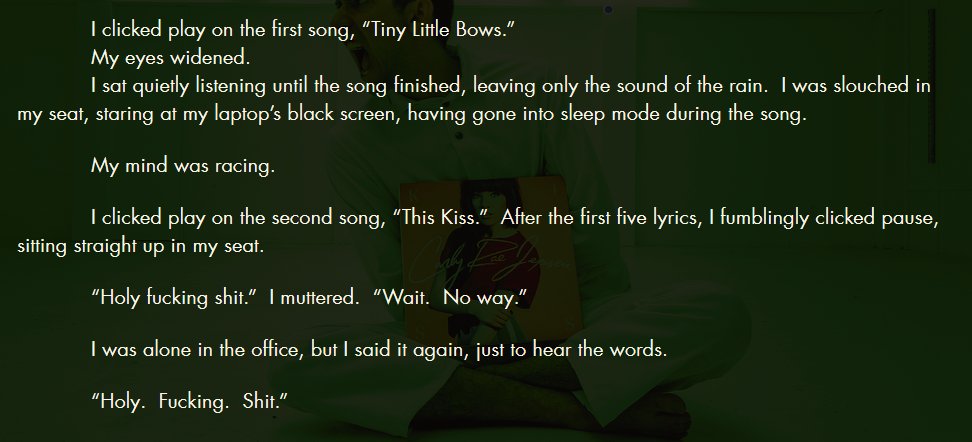 The darkness is closing in.


My goat has been thoroughly gotten by his "oh, lil ol' me ain't no music critic" pose and then he acts like he's the Only Music Critic Ever.
In an era where pop is taken seriously by large publications, he seems to think he's the first to Look At Themes and Intent.
I don't think "ideology" is the right word


You know that scene in The Help where Jessica Chastain keeps shaking the bag of chicken and Octavia Spencer's like "Yep, he's dead"?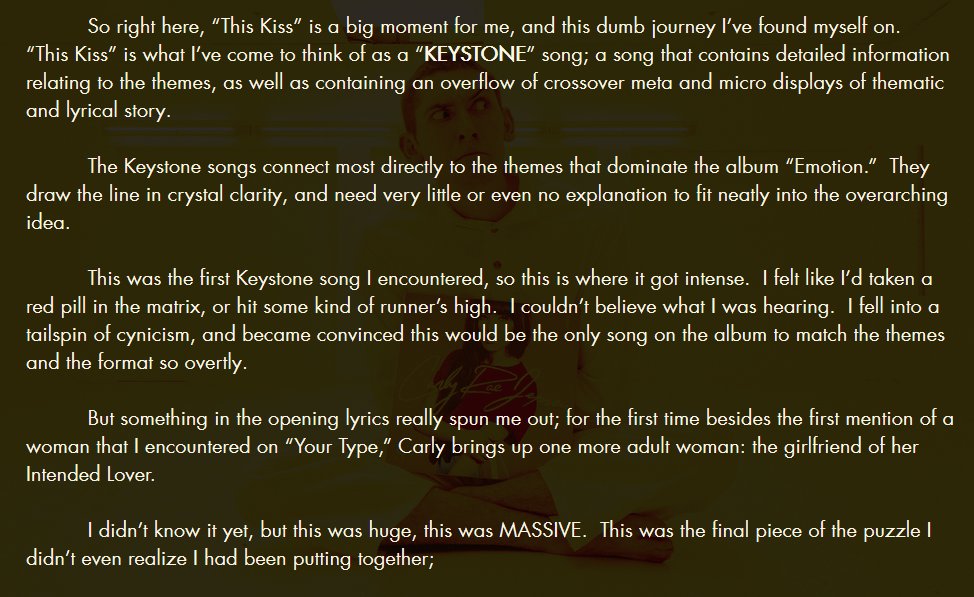 I keep spacing out but scrolling anyway, and when I resume reading I haven't missed anything at all.
when will the Downy Bear make good on its promise to suffocate me with its ass, it's like we exchanged numbers for nothing


Max, my love aside from Carrot Top, I have some bad news about your critique style.


Every three paragraphs he tells us exactly why his interpretations and explanations are completely unnecessary.


Odd, this is how I feel about him trying to get me to care about his Grand Unifying Theory of Jepsen.


I love dying and being dead.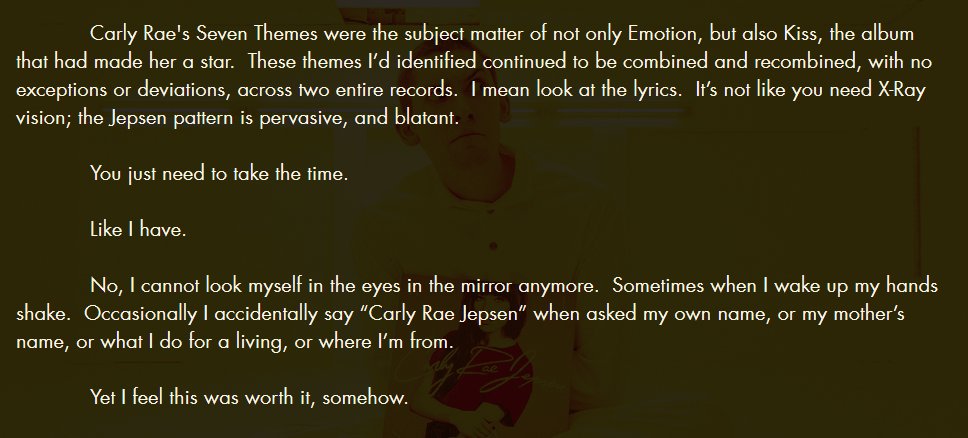 Lord Jesus aid me with your love.


THAT'S NOT WHAT TRIGGERED IS YOU OPTIMUM PERFORMANCE DIPSHIT


I think there are six parts so a) I'm proud of myself for surviving and b) I would rather fetch a casket of beauty from the Queen of Death


I've been listening to Carly this whole time and it's not her I'm overloaded on, you moulted tarantula husk


I know how she feels.


How unselfaware can you get?


I just tried to laugh and all that came out was a cloud of dust.


Tag yourself, I'm "always on some level slightly frustrated"


So he's dividing the songs into acts even though they're all jumbled up on the various albums and there is NO reason for it.
There's no reason for any of this. It's senseless, like a dead barnacle.
Personally I would rather keep my kidneys.


Max Landis would like you to know that he listens to the words.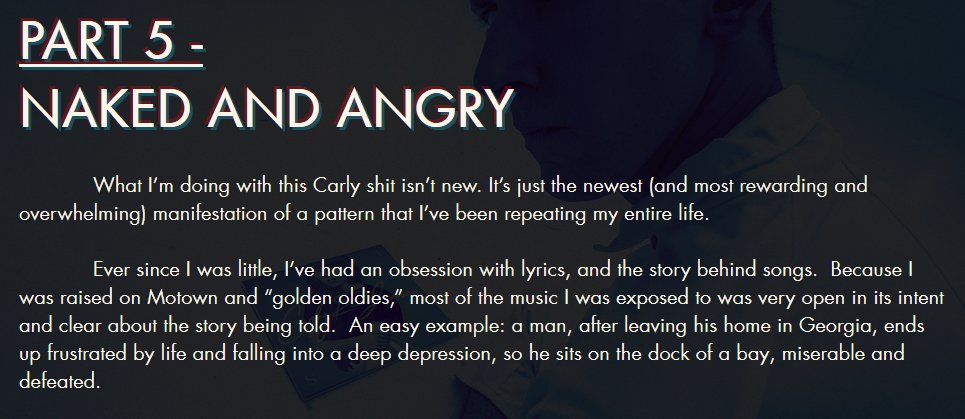 Someone wondered if this is a joke or performance art or something. I honestly can't tell. I hope it isn't.
I genuinely hope this entire thing is Max's attempts to understand Jepsen's oeuvre, bless him.
But honestly, given the choice between reading this again and eating a box of hair, I'd [is already stuffing face]
Gotta break for a staff meeting, be right back.
Oh my god.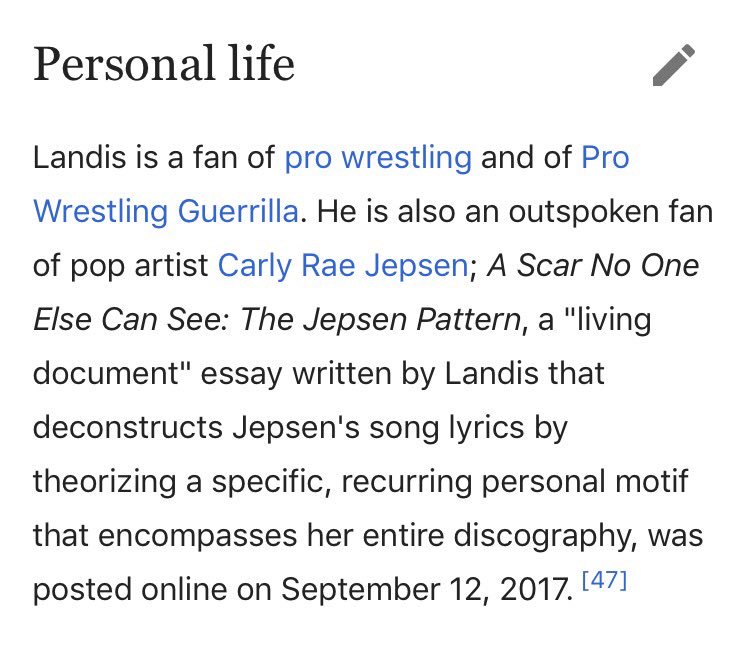 He was 5 in 1990.


Max: I'm not a music critic.
Also Max: I've been thinking deeply about lyrics since 1990. A lot of preps stared at me. I put up my middle fi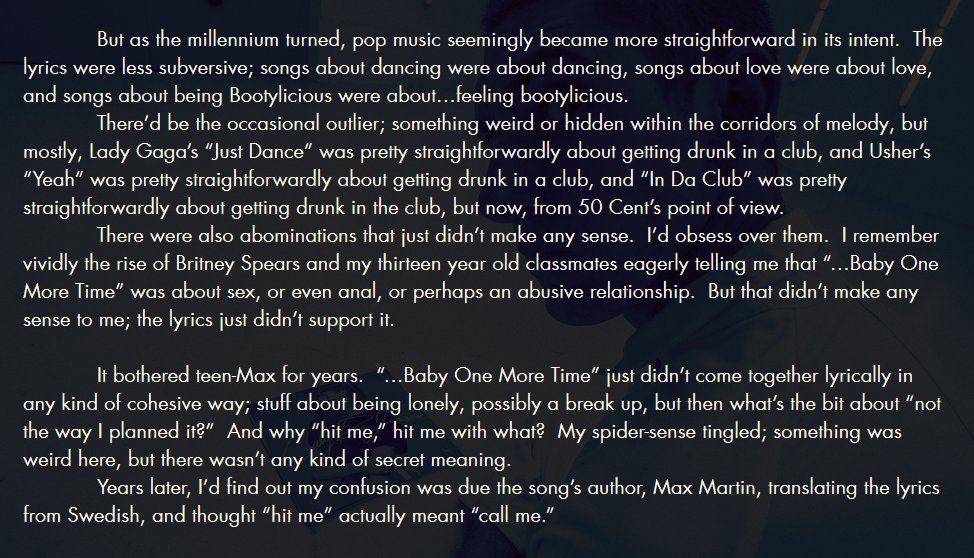 Wasn't he just a bit ago talking about how pop isn't truly Appreciated? I wouldn't know, my brain melted 483 paragraphs ago.


I don't think it's a dog-whistle if, as he's spent thousands of words telling us, the meaning is textual instead of subtextual.


I just squinted so hard my eyelids folded in and sucked themselves backward into twin singularities of flesh.


I don't want to tell her how to live her life, but if I were Carly Rae Jepsen, I would have a restraining order by now.
Genuinely, thoroughly delighted by this pun.


LOOK, I love Carly Rae Jepsen, but this in and of itself is not really that amazing.


I thoroughly support the use of the divine pronoun capitalization here.


It is ABERRANT, only songs within the stated Seven Themes are acceptable. ABERRATION. ABERRATION.


"mother-load" is the least objectionable thing about this paragraph.


Like Deanna Troi, Max has a way of stating my emotions in the most obvious way possible.


Max, Max, my small pink mewling baby, I have seen Tumblr posts that condensed your magnum opus into thirteen words.


TW ableism/
He knows "crazy" people so he worries that he himself might be mentally ill for seeing so much meaning in CRJ
TW ableism/ Like one time he had a friend who was an MPDG so somehow he could be insane or schizophrenic for being a fan.
I can't adequately explain all the ways this is wrong and I don't want to screenshot it because it's extremely uncomfortable.
CARLY HAS DONE NOTHING WRONG AND DOES NOT DESERVE THIS


If Carly goes to hell for some reason (YEAH RIGHT), this whole thing is gonna be read to her on repeat by a Landis golem for eternity
you know, like how knives work


One of the most wearying things is that Max clearly knows he's being annoying and insists on talking about how annoying he is.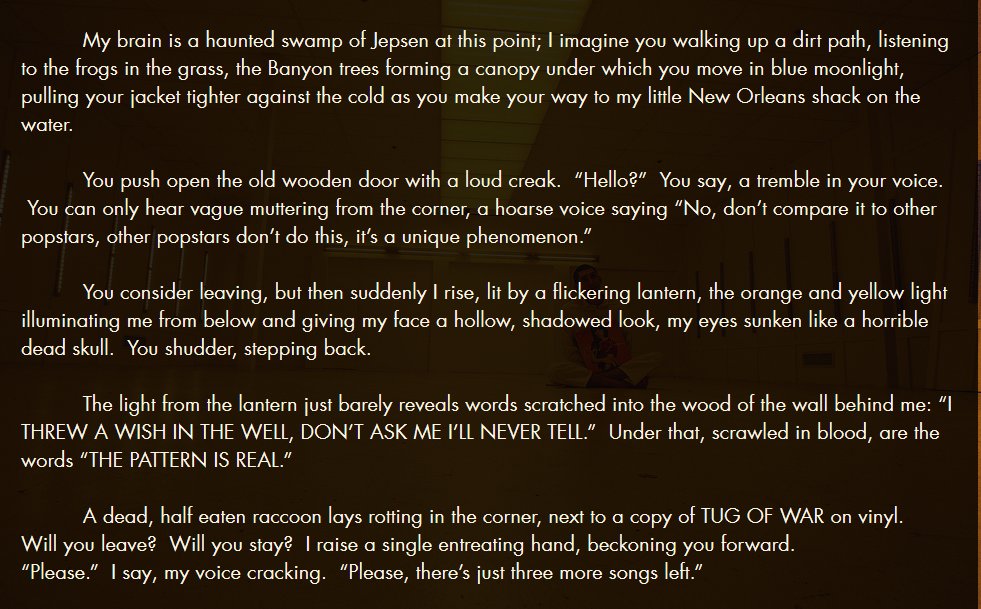 my mind has yet to be blown, but oh Max, Max, how it aches and yearns for the skill of your word-lips upon its throbbing evidence of desire


No.


ABERRATION. *bell tolls* ABERRATION. *bell tolls* ABERRATION. *bell tolls* ABERRATION. *bell tolls* ABERRATION. *bell tolls* ABERRATION. *b


I'm begging for release but not in a sexy way.


In Which Max Explains Ornamental Trees


Who reads this?
I look in the mirror.
Strings begin to play.
"Who am I?" I whisper.


Because Carly doesn't even know what she means. Max knows. If Carly differs, she is wrong.


This has to be a joke, right? Like, he couldn't have written this in earnest SURELY. Especially after saying pop is so ~unappreciated~


Also, he gives her 7 basic themes, then says no other pop star could ALSO fit their own 7 basic themes. GAG ME WITH A SPOON.
<Lily Allen voice> Fuck you, fuck you very much </Lily Allen voice>


he is now wondering if his theory applies at all to her life. Only now does he consider her existence as a human being.
He has spent hundreds of pages talking about her like a fictional character, at best a historical personage, and just NOW he's like "wait…"
Also not a little of this last part has been about whether or not he wants to date her. He doesn't, but now it's even creepier.
He wants us to know that this is not about dating her, not at all. Which, I believe, but it makes it weird.
I have written papers about people without feeling the need to specify I didn't want to date them. If I can do it, Max can do it.
Biographical detail can be important, but my stomach is clenching up in dread now. I don't like this. I genuinely don't.


Someone get the police.


He's now talking about songs from when she was a teen. H E L P.
Also, do please note that Max is not sure Carly has any idea what she's doing as an artist. He's not sure she has any Intent at all.
CAN IT BE TRUE


well, we are going out with a bang, aren't we


"so let's say she knows" oh, you mean knows what she's doing when she pens a deeply personal song, releases an album, becomes a pop star


Surely if there's one thing Carly can't be accused of, aside from all sins of any kind, it's ignorance of her own actions/image/work.
"what does it mean that Jepsen presents a consistent image, surely this is a Deep Magic From The Dawn of Time"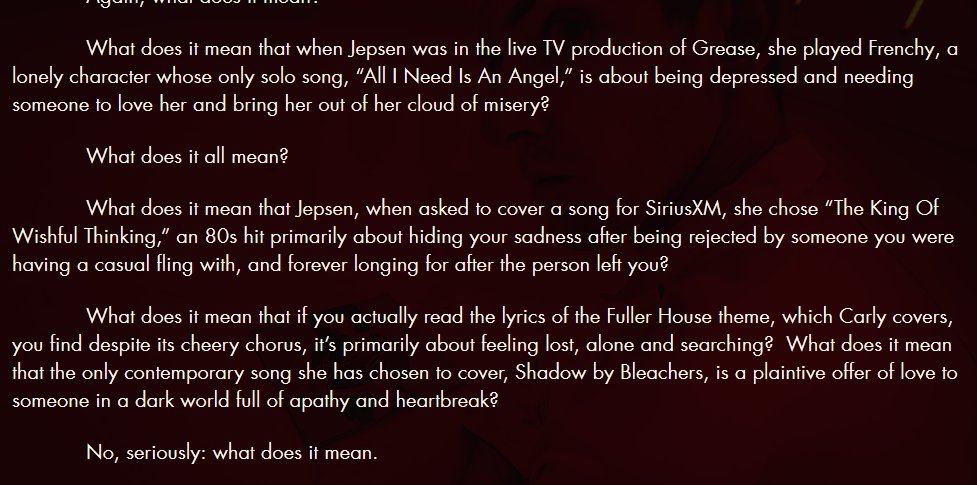 Why, in the name of wriggling wormfucks, is Max so confused by a pop star with a distinctive image and set of themes? This…this isn't new.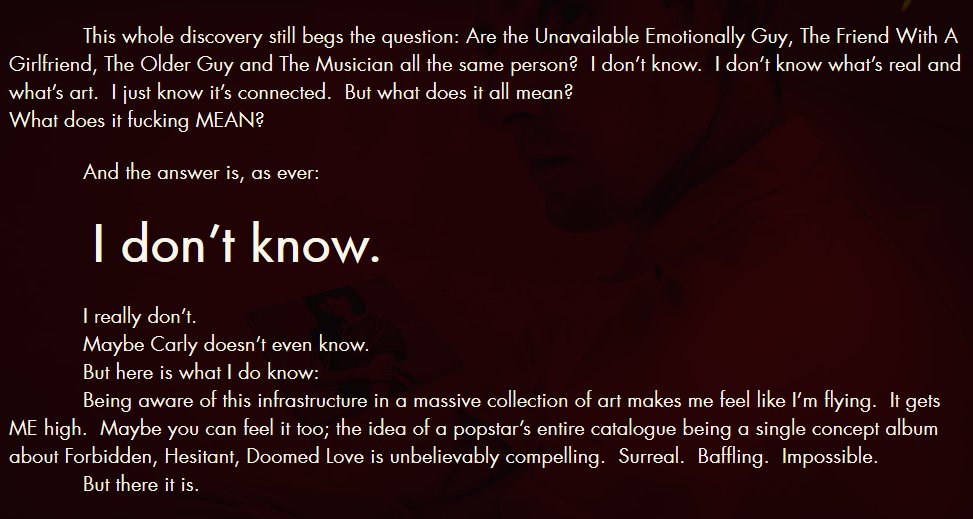 Then: pop music's thematic content is key to its success
Now: actually pop is all bad except Carly Rae Jepsen




All Pop Is Bad Except The Stuff I've Written About: The Max Landis Story
Oh, okay, here's the end. What a finale.


So he spent all this time connecting dots like freakin' Charlie Kelly only to wind up with "wat is artist? how pop work? pop BAD"
I'm insulted on her behalf. She deserves critical attention and praise, but not this creepy self-serving puff of brain gas.
She deserves something this length that actually treats her with seriousness, not this Wow A Woman Wrote Good, Wouldn't Date Her bullshit.
He seems genuinely amazed that she (or anyone) would have a set of artistic goals, themes, and the skill to achieve and develop them.
Okay, we aren't quite done. There's a video on the landing page and I'm gonna watch it.
It opens with him in jail yelling about IMAGINE IF ARTISTS ONLY SANG ABOUT ONE THING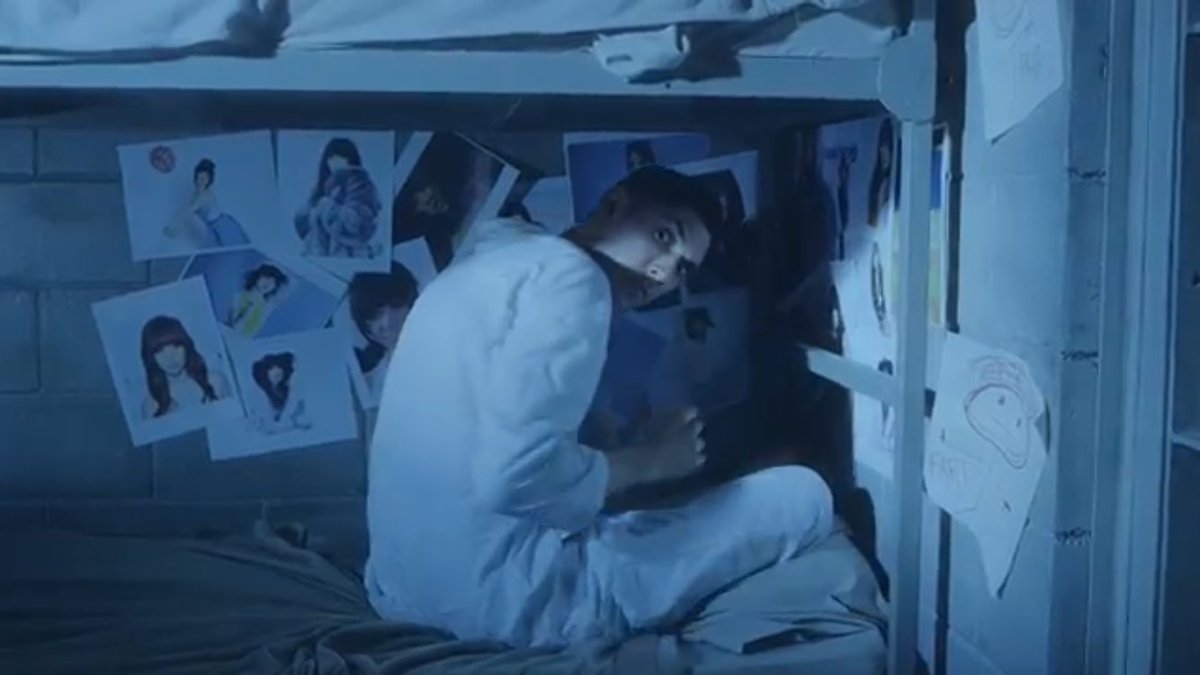 Which is B A N A N A S, to imagine if artists had specific recurring ideas and motifs. Nobody tell him about, oh, all of music ever.
He gets increasingly active and shouty and they come to drag him away. I hate this.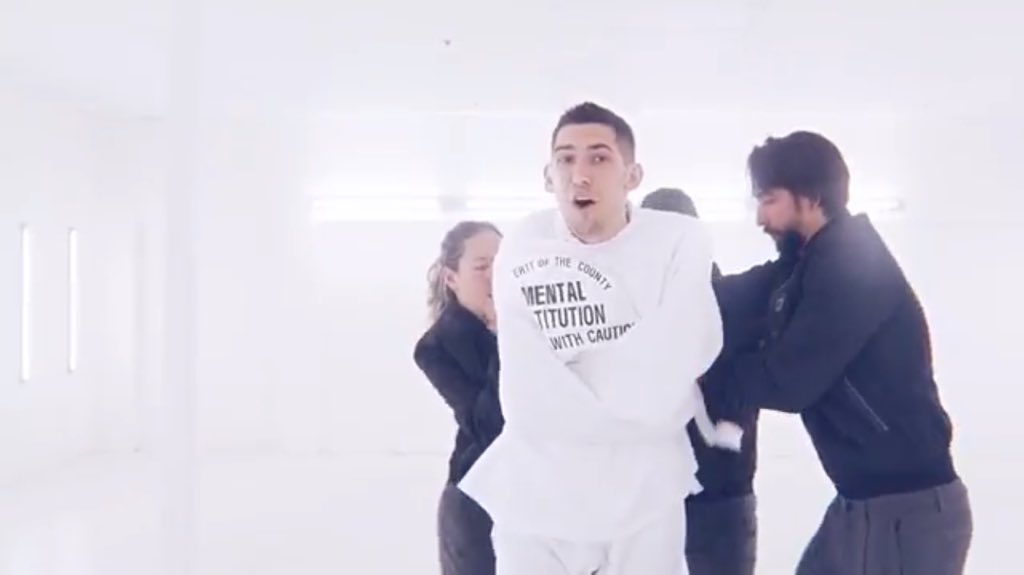 I don't understand why he seems to think critical engagement with a body of work makes him Wild and Craaayzay but I find it insulting.
He yells about it more, he's the Only One who's ever thought thoughts about Jepsen, in a thinking way, thinkingly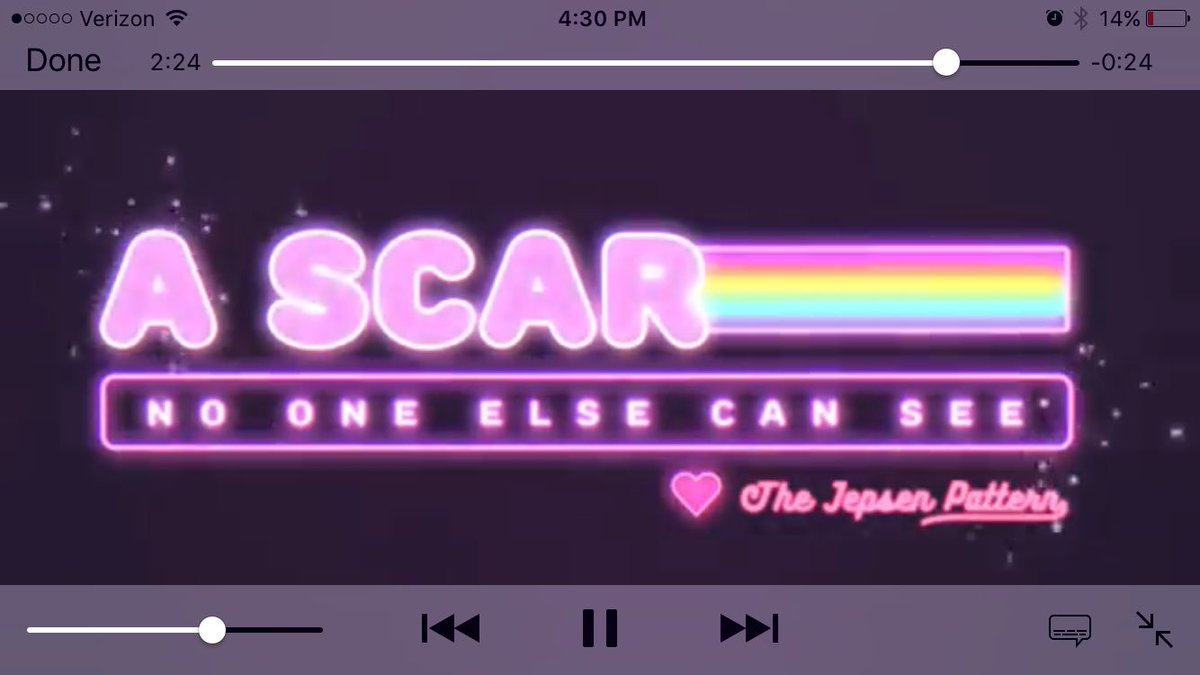 And it ends with this rainbow. Thing. That's it. That's the video. It's pointless and loud and arrogant. Like the whole site.
Anyway I think Max achieved his goal which is to make me, personally, fall in desperate love with him cuz he's smart. We're married now.
I couldn't be separated from this fabulous pattern-seeing brain anymore. He'll be a great help come cosplay time.
It's amazing how this entire piece about Jepsen could be actually about him all along. I'm in awe of that skill. Actually…
I see a pattern in his work. It's all there, these motifs of self-absorption and Being Max Landis.
Time to go into my basement and put forth the grand unified theory of Max. I'll need help with the video.