BREAKING: The pre-election True Pundit story threatening the FBI with fake NYPD Clinton leaks if Comey didn't indict Clinton ASAP reaches the First Family: Donald Trump Jr. retweeted the True Pundit story 96 hours before Election Day, then deleted it (see Trump Twitter Archive).


2/
If you go to the TTA and search Don's tweets for "NYPD", you get two stunning results: a) Trump Jr. retweeted the True Pundit story (via Mike Flynn) then deleted it and b) he retweeted WIKILEAKS retweeting the True Pundit story and then un-retweeted it.
trumptwitterarchive.com/archive/accoun…
3/
Trump friends, advisors, aides, and boosters we now know voluntarily associated themselves with the false True Pundit story in October/November (a story aimed at coercing Comey to reopen the Clinton case) include:
Assange
Bannon
Flynn
Giuliani
Kallstrom
Pirro
Prince
Trump Jr.
4/
Moreover—as in the Trump-Russia probe—a pattern has emerged: some of these people tried to cover their tracks after the fact. Giuliani and Kallstrom tried to retract their claims of receiving Hatch Act-violative leaks from active FBI agents, and Don Jr. deleted tweets and RTs.
5/
The True Pundit Hoax is quickly becoming a whole sector of the Trump-Russia case—almost as complex, and with as many connections to Donald Trump, as other parts of the case. And here, too, it looks like laws were violated and there may well have been coordination (conspiracy).
6/
One of the key figures won't reveal his identity ("Thomas Paine"); another is now a convict (Flynn); another mysteriously turned down a Cabinet post—apparently to avoid Congressional testimony (Giuliani); another is Julian Assange; another has gone off the rails on TV (Pirro).
7/
Another involved figure is Trump's son; another was CEO of Trump's campaign; another is an ex-Assistant FBI Director who went rogue by speaking to "50 current and former" FBI agents on Clinton (current agents can't discuss their cases); another just lied to Congress (Prince).
8/
And we are very, *very* fortunate that the House GOP has just announced plans for a *thorough investigation* of bias and corruption at the FBI in the lead-up to the election—and specifically involving the Clinton probe—so *all of this* will be aired publicly, with GOP support.
9/
Understand that in the True Pundit Hoax we're *not* discussing an amorphous nonlegal term like "collusion"—we're discussing a criminal conspiracy to Obstruct Justice at the FBI and thereby *directly and immediately* influence the result of a presidential election. This is big.
10/
A "theory of the case" can't be developed yet, but—given the timeline we have now and Hagmann's claims (see prior threads)—it remains possible that Giuliani and NYPD spread the hoax under the cover of NYPD holding onto some of Wiener's hardware, then leaked it to True Pundit.
11/
Giuliani's motive to—as Hagmann claimed, trying to laud him—"being behind" the NYPD hoax would be straightforward: at the time he was to be the U.S. Secretary of State or Attorney General if Trump won, and all he had to do was spread a wild rumor about Clinton. Easy winnings.
12/
The problem is, threatening to release emails that don't exist—but that the FBI *doesn't yet know* don't exist—to force the FBI to re-open an investigation is undoubtedly illegal (albeit one of the more *unusual* Obstruction of Justice plots you'll ever encounter in the law).
13/
I'd be remiss if I didn't note the eerie similarity between this plot—which, at a minimum, Rudy Giuliani was *involved* in—and one hatched by Giuliani's friend: Donald Trump. Both men were involved in an illegal digital-recordings hoax to try to get Comey to do their bidding.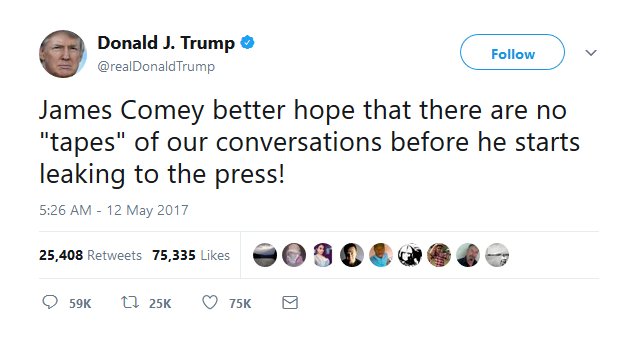 14/
(If you've just arrived and are looking for the two primary threads in the "True Pundit Hoax" series of threads, please see the first two "unrolled" threads—single links with entire threads in them—in the "Likes" section of my Twitter page. They'll get you caught up quickly.)
15/
I've been working on this story since I first wrote three investigative articles about it for The Huffington Post at the end of last year, but these new revelations—regarding True Pundit, Trump Jr., Giuliani, Kallstrom, and Pirro—are now opening up a *whole new* can of worms.
16/
UPDATE: The day of the True Pundit Hoax story, Don Jr. *also* retweeted Alex Jones' partner repeating the false claim—*from the True Pundit story*—that Anthony Wiener's PC contained an "avalanche of new emails." See this entry from the Trump Twitter Archive (Don Jr. Section):


17/
UPDATE: Don *also* retweeted *this* FNC report on November 2, 2016, which report likewise echoed the True Pundit Hoax regarding an "avalanche" of new Clinton emails on Wiener's PC. One now wonders if Bret Baier's sources were Kallstrom and/or Giuliani.
18/
Note that Baier's report repeats the claim—aired that same day by Doug Hagmann on the Alex Jones Program—that rogue federal law enforcement agents refused to destroy evidence they were supposed to destroy. This (alleged) fact gave life to the True Pundit Hoax of "new" emails.
19/
Don's interest in the Clinton Foundation case is longstanding: it was the reason he met with Kremlin agent Veselnitskaya at Trump Tower in June 2016. So if Giuliani and/or Kallstrom was feeding this disinformation to FNC, they created a Trump-FNC echo chamber *very* quickly.
20/
Note: Wherever I've written "Wiener" in this and/or other threads, I of course mean "Weiner." (Unfortunately, I studied the late great author John Wieners in my PhD program—so I tend to instinctively put the "i" before the "e." I'll endeavor to be more careful in the future.)
NOTE/ ATTENTION to the members of Congress who questioned Erik Prince recently: please recall that the point at which he threatened to storm out of the room and end his testimony was the point at which you asked him to *name his sources* for the True Pundit Hoax. *Remember that*.