I am boycotting
@coindesk
's Consensus 2018 conference this year, and strongly encourage others to do the same. Here is my reasoning why.
1.
Coindesk is recklessly complicit in enabling giveaway scams. See their latest article on OMG, which *directly links* to a giveaway scam.


And this is *after* I publicly warned media to be very careful about such things.
2.
Their coverage of EIP 999 was terrible. They published a highly sensationalist article claiming the chain would split, when it was very clear that EIP 999 was *very far* from acceptance.
This is why pundits need to be replaced by prediction markets, ASAP.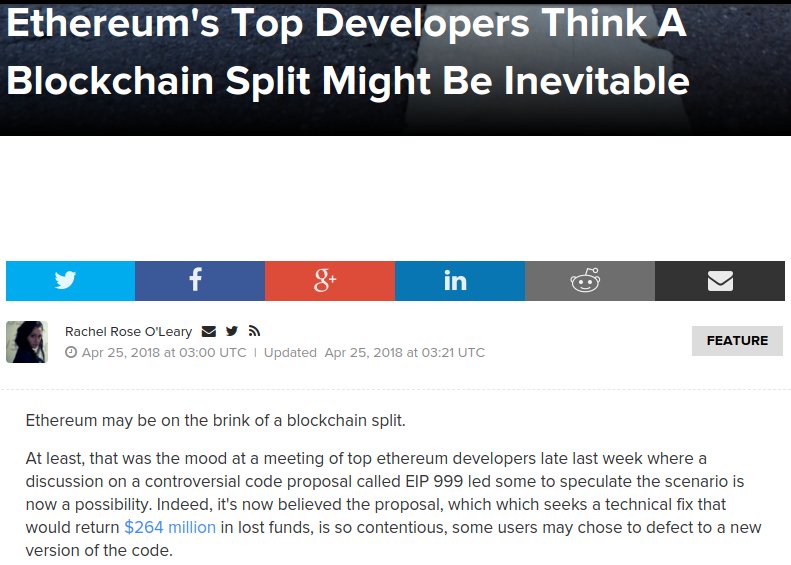 When
@peter_szilagyi
complained that even though the author asked for his comments, his feedback was totally not incorporated into the article, the author's reply was that the article was already published by the time they received the reply.
Seriously, is speed really that much more important to you than accuracy?
3.
Their reporting policies are designed to trap you with gotchas. Did you know that if you send them a reply, and you explicitly say that some part is off the record, that's explicitly on the record unless you go through a request/approve dance first?


4.
And by the way, the conference costs $2-3k to attend. I refuse to personally contribute to that level of rent seeking.