After the 1991 Gulf War, the United Nations created an intrusive weapons inspection program for Iraq, known by the acronym
#UNSCOM
. 2/
cfr.org/backgrounder/i…
UN inspectors, complete with technological monitoring and human inspectors left little ambiguity about what Iraq had wanted to do prior to the 1991 war.
3/
In fact, inspectors working for UNSCOM found and destroyed more WMD in Iraq than coalition forces had found during the 1991 war itself. 4/
globalsecurity.org/intell/library…
By 1998, and after repeated harrassment by Iraqi authorities, there was a growing frustration that inspectors access to Iraqi facilities was too frequently challenged and then, in September, suspended: 5/
un.org/press/en/1998/…
In December of 1998, the United States and the United Kingdom conducted four days of airstrikes--Operation Desert Fox--targeting "Iraq's ability to produce, store, maintain and deliver weapons of mass destruction." 7/
archive.defense.gov/specials/deser…
The result? British and American forces cratered some wherehouses, but much more importantly, Iraq refused any further cooperation with UNSCOM and inspectors would not re-enter the country until after the 2003 invasion and occupation of Iraq.
8/
The ugly truth? After UNSCOM left Iraq--after inspectors and their monitoring left Iraq--the West's intelligence agencies' ability to understand what was happening inside Iraq and in their WMD program evaporated.
9/
His observations couldn't be any more relevant right now.
11/
UN inspectors "had been the best source of information on Iraq and its WMD programs." 12/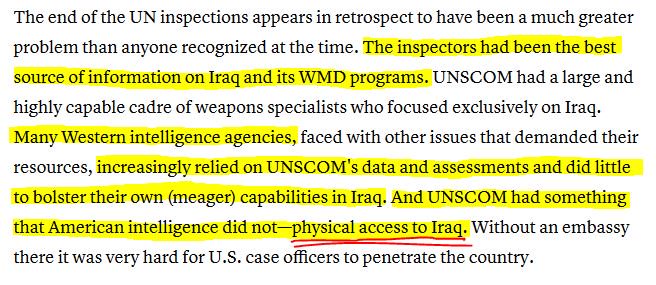 "The end of the inspections eliminated the single best means of vetting what information intelligence agencies could gather independently about Iraq." 13/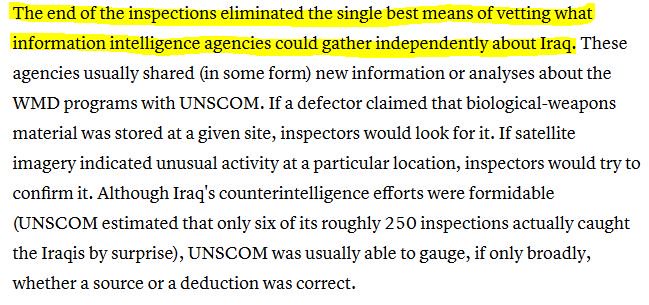 "When the inspectors suddenly left, the various intelligence agencies were caught psychologically and organizationally off balance. . . . With so little to go on, intelligence agencies believed many reports that now seem deeply suspect." 14/


"In the absence of hard evidence, the intelligence analysts tended to fall back on the underlying assumptions they had begun with. . . . After 1998 many analysts increasingly entertained worst-case scenarios--scenarios that gradually became mainstream estimates." 15/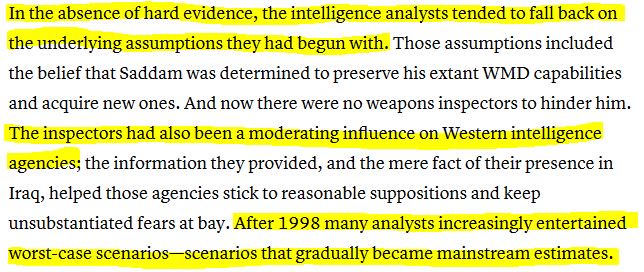 Netanyahu's speech is clearly intended to make the case for ending the
#JCPOA
--also known as the nuclear deal with Iran negotiated in the Obama administration.
17/
Broadly speaking, the deal lifted some economic sanctions on Iran in exchange for that country freezing its nuclear weapons program. 18/
armscontrol.org/factsheets/JCP…
But the
#JCPOA
also included an instrusive verification regime--you guessed it, technological monitoring and inspectors--on the ground inside Iran to make sure the country complied with its disarmament.
19/
Ironically, Netanyahu's speech provides tremendous insight into the value of international arms control monitoring.
21/
As
@ArmsControlWonk
put it in a brilliant thread, "everything he said was already known to the IAEA and published in IAEA GOV/2015/68 (2015)." 22/
So let's be clear, one of the lessons of Iraq is don't blow up intrusive verification regimes in states you don't trust. Whatever goal you think you're achieving isn't worth the resulting uncertainty that will feed bad decision making.
23/
It will be strategic folly to tear up the
#JCPOA
and effectively blind the West. Verification is intelligence--and in Iraq we learned just how blind we can be without it. Don't make that same mistake again in Iran. 24/24