mayor walker is still in ghana on the sister city commission trip, so we're one short tonight. the agenda looks light... hope springs eternal for a short, painless meeting. there's a first for everything, right?
hey only five minutes late! not too shabby.
not a big showing tonight. i guess everybody saw the boring agenda.
items 4 & 6 have both been struck from the agenda, leaving only three items after the consent agenda. not quite an hour of scheduled items outside of proclamations & matters by the public. y'all, i could conceivably be home by ten.
(famous last words)
city manager jones now responding to comments from the last meeting:
- NDS has inspected the obstruction mary carey cited that is blocking the view of drivers near IX park & steps are being taken to address UiUt
- re: ms rosea's complaint about pedestrian safety at main & 8th - discussions are ongoin
UgSi
first speaker for matters by the public up now. joan fenton talking about guidelines for communicating about street closures.
next speaker: downtown business sales are up over 4% as of february, have been up at least four consecutive months prior to that. businesses are doing fine. these increases came PRIOR to the $50k handout the city gave DBAC.
has the city given any money to victims of A12?
vice mayor hill is chairing the meeting tonight. she looks nervous. there was a long silence after the speaker took his seat. city manager jones says any funds given to groups supporting victims would've gone through city council... and there's been none.
mike signer now claiming they didn't allocate any funds for victims because no one asked. they didn't get any proposals during the budget season.
they're all scrambling. citing the existence of various gofundmes as a reason for their own lack of action.
heather looks terrified. she keeps insisting we move on.
"it's been six minutes."
heather, it's been 9 months.
we've moved on. wes agreed to meet with some community members to talk more about this.
the next speaker is upset about the park names. as a resident of the county, she feels strongly that county residents should be allowed to participate in this process. (council voted to allow only city residents to weigh in)
i'm so sick of this park name conversation. six minutes is too long to talk about how the city has failed victims of a terrorist attack. but how many HOURS have we spent talking about what to name those fucking parks?
the next speaker is talking about the small area plan. i admit i'm having trouble following him. this city's continued failure to accept responsibility for the events of last summer is giving me a splitting headache.
next speaker is thanking the council for a generous grant they received last year. says they're moving four affordable housing home buyers into their new homes by this fall. these four units are equipped with solar panels & will be "true net zero" homes.
former city council candidate paul long up now talking about proposed bus route changes that he opposes.
they're talking about eliminating the bus stop at the main post office?! that seems like an obvious problem.
paul long: bus stops are getting further apart. this is difficult & dangerous for children, the elderly, and people with disabilities.

"charlottesville is not a small college town anymore." the metro area is close to 200k now. we need a more extensive public transit system.
"public transit has never paid for itself. it takes state and local money." paul long is rebutting kathy's lukewarm response. this guy is the real deal. he's passionate and he's right.
"tonight's the last time i will be addressing this council" because this community has failed to keep us safe. she is leaving the county because of the ongoing threat from violent fascists.
"everything we warned you about came true."
@EmilyGorcenski
speaking truth to the charlottesville city council.
she spoke with keith ellison's office today about the two active duty US Marines she's exposed as violent nazis, including a member of atomwaffen who personally attacked her in august.
"i am owed something. me, personally. i am owed an apology."
"i am owed an apology because of the devastation you have wrought upon our lives."
she's addressing mike signer specifically.
"a resident of your city stood here and begged you for help and you did nothing. and you continue to do nothing."
read this. read it again,
@CvilleCityHall
. take this to heart. absorb it. atone for it. do better.
remember when city council shrugged at us & said there was nothing they could do about brian lambert's visible gun at a past meeting? well fair's fair, y'all. we can do it,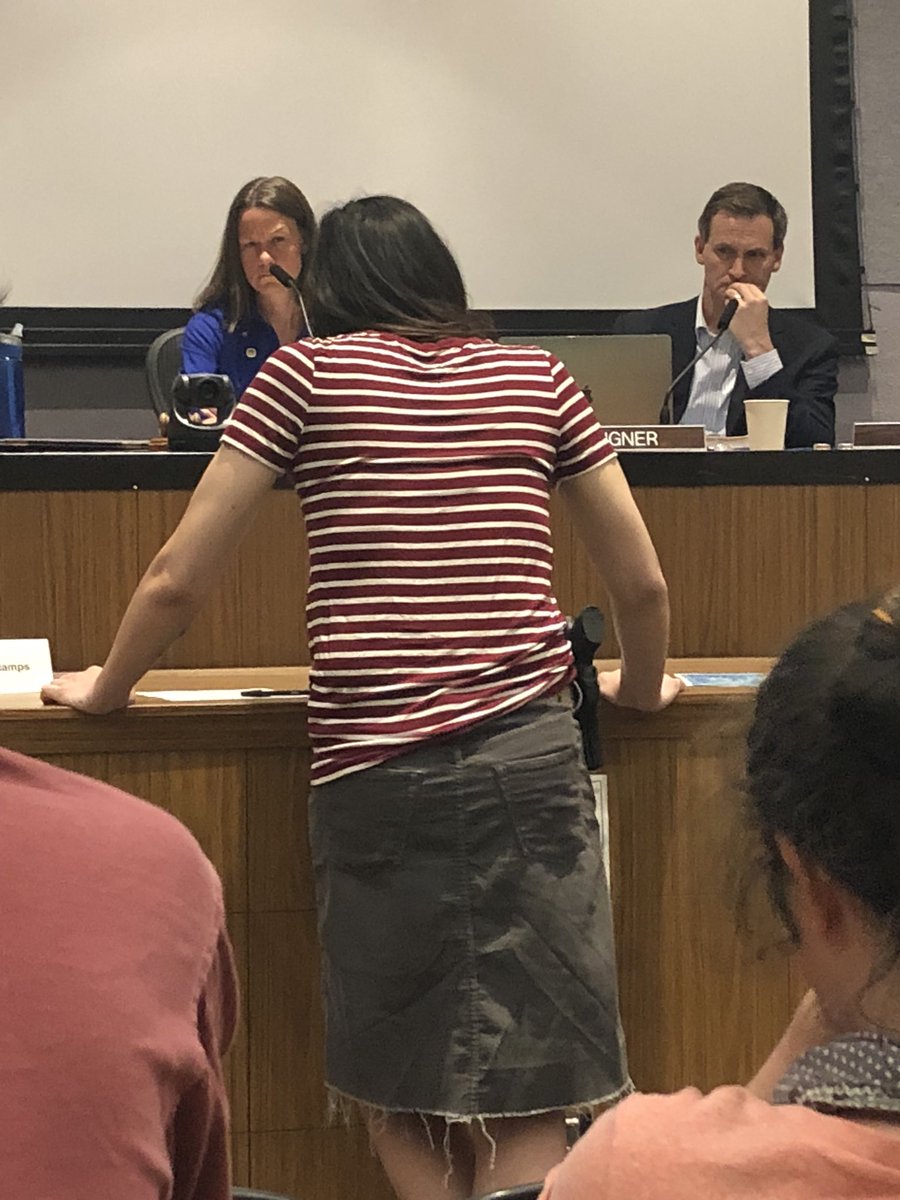 cF55
brian lambert is the man convicted of cutting the tarps off the racist statues. he came to city council with his co-defendant chris wayne & unite the right organizer/hometown nazi jason kessler. the trio kicked off a 45 minute disrupti
4G2R
that disruption, again, was at the april 2nd meeting. video here:

note that when someone who isn't a violent white supremacist who shows no remorse for their crimes shows up armed, it's not quite the same issue 🤷‍♀️
missed a public comment about some neighborhood zoning issue or something. sorry guys. trying to do better about cross linking relevant posts from past meetings as i go.
current speaker is talking about how the small area plan will affect his neighborhood.
matters by the public now concluded. we're moving through this much more quickly than usual! not even all the speaking slots were filled tonight.
moving on to the consent agenda now.
if we're being totally honest, i do not know what is happening right now. a staff member is giving a presentation on the five year consolidated plan. 🤷‍♀️
wes says mayor walker is watching the livestream & communicating with him about the meeting as it is happening. it's midnight already in ghana! that's dedication.
sorry, this hearing wouldn't be holding my attention even if some asshole weren't spamming my replies with graphic images of A12 & wild conspiracy theories about heather's dea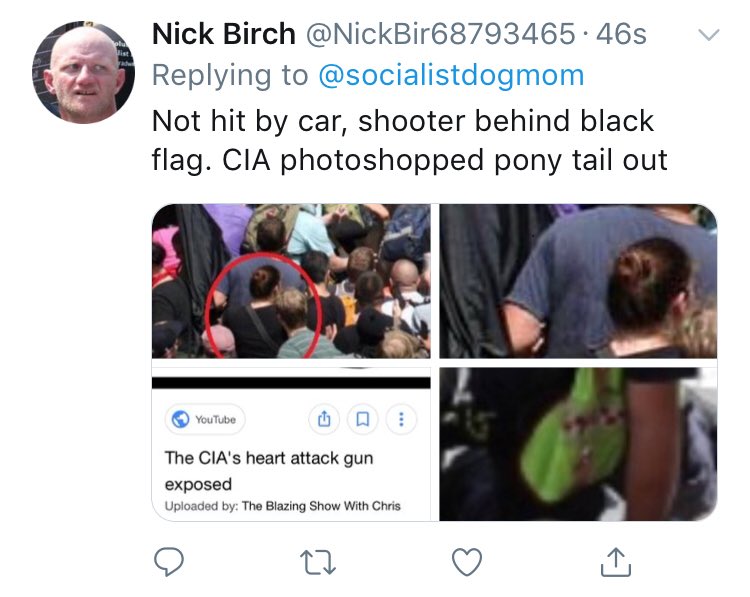 lq3p
brief recess before we get to the HISTORIC TREE section of the agenda. i feel like we are always talking about the trees.


no one from the tree commission was here to speak on behalf of the trees up for "historic tree" designation 🤷‍♀️
moving on to the final agenda item, the hydraulic small area plan. this is regarding what's gonna happen with the now-empty kmart on hydraulic & 29.
kathy is reading a resolution proposing the city allow the city attorney's office to engage pro bono outside counsel for litigation involving the city.
note the closed session they had before tonight's meeting.


holy shit, we're done. at 9pm. that's over four hours earlier than last time.

sorry for the livetweet typo -- that should say COUNTRY. she's leaving the country. in 2018, a woman in my community, a friend & comrade, is moving to germany to escape nazi harassment. the irony is incredible.