The Madness of Brains™ has been in the news this past week with the Yanny/Laurel effect. Let's use this as a
#NeuroThursday
peephole into the mysteries of human hearing – via something called the McGurk Effect.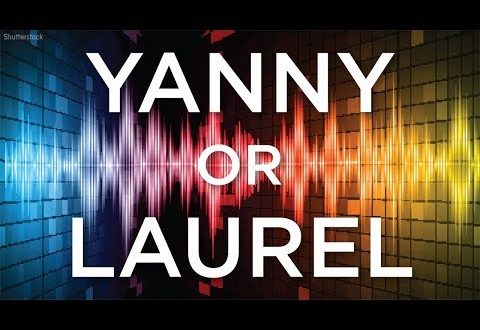 First off, if you haven't dug the Yanny/Laurel thing, there's a great explanation and manipulation up at the New York Times.
nytimes.com/2018/05/15/sci…
YMMV, but for me, it sounds quite clearly like whichever phrase I'm expecting to hear. And longtime
#NeuroThursday
followers might guess where I'm going with this.
But before I get too far ahead of myself, I want to show you this McGurk Effect thing. If you've taken a psychology course, you may already be familiar with this.
Watch this short (1min) video, with sound on. It's under-explained, but that's a point in its favor. Just compare the sounds in the first three segments.
Okay please do watch that video because the next tweet is gonna be 100% spoilers.
Those first three segments are all the exact same sound - but we hear them differently because of the visual information we get from the dude's mouth movements.
If you rewatch the video with your eyes closed, the effect will disappear – the dude will clearly be saying "ba ba ba" the entire time. (But reopen your eyes, and even spoilers won't eliminate the effect.)
Why is this? Because what we think of as "hearing" isn't purely auditory. As always, our brain gets limited information from the world, and uses expectations & prior knowledge to fill in the gaps.
threadreaderapp.com/thread/9643279…
In this case, your brain is using visual information to resolve ambiguity in the auditory information. Except that's not quite right, is it? Those sounds aren't ambiguous on their own.
So let's complicate that usual
#NeuroThursday
lesson of "brain fills in the gaps," and understand that the gaps are there for a reason. Each puzzle piece has funky-shaped edges because it's meant to connect with the other pieces.
Our senses have evolved to work together to solve the challenges of human life – and language is surely forefront among the unique challenges of human brains.
(I have a little pet theory of the Five Things Humans Are Good At, but that's for another week.)
As I've mentioned in the past, every optical (and auditory) illusion is evidence of a successful hack - the brain extrapolating (or interpolating) more information than is directly available.
threadreaderapp.com/thread/9668570…
A lot of these oddities emerge when we force one system into isolation, when we put someone in a lab, or in front of a screen, or make them listen to voice clips with no accompanying visual info.
(Which is very different from an individual human being blind or deaf. As we say in the old country, But That's Another Thread.)
Separating these senses lets you cut across the grain and see all kinds of fascinating marbling. But from the whole cow's perspective, all that "marbling" is muscle, fat, and function.
The real
#NeuroThursday
takeaway this time is that laurels, brainstorms, and McGurks all show us the same thing: how we are the result of our evolutionary history, in a multisensory world.
Thanks everyone! If you heard this one clearly, please share it around, and check out some of my other fiction across the internet.
benjaminckinney.com/publications/