CTTC in
#Bangladesh
has filed a chargesheet in relation to its investigation into the jihadi carnage at Holey Artisan Bakery in July 2016. Read on for facts that are *not* cited in the chargesheet. This, to record the truth about the July 1, 2016 attack.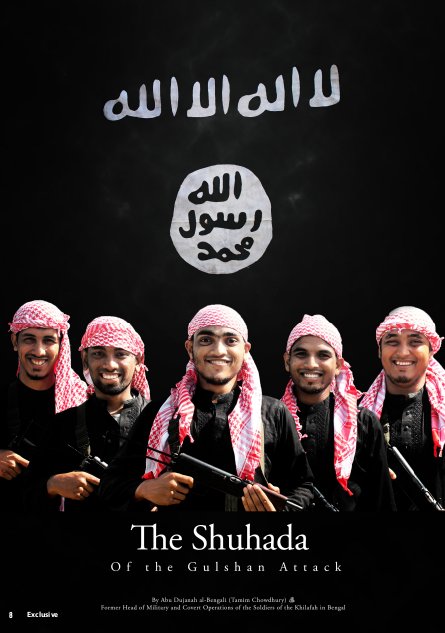 Fact # 1: The attack was carried out by the Bangladeshi affiliate of ISIS: Dawlatul Islam Bengal. That ISIS was behind the attack was proven very early on when Amaq started posting about the attack *and* when it posted pictures of dead hostages.
facebook.com/tasneem.khalil…
Fact # 3: Tamim aka Abu Dujanah was reporting directly to Australian-Bangladshi jihadi ATM Tajuddin aka Abu Saad al-Bengali in Raqqa, Syria. It was Tajuddin who reviewed and okayed the plan of slaughtering foreigners at Holey Artisan...
reuters.com/article/us-ban…
... ATM Tajuddin aka Abu Saad -- who is not named in the chargesheet -- is *most likely* the Asia Division ameer of ISIS' external operations wing. In other words, Tajuddin is most likely the Bangladeshi ameer of Emni mentioned by Rukmini Callimachi here:
facebook.com/nytimes/videos…
Fact # 4: Also not named in the chargesheet is Japanese-Bangladeshi jihadi Sajit Debnath aka Saifullah Ozaki aka Abu Ibrahim al-Hanif: the ameer of ISIS in Bangladesh. Read more about him here:
tasneemkhalil.com/meet-the-ameer…
Fact # 6: There is *no* jihadi group named "Neo JMB" or "New JMB" or "JMB (Sarwar-Tamim group)" in Bangladesh. All of these are fake names concocted by police and RAB. See here for a comment on this by none other than JMB's ameer Shaikh Salahuddin:
facebook.com/tasneem.khalil…
Fact # 7: *Dawlatul Islam Bengal* is the Bangladesh affiliate of ISIS, involved in the Holey Artisan attack. Watch this clip where the RAB spokesman Mufti Mahmud confirms the name...
Fact # 8: Tamim Ahmed Chowdury's lieutenant Nurul Islam Marjan (a key witness, participant) was detained by CTTC; kept in *secret custody*; and was then executed.
@davidbangladesh
wrote about this here:
thewire.in/south-asia/due…
And *FACT*: Bangladesh government and its security agencies failed terribly in thwarting the Holey Artisan attack of July 2016. Now CTTC, in its investigation, has omitted key information and conconted some details to cover up that failure. //