Day Three: New filing this a.m. from prosecutors making another attempt at convincing the judge that evidence of Paul Manafort's luxury lifestyle is relevant and not prejudicial
documentcloud.org/documents/4627…
On the judge being unhappy about this yesterday:
buzzfeednews.com/article/zoetil…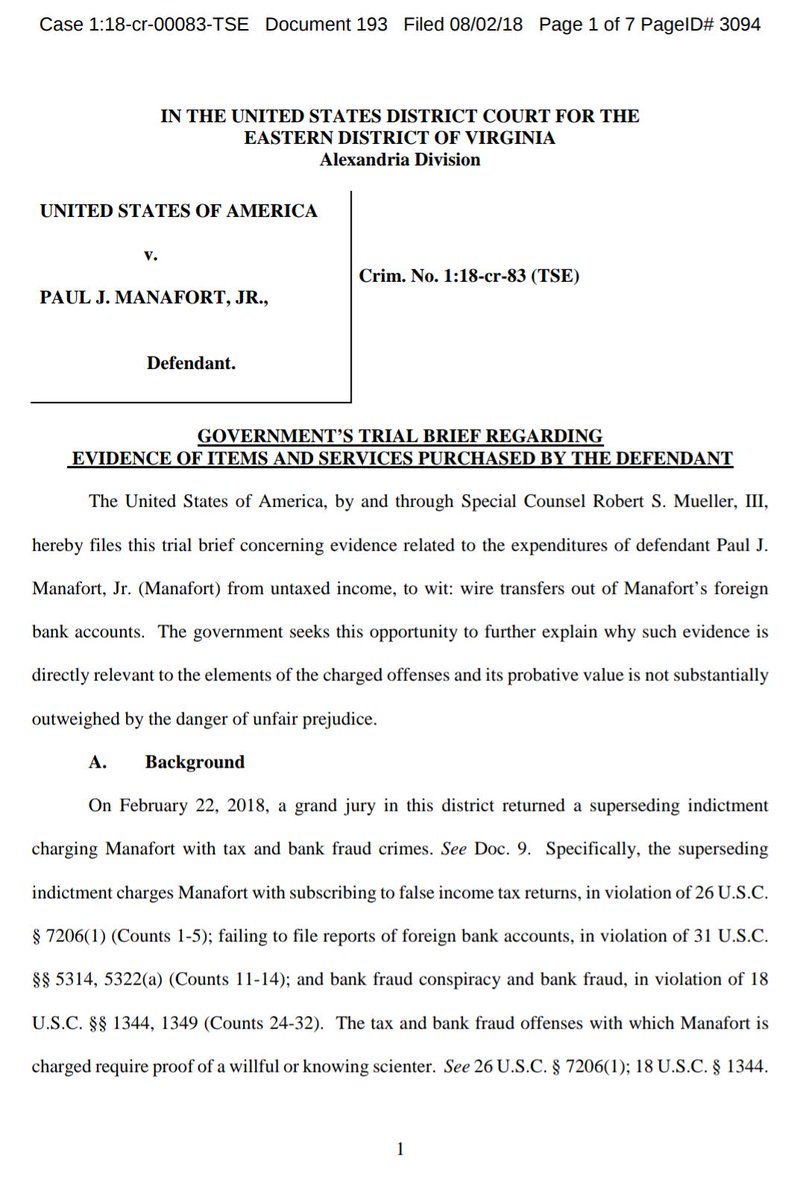 Judge is taking a quick break. We learned a bit more about Paul Manafort's expenditures over the years:
- Thousands of dollars on karaoke system
- $2.2 million on TV, home networks, other home automation services
- $450K+ on landscaping, incl. an "M" in red and white flowers
We saw more financial docs indicating that wire transfers from bank accounts in Cyprus were used to pay for these various expenses. Witnesses testified that they understood the payments as coming from Manafort, and that they communicated with Manafort about the payments
At the start of the hearing, the judge addressed the issue of how much evidence he's allowing in about Manafort's lifestyle. He said he understands the numbers are relevant, it's the recitation of what Manafort bought that's the issue — sort of "besmirches" Manafort, judge said
Also: Prosecutor said today they still have "every intention" of calling Rick Gates to testify. Yesterday, the govt had said they may or they may not call him, and that caused a bit of a stir — prosecutor then clarified that he just meant they're evaluating witnesses as they go
Reconvening at 11:20 - next witness is Manafort's bookeeper Heather Washkuhn, per the government
On a lunch break. We've been hearing from Heather Washkuhn, who was Paul Manafort's bookeeper for years. She is a key witness for the govt — so far, she's testified that she *did not know* if Manafort had overseas accounts
Why is this significant? The jury spent yesterday and part of this morning hearing testimony from reps of various businesses — clothing stores and home contractors — who said Paul Manafort was a client who paid for purchases via wire transfers from accounts in Cyprus
When asked about the names of those Cypriot accounts the jury prev. heard about re: Manafort's expenses, Washkuhn said she didn't know if they were Manafort accounts — and she testiifed about entries in her ledger of $ coming in from those accounts as income or loans
Washkuhn said she tracked Manafort's finances, and provided that info to his tax preparers. The govt's theory is: Manafort was paid for work in Ukraine in overseas accounts, and then used that $ to fund his lifestyle — and didn't report the income or overseas accounts to the US
Prosecutor said he anticipated two more hours with Washkuhn after we get back from lunch, saying she's also a key witness on the bank fraud claims — the judge urged him to find ways to speed things up (but the back and forth betwen the judge and the govt is much less tense today)
Judge taking a quick break. More testimony from Manafort bookeeper Heather Washkuhn, who testified about prepping income statements for Manafort's business — we heard about entries of income from accounts prev. identified as being in Cyprus (Washkuhn didn't know what they were)
We saw an income statement for the year 2015 that Washkuhn prepared that said Manafort's biz had net income $400K. Saw email from Rick Gates asking for Word doc b/c Manafort wanted to add $2.6M in accrued revenue, and Washkuhn replying they couldn't provide it in a Word doc...
...Gates asked if Washkuhn could add the $2.6M in accrued revenue, and Washkuhn replied that wasn't how they tracked income for Manafort's biz. Then, we saw another doc that looked similar, but Washkuhn said she hadn't prepared it, that listed net income as $4.4M for 2015
That doc with the $4.4M net income was sent by Gates, with Manafort and his former son-in-law Jeff Yohai cc'd, by email to the Banc of California. Washkuhn pointed on stylistic differences between this doc and the income statements she prepared
Up next is cross-examination of Washkuhn by Manafort's lawyer. Stay tuned.
We are done for the day. After Manafort's bookkeeper Heather Washkuhn, we started to hear testimony from a CPA who handled Manafort's taxes, Philip Ayliff. We didn't see a whole lot so far, but he did say Manafort's 2014 tax return indicated no overseas financial interests
Why didn't the 2014 return indicate any overseas financial interests? The CPA said they asked Manafort, and he said no. The CPA talked about how they rely on clients to provide info for the returns, and don't independently verify
#s
I'll have more on everything that happened today in a bit. Ayliff's testimony is expected to be long, per the govt (the judge was ... not happy, although, again, things were less tense than yesterday). We didn't get a heads up on who else may testify, but it may be another CPA
Paul Manafort's bookkeeper testified today that Manafort's political consulting business was losing money in 2016 (while he was running Trump's campaign)
buzzfeednews.com/article/zoetil…