Trump associates did not fear "the negative media publicity surrounding alleged Russian interference", because it distracted attention from his "business dealings in China and other emerging markets", which involved "large bribes and kickbacks" -Steele Dossier
People who are looking for Trump's ties to China, especially in relation to North Korea, should start looking in Hong Kong.
opencorporates.com/companies/hk?c…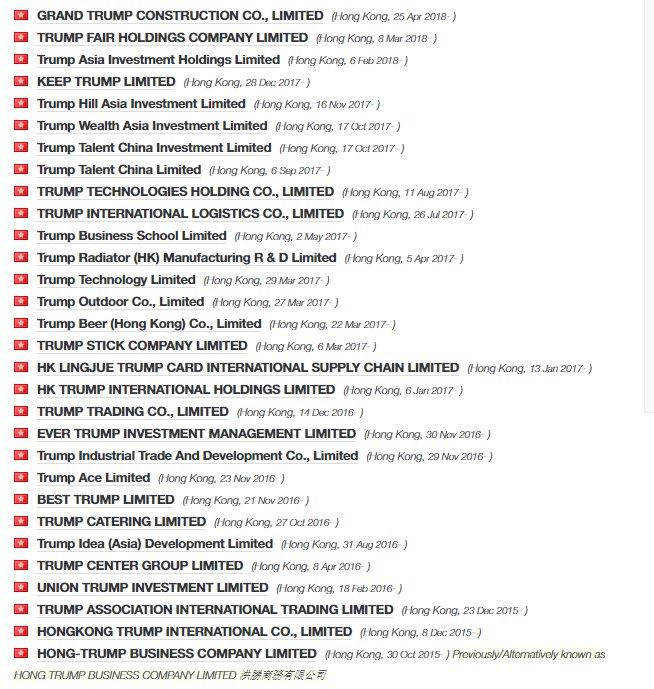 The Beijing property deal that nearly ensnared Donald Trump in Chinese corruption
Trump Hotel Collection negotiated with the State Grid Corporation of China to brand and manage a major development in Beijing's Guomao neighborhood back in 2013
qz.com/812000/the-det…
2017
Macau issues additional trademarks for 'Trump' brand, including casino services

"My apartments, my ties. They love me. They love me. I've got the largest bank in the world from China, Chinese bank, the largest in the world, biggest bank in China is my tenant, in one of my buildings." 
theweek.com/speedreads/456…
2017
Ivanka Trump brand secures China trademarks on day US president met Xi Jinping

"This list does not include an estimated $2 billion in debt amassed by real estate partnerships that include Trump. One of those loans is a $950 million deal that was cobbled together by Goldman Sachs and the state-owned Bank of China"
motherjones.com/politics/2016/…