I read the whitepaper for Civil sometime last year as part of my research into reforming journalism. Thread on several things that they are still getting wrong:
4)
And there are tokens involved. Pre-sold last month, of course, to "registered purchasers" -- name, email, only via USD or ETH, KYC jazz etc. There will be a "transparency report" about this, apparently. ¯\_(ツ)_/¯
blog.joincivil.com/announcing-the…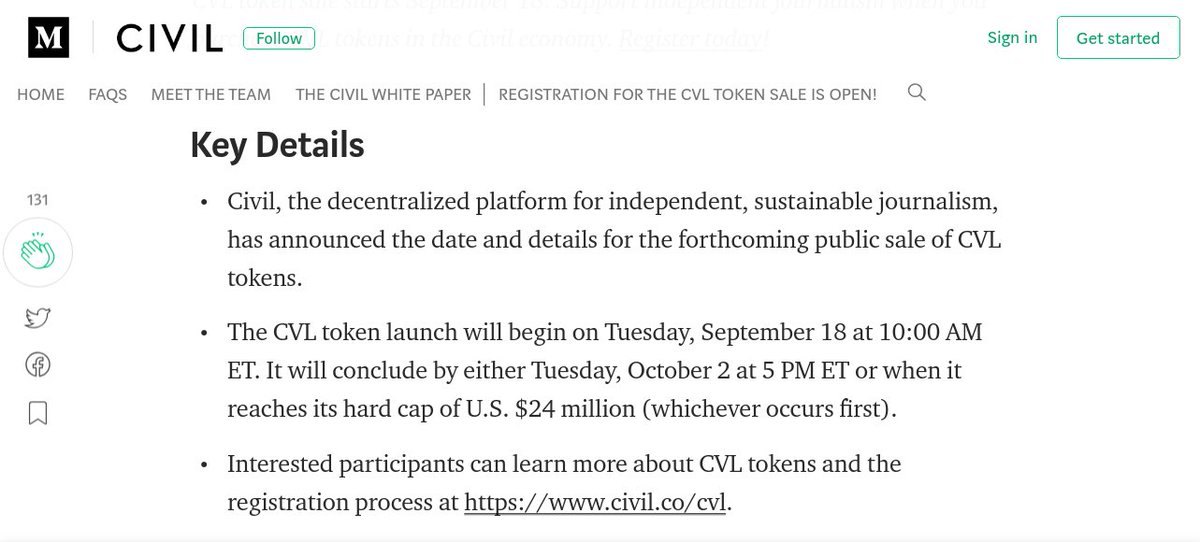 Open blockchains rely on a very limited and explicit set of rules. Anyone who thinks that identity / reputation or credibility can be "indelibly established" by publishing metadata to blockchain really does not get how complex both of those things are.
Can publishing metadata to a blockchain be useful? Yes. Is using a blockchain for timestamping useful? Yes. But does publishing metadata into a blockchain make it true? No. It only matters if what you publish needs some time-sensitive / time-dependent quality to be meaningful.
Or if the thing you want to publish will be censored. In this Civil system, a centralised "council" would defeat that feature, as they can be censors / avenues for censorship. But if the underlying blockchain is censorship-resistant, you ignore them & publish the metadata anyway.
So what has basically happened here? They have taken the one potentially valuable content storage use case of open blockchains (timestamping metadata), over-hyped or at least not properly articulated its benefits, and created a token within a pretty permissioned "ecosystem."
Hyping the benefits of using blockchains this early, doesn't give me confidence in their ability to determine "truthfulness." Everything rests on their token incentive system being better at producing "factual" journalism on average than other options.
It depends on them being able to convince enough readers why their 50%-majority voting system (of platform participants) is even trustworthy in terms of establishing truth, and how publishing metadata on a blockchain even matters. If they can't do that, the whole system fails.
There is actually no mention of "reader" in the constitution. They are not considered participants within the governance model, unless they are simultaneously Newsmakers / Officers within registered Newsrooms (these are the terms used).
Except, in the real world, readers are participants. Journalism is accountable only in so far as readers make it so, can only be effective if journalists respect their readers enough to provide them with as much room as possible to verify independently. Hence, my focus on OSINT.
I don't know if this is a miscommunication, but Bustillos says that they will be storing more than just metadata. Ethereum fainted under the load of CryptoKitties, and that was mostly just "DNA" hashes, so... good luck with that.
popula.com/2018/08/07/int…


TL;DR: Assuming ~$800k in "commitments" actually comes in, still must sell ~$6 million worth of tokens for soft cap minimum. In five days.
Otherwise, ConsenSys has a 51%-majority position, which means they alone could determine votes on protocol changes.
#YoureDoingItWrong

Why... is this wiki published on Google Docs, instead of IPFS (that distributed content storage protocol you claim Civil will use) with an HTTP gateway?
From the former co-founder, head of journalism operations & "eco-system growth lead" at Civil, who seems to have left in July 2018:
medium.com/@siebergd/upda…